Internet boosts consumption upgrade
ZOU HONG, PENG ZHENGCHENG
|
2018-08-16
|
Hits:
(Chinese Social Sciences Today)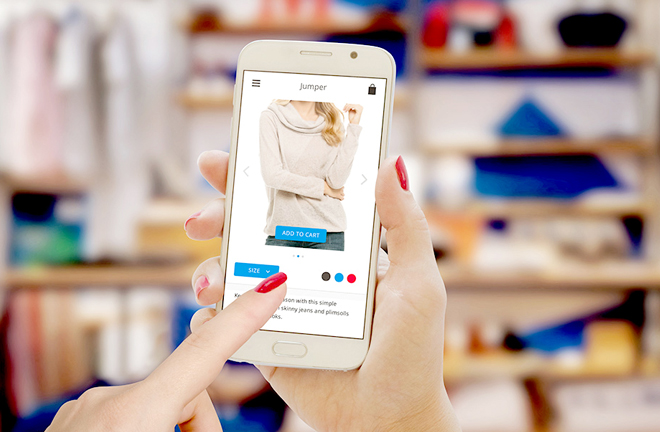 The internet has spawned new commodity and service businesses, cultivated areas of high consumer demand, driven innovations in consumption patterns and upgrades in experience, and refreshed businesses' service philosophy and citizens' attitude toward spending. Photo: FILE
---
As socialism with Chinese characteristics has entered the new era, the principal contradiction facing Chinese society has evolved into one between the people's ever-growing needs for a better life and unbalanced, inadequate development. The shift from "material and cultural needs" to "needs for a better life" is a new manifestation of the social development stage and a new requirement for the consumption upgrade.

The consumption upgrade not only objectively reflects economic development laws, but also results from the continued income growth and improved living standards of the people. In 2017, China's "Engel's coefficient" reached 29.3 percent, indicating the country has become an affluent society, being below the well-off line of 30 percent set by the United Nations.

Global experiences reveal that when the GDP per capita exceeds $8,000, consumer demands will switch from commodity to service and become diverse. Particularly, quality will be increasingly valued.

In many developed countries, when the GDP per capita reaches $8,000 and higher, residents spend approximately $5,000 in consumption. But China still has a long way to go to attain that level, so there is still much room for the consumption upgrade.

In 2017, China's total retail sales of consumer goods amounted to $36.6 trillion, up 10.2 percent year on year. Final consumption contributed 58.8 percent to economic growth, serving as the primary force driving growth for four years consecutively.

Currently China is entering the new stage in which consumption steers economic growth, so continuing to promote the consumption upgrade and fully unleashing the potential of consumption is necessary to ensure sustainable, stable and high-quality economic growth.
Internet in consumption upgrade
As the new phase of technological revolution advances across the world, modern information technologies represented by the internet, mobile communication and big data have become rapidly developed and extensively applied. As major channels enhancing the efficiency of the Chinese economy, and even the global economy, these technologies exert far-reaching impacts on consumption, production and circulation. In recent years, the internet has boosted consumption upgrade on three levels.

First, the internet has spawned new commodity and service businesses and cultivated areas of high consumer demand, demonstrating significant upgrades to the content and structure of consumption. As e-commerce has integrated with services and traditional industries at a faster pace, diverse new businesses have come into being, while emerging consumer markets such as online, mobile and experience consumption have continued to grow.

In 2017, online retail sales in China reached $7.18 trillion, a year-on-year growth of 32.2 percent. The sales of physical commodities among others on the internet amounted to $5.48 trillion, rising 28 percent year on year and accounting for 15 percent of total sales of consumer goods in the country.

Moreover, the internet has driven innovations in consumption patterns and upgrades in experience. The technology has given birth to trade and payment platforms like Taobao and Alipay, along with sharing and experience business models including ride sharing, catering services, recreation and entertainment, tourism, and health care.

From real-world purchase to service consumption like taxi hailing, food ordering, ticket booking, distance learning and online medical consultation, spending via mobile terminals has taken a large market share, as consumption has become more convenient and a better experience.

In addition, the internet has refreshed businesses' service philosophy and citizens' attitude toward consumption, while improving the spending environment. E-commerce, new retail, travel and online sharing companies have attached much importance to credit services, bringing into being a new spending environment with consumer data at the core. Internet finance is also striving to perfect service functions and enhance payment security in mobile consumption. Consumers now value a safe, comfortable consumption environment more than the sense of gain from the commodity or service.

Industrial upgrade vital
Although the thriving e-commerce and O2O industries have brought about new circulation channels and business models and revolutionized the object, pattern and idea of spending among Chinese citizens, the consumption upgrade still faces some roadblocks.

The first impediment is imbalanced supply and demand. Production is the base of consumption, and exchange is the bond between them. The consumption structure and content upgrade is inseparable from the revolution of the industrial structure, the exchange model and product quality.

The development of the internet has created a positive environment and favorable conditions for industrial transformation and upgrading. However, some enterprises still lag behind in terms of aligning production with demand by means of the internet and in terms of matching market demand with product and service supply by means of network information technologies, particularly big data.

Second, imbalanced and inadequate information infrastructure is also a problem. The development of the internet has led to the rise of e-commerce, breaking the temporal and spatial limitations of commodity and service trade and overturning traditional consumption models. Propelling the consumption upgrade, the deep integration of internet finance with sharing and experience economic patterns and online platforms has set the stage for improving spending experiences.

However, new consumption patterns highly fused with the internet rely heavily on information technology and infrastructure. The imbalanced, inadequate development of information technology and infrastructure is hindering the upgrade of consumption patterns.

In addition, the government has greater difficulty with market regulation. The internet has profoundly influenced the consumption environment. Consumers can comment on the quality of commodities and services more efficiently, driving enterprises to improve their products and services constantly. Meanwhile, new businesses featuring online-offline integration are booming to meet individualized, customized and diverse consumer needs. All these have added difficulties to government regulation.
Suggestions
In the new era, the widely used internet has promoted the upgrade of consumption object, pattern and environment from such aspects as information sharing, platform support and consumer experience, meeting the people's growing needs for a better life. In order to upgrade consumption via the internet more effectively, efforts can be made from the following three perspectives.

First it is essential to accelerate supply-side structural reform to balance supply and demand and improve the consumption structure and quality. The advancement of the consumption structure cannot be divorced from the upgrade of the industrial structure. Improvement of quality entails the supply of products and services being superior and satisfactory to consumers' demands.

With the assistance of the internet and other information technologies, related government departments can gather, supervise and analyze data concerning changes to citizens' consumption, so they can focus on the priority of macroeconomic policy to push forward supply-side structural reform, quicken the development of new businesses in the service sector, and balance consumption between rural and urban residents.

Enterprises should timely grasp the characteristics of consumer demands and adjust production structures to match the market of increasingly individualized and diverse consumer demands, thereby enhancing the adaptability and flexibility of the supply structure to demand changes.

Furthermore, attention should be paid to building a sound internet infrastructure to bolster innovation in consumption patterns. It is vital to encourage innovation, discover talent in the "Internet Plus Consumption" area and provide supportive policies and services to develop new products, services, technologies, businesses and models.

Meanwhile, broadband should be upgraded, and access to the internet in rural areas should be raised to the urban level. The pace to increase broadband speed and lower fees for internet services should be quickened so as to reduce costs for information consumption.

It is likewise important to build a convenient, efficient e-commerce logistics system for the countryside, thereby facilitating online shopping in rural areas and ensuring the simultaneous consumption upgrade of rural and urban residents.

Last but not least, regulation should be made more efficient to encourage the new consumption patterns—including service, information, green, quality and rural consumption—that will be the major directions of the consumption upgrade in China.

After-sale services and the experience during the purchase are more and more important in new consumption. The spending environment is a decisive factor in consumption development. The government should promote credit legislation and data connectivity to regulate the internet and big data concurrently. Efforts can be made to build an information sharing system for government departments, thus improving the efficiency of regulation. Government regulation, consumer supervision and enterprises' self-discipline should be coordinated to reform market surveillance and provide an institutional guarantee for the upgrade of consumption object and pattern.
Zou Hong is a professor from the School of Economics at Southwest University of Finance and Economics, and Peng Zhengcheng is a doctoral student at the school.
(edited by CHEN MIRONG)