Chinese vision points to a new direction for globalization
LIANG DONGSHENG, TANG HONGXIN
|
2017-11-27
|
Hits:
(Chinese Social Sciences Today)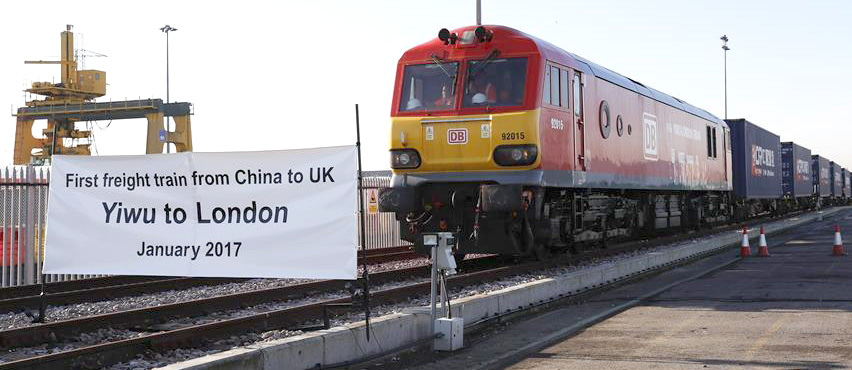 The first freight train to travel from China's East Coast trading center Yiwu to Britain arrives at a welcoming ceremony to mark the inaugural trip at Barking Intermodal Terminal near London. London is the 15th city in Europe to add China-Europe freight train service. Initiated in 2011, the service refers to the transcontinental cargo route connecting China, Europe and some other countries along the Belt and Road routes, with the goal of improving trade ties and strengthening connectivity.
---
In light of trade protectionism and growing hostility to globalization, China is pointing to a new direction for the development of economic globalization. The new direction is an operational model of the market economy and also the optimal production model under high-tech development. The development of advanced technologies has laid a foundation for the free flow and allocation of production elements around the globe, reducing costs and enhancing labor productivity.

The new direction of globalization diverges from the old pattern in terms of guiding concepts and therefore it observes different principles and regulations.
Changing structure
Globalization in the past few centuries was to some extent dominated by the capitalist mode of production, which aimed to maximize profits. Developed countries adopted policies to increase wages, raise employment and improve social welfare to promote this pattern of globalization.
In the process, the economy grew, but under the capitalist system, every economic and technological advance also allowed cross-border monopoly capital to take in more and more excess profits, further deepening the basic contradiction of capitalism and producing increasingly negative effects, like income inequality.

Also, it resulted in industry hollowing and capital virtualization of the real economy in capital-exporting countries. Nearly 10 years have passed since the international financial crisis hit in 2008, and the world economy is still recovering slowly.

Growing populist sentiments prompted some parties and statesmen in Western capitalist countries to oppose globalization and solve domestic unemployment problems by building trade barriers. But, this will not prevent the global expansion of productivity driven by new technologies. The backlash against globalization can only intensify the fundamental contradictions of capitalist societies.

Nowadays, the structure of the world economy is radically changing. As noted by the head of the International Monetary Fund Christine Lagarde, emerging economies and developing countries are now contributing 60 percent of world GDP and 80 percent of global economic growth.

According to a report released by the World Bank in June, seven major emerging economies—China, Brazil, India, Indonesia, Mexico, Russia and Turkey—are contributing far more to world economic growth than the G7 countries: the United States, the United Kingdom, France, Canada, Italy, Japan and Germany.

In this context, Western criteria should not be the sole standard for making globalization rules. Prime Minister of Hungary Viktor Orban said at the Belt and Road Forum for International Cooperation held in Beijing in May, that the world is at an epochal turning point. The old pattern of globalization is outmoded because it splits the world into two camps: teachers and students. Most regions are treated as students forced to listen to lectures by the West in areas like democratic standards, human rights and market economy. As economic globalization progresses in a new direction, countries must have the right to explore their own social development models based on national conditions.

Mutually beneficial cooperation
Greatly benefiting from economic globalization, China has become the world's second-largest economy, driving more than 30 percent of global economic growth. China is also the largest trading country and the second-largest investor in the world, with foreign-exchange reserves of $3 trillion. In the backlash against globalization, China is shouldering its responsibility as a major country to offer a Chinese vision and plans to point to a new direction for economic globalization.

Economic globalization is the objective requirement and inevitable result of the development of social productivity, said Chinese President Xi Jinping in the keynote speech at the opening plenary of the 2017 annual meeting of the World Economic Forum in Davos, Switzerland, on Jan. 17, 2017. Globalization creates momentum for world economic growth while promoting the flow of capital, technologies, products, industries and people between economies.

The president called on the international community to face up to the problems caused by globalization instead of dodging them. "In the face of both the opportunities and challenges of economic globalization, the right thing to do is to seize every opportunity, jointly meet challenges and chart the right course for economic globalization," he said.

Xi is unequivocal in his opposition to the anti-globalization trend and rising protectionism. He proposed new development patterns and a blueprint for globalization as well as trade and investment facilitation. He stressed the importance of developing a dynamic innovation-driven growth model, a model of open and mutually beneficial cooperation featuring a well-coordinated and inter-connected approach, a model of fair and equitable governance that conforms to the trend of the times, and a balanced, equitable and inclusive development model.

At the Belt and Road summit, Xi further advocated building the Belt and Road into an instrument of peace, prosperity, opening up, innovation and connecting different civilizations. He then affirmed his commitment to these goals.

Xi discussed the vision and ultimate goals for the new round of globalization at the 17th Meeting of Council of Heads of States of the Shanghai Cooperation Organization in June, saying that the aim is to "build a community of shared future featuring equality, mutual support, solidarity, and sharing of weal and woe."

When addressing a welcome banquet during the Belt and Road Forum, Xi stated that the Belt and Road embodies the pursuit of common development. Implementing this initiative will help countries overcome obstacles to development, narrow development gaps and share the fruits of development.

This way of thinking points to an orientation substantially opposed to the former, which pursues excess profits. The new direction focuses on a community of common destiny within which countries connect with and help each other and make joint efforts to create fruits that are shared by all. This community is formed during mankind's struggle for survival and progress through the development of high technologies.
Equal consultation
Holding high the banner of peace, development, cooperation and mutual benefits, China will promote a new type of international relations featuring mutual respect, fairness, justice, and mutually beneficial cooperation and make economic globalization more open, inclusive and balanced so that its benefits are shared by all. In order to achieve these targets, several principles should be followed.

China should uphold the principle of equal consultation as well as peace and development in economic globalization. All countries should be treated equally in globalization regardless of their territorial size, national strength, beliefs or social systems. With this prerequisite, transactions can be conducted in a fair and reasonable way and globalization can also be promoted smoothly.

Inclusiveness and mutual learning are also important for economic globalization. Every country has its own advantages. With the attitude of mutual inclusiveness, countries can learn from each other. Globalization is a process of communication. The effects of communication depend on whether a nation is able to discover the advantages of other countries. Successful communication will facilitate trade, gradually establishing a pattern of equal consultation.

In addition, China should also uphold the principle of fair and reasonable trade. Given the diversity of national conditions and levels of economic development, it is difficult to establish a general system of fair and reasonable trade that conforms to the national conditions of all countries. Therefore, what can be considered fair and reasonable is relative. On the basis of respecting national sovereignty, upholding the right of all countries to choose their own development path and treating countries equally regardless of size, trade criteria and principles should be made through democratic consultation, which takes into consideration the differing national conditions and levels of economic and technological development facing each country in developing its national economy. When implementing these criteria and principles, frequent amendments should be made to reflect the changing circumstances.

Last of all, China should highlight mutually beneficial cooperation in economic globalization by achieving shared growth through collaboration in construction and creating opportunities. Economic globalization is an international platform established by the people in all countries with the help of high and new technologies. The platform has been established for mutual communication, learning and promotion.

As long as these principles are upheld, progress will be made in communication, and innovation will also be possible through learning from each other. New technologies will constantly emerge, and pollution will be alleviated. As a result, the global economy will also grow rapidly.

In order to reach this goal, the idea of achieving shared growth through mutually beneficial cooperation should be upheld in promoting economic globalization. China will never seek hegemony, nor will it pursue its own development at the expense of the interests of other countries.
Liang Dongsheng is a research fellow from the Institute of World Economics and Politics at the Chinese Academy of Social Sciences. Tang Hongxin is from the Naval University of Engineering of the Chinese People's Liberation Army.