BRICS opts for structural reform amid global uncertainty
HUANG MAOXING, YE QI
|
2017-08-31
|
Hits:
(Chinese Social Sciences Today)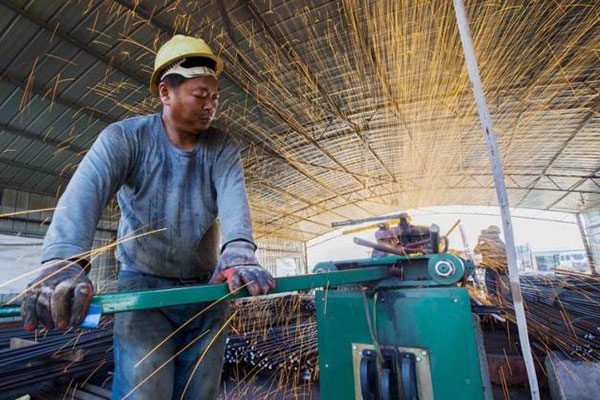 A laborer cuts steel bars at a railway bridge construction site in Lianyungang City, Jiangsu Province. (CHINA DAILY)
---
As the latecomer to global governance, BRICS faces severe structural challenges. Without internal structural reforms, it will be difficult for the BRICS nations to change their capacity to influence global governance or to participate equally in international affairs, which will hamper the momentum of their overall rise.
Challenges ahead
For one, global economic uncertainties continue to mount. The wave of de-globalization is washing over the world. Globalization has increased inequality in Western societies, sparking a populist backlash against free trade and financial liberalization, which could be seen in Brexit and the US withdrawal from the Trans-Pacific Partnership Agreement.

At the same time, emerging countries such as China continue to promote globalization, so uncertainties about the future of the global economy persist in an environment of conflicting interests. The uncertainty of policies in advanced economies is too on the rise. US trade and immigration policies may offset the benefits of any fiscal stimulus under the Trump administration, and the outlook for UK and EU policy after Brexit is also hard to predict.

However, the trend of trade protectionism is evident. After the 2008 financial crisis, regional trade agreements continued to challenge the multilateral trading system of the World Trade Organization, intensifying global protectionism.

The looming geopolitical risks have raised widespread concern over global security. According to the Eurasia Group, 2017 marks the "most volatile" year for political risk since World War II.
For another, BRICS nations are struggling with structural reform. China's supply-side structural reform has run into institutional hurdles. No substantial breakthroughs have been made in market-oriented reform of state-owned enterprises, fiscal and financial sectors, price mechanisms, land system, social security, and other key areas. At the same time, progress in adjusting the economic development model has been slow, and there is a lack of growth engines.

Russia's resource-based economy is vulnerable to fluctuations in international energy prices, and it is difficult for a competitive market to form there in the short term.

In India, imbalances in terms of wealth and industrial development are alarming. The service sector accounts for more than 50 percent of India's GDP, but the manufacturing sector lags behind. Also, the creation of support infrastructure is not keeping pace with its expanding IT sector.

Poor governance and political instability have taken a toll on reform in Brazil. The tensions between the Brazilian government and its legislature as well as a corruption scandal in a major oil company have cast a pall on the nation's future economic prospects.

South Africa has become overly dependent on foreign countries, which undermines its autonomy. Already heavily reliant on exports, its mining industry is imperiled by rising costs and the depletion of mineral reserves.

It is clear that structural reform will be a long-term process. In addition to the problems that have accumulated in the efforts of BRICS members to build a functional institutional mechanism, member nations must deal with entrenched interest groups and rigid development models. Unless it builds proper institutions, the BRICS countries will be limited in their ability to resist external shocks, and it would be lethal to carry out excessive or rapid economic reform.
Key points of reform
For a long time, global governance has been dominated by developed economies such as the United States. Developing countries have been relegated to a passive role in the international system and must follow the international rules that developed countries established. At times, domestic macroeconomic policies in developing countries are dependent on changes in the international environment.

Through structural reform, the BRICS nations are able to transform from followers to policy innovators, map out innovation-driven strategies, and bring domestic institutional mechanisms in line with international standards through experimentation and innovation.

In addition, BRICS nations share a common dilemma: They focus on demand to promote economic growth. Consequently, the supply side has created a considerable number of contradictions, such as poor product quality, scale-oriented growth models, low productivity, pollution and environmental destruction, and weak technological innovation capacity.

Though supply-side structural reform was first proposed by China, the strategy applies to members of the bloc and other developing countries as well. For example, Russia could set up new industrial sectors to overcome its resource dependency and create a good environment for domestic competition.

Brazil could vigorously promote the process of industrialization and improve manufacturing capacity. India is expected to balance and coordinate its development strategy to reduce gaps. South Africa could focus on the domestic market, reduce reliance on mining and cut unemployment through industrial upgrading.

At present, the BRIC nations are seeing sluggish growth, declining exports, enterprise collapse and high debt. On the surface, the problems could be blamed on a sluggish international market and rising production costs. However, in essence, they stem from deep-rooted structural problems in the economic pattern.

In terms of mindset, BRICS nations must go beyond a focus on problems and look at the underlying causes. A range of actions—from partial policy adjustment to comprehensive policy coordination—is needed to address the development predicament of the BRICS countries. That said, member nations might have to go against the will of established domestic interest groups to spawn a steady and predictable economic and political climate.

In the wake of the financial crisis, demand declined sharply in the international market while the policy adjustments of developed countries hurt developing countries. The rapid drop-off in exports caused economic growth to stall, leading to bankruptcy and the collapse of a large number of export-oriented enterprises. The steady decline of international commodity prices battered the resource-based economies of Russia and South Africa while a possible debt crisis is brewing in Brazil and South Africa due to the dollar retreat and appreciation.

In this light, the structural reform of member nations needs to focus on domestic factors and markets, increase productivity through independent innovation, establish a sound production system, improve market environment and infrastructure construction, and consolidate the fundamentals of economic development.

In addition, the bloc needs to seek inclusive and mutually beneficial cooperation rather than exclusive competition. Currently, India and Brazil have protectionist policies against China because of the structural imbalance in trade. China exports value-added electronics, machinery and equipment to India and Brazil while importing agricultural products from them. Russia and Brazil have also competed on pricing rights for commodities such as iron ore and oil.
Going forward
To start with, BRICS nations should, through effective negotiation and communication, push for consensus on a range of issues, such as economic and trade cooperation, policy environment and financial risk, as well as strengthening cooperation with the rest of the world on the basis of empowering the patternship. The BRICS nations should also continue to carry out in-depth capacity and innovative cooperation and constantly update cooperation models to enhance effectiveness of economic cooperation.

Second, BRICS nations should strengthen strategic cooperation in emerging industries, play out the comparative advantage of industrial development, and promote a differentiated development strategy. At the same time, the bloc must participate in the formulation of new global economic rules and actively integrate into the world economic system.

Third, the BRICS nations should work together to oppose trade protectionism and build an open world economy. In this respect, we should safeguard the multilateral trading system, engage in multilateral and bilateral trading—especially with the WTO members—and enhance the openness and inclusiveness of the investment and trade in the bloc.

Fourth, the BRICS nations should enhance policy coordination. Only through the coordinated macroeconomic policies such as monetary policy, fiscal policy, exchange rate and financial supervision can we build a comprehensive partnership within the BRICS countries, in turn stirring up a new round of global innovation and economic structural reform. We should remain committed to deepening the partnership and promoting comprehensive cooperation in eight key areas: trade, investment, manufacturing, energy, agriculture, science, technology and innovation, according to the Strategy for BRICS Economic Partnership adopted in 2015.

Finally, BRICS nations should strengthen monitoring of global capital flows to prevent the cross-border transmission of financial risks. Monitoring and evaluating the capital flows of foreign-funded institutions and cross-border operations should be carried out within a cooperative framework by means of a sustainable approach. An effective global financial risk warning mechanism should be in place to identify, prevent and resolve cross-border transmission of global financial risks.

It is also crucial to combine prudent management and micro-supervision to prevent systemic financial risk. On the one hand, we should strengthen cooperation with the major international organizations in macro-financial prudential supervision and construct a higher level of macro-prudential supervision framework. On the other hand, we should strive to establish an international financial risk platform for information release, inquiry and privacy protection, thus promoting micro-supervision reform and innovation.
Huang Maoxing is from the Fujian Socialism with Chinese Characteristics Theory System Research Center; Ye Qi is from the School of Economics at Fujian Normal University.