High-speed train manufacturing fueling global cooperation on production capacity
By LI XINZHONG
|
2016-12-15
|
Hits:
(Chinese Social Sciences Today)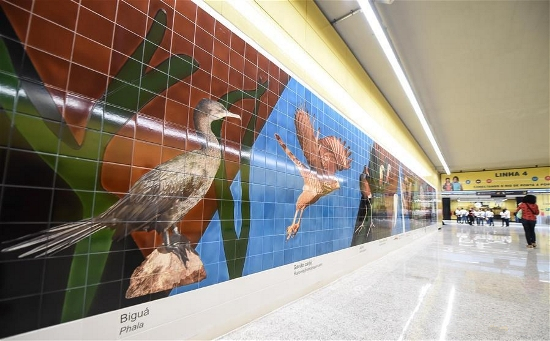 CRRC has supplied many types of equipment, including electrical and diesel locomotives, subway cars and light rail vehicles, to the Philippines,Turkey, Ethiopia, and Brazil respectively.
---
Chinese investment in countries and regions along "Belt and Road" corridors has reached nearly $110 billion, accounting for about 17 percent of its total FDI stocks. This includes 77 industrial parks and manufacturing bases with a yearly output value that exceeds $20 billion. One of these projects, China Railway Rolling Stock Corp Ltd (CRRC), is promoting global cooperative innovation.

The "Belt and Road" initiative has greatly facilitated the globalization of China's equipment manufacturing and technology as well as branding and service. Chinese President Xi Jinping has said that the initiative requires involvement of all related countries, contributing to the active participation and fruitful achievements.


Cooperative pioneer
The CRRC manufacturing base in ASEAN was formerly known as CRCC (Malaysia) Railway Vehicles Corp Ltd and led by CRCC Zhuzhou Electric Locomotive Corp Ltd. It was put into operation on July 9, 2015. China CNR Corp and CSR Corp merged into CRRC one month earlier. After that, CRRC integrated excellent resources and focused on core factors, such as R&D, design, branding and marketing. Such moves boosted its global influence and made it the global railway equipment exporter with the largest scale, most variety and most advanced technology.

CRRC believes that innovation is the engine for development, so has adopted a dimensional model for managing the ASEAN manufacturing base. The model places equal emphasis on products, technology, capital and service, making Malaysia the first country in ASEAN with the ability to manufacture railway equipment products. Currently, the base can produce 100 types of equipment, including electrical and diesel locomotives, subway cars and light rail vehicles, and it has the capacity to repair 150 rolling stocks each year. It has won six orders worth 10 billion yuan for urban bullet trains, light rail vehicles and maintenance services. Some 90 percent of CRRC employees in the base are from Malaysia, driving local employment and economy. In this way, CRRC has become a model for how Chinese firms can promote global cooperation on production capability to achieve a mutually beneficial situation along the "Belt and Road" corridors.

At the initial stage of globalization, CRRC only manufacturedproducts for other companies and created little added value. However, China has undergone rapid development in transportation equipment manufacturing over the past two decades. CRRC has greatly improved manufacturing and innovation capabilities by introducing technology and increasing investment in creativity. The equipment manufacturer has transformed into a supplier of R&D, key components and sales service, climbing to the top end of the global value chain. Today, the company embraces world class core technologies covering a variety of crucial fields in rail transit equipment manufacturing, such as vehicle integration, key components, communication and signaling system, converter and control, electric and electronic parts, electrical system integration as well as train control system.

The merged company obtained a greater ability in the aspects of technological innovation, equipment manufacturing and R&D, which constitutes its edges to compete in the fierce global market and lays foundation for its process of globalization. CRRC grasped the opportunity brought by the "Belt and Road" initiative and carried out diverse and coordinative strategies to extend business to rail transit equipment. Its subsidiaries have entered the global market and built factories in the ASEAN manufacturing base together so that they can make full use of their combined strength, thus exporting a full value chain of rail transit equipment, including technology, standards and service.

The establishment of the CRRC ASEAN manufacturing base has fueled development and globalization of domestic supporting industries, such as wind-power equipment, photovoltaic systems, new materials, smart equipment, engineering machinery as well as software information.
The breakthroughs in technological innovation, core technology as well as huge brand influence enable CRRC to firmly occupy both ends of the smiling curve and reshape the global value chain. It breaks up the hegemony in the rail transit equipment market, which has long been dominated by renowned global manufacturers, such as Bombardier, Siemens and Alstom. In particular, it outraced its rivals in terms of core technology, such as signaling systems, new materials and high-end equipment, becoming a global leader in the rail transit equipment field.


Innovative globalization
The key to promoting globalization of Chinese enterprises lies in their more extensive and profound involvement in the division of labor in global value chains under the initiative. Strategies should take account of competitive edges in terms of R&D, production and manufacturing, branding and standards, marketing, and service to form a new cooperative model in which all parts discuss and share with each other. Chinese companies can build a productive network with other countries by setting up manufacturing bases and industrial parks along the corridors so that they can compensate with their counterparts and jointly benefit from innovation-driven development.

Leading global companies can be pioneers in international cooperation on production capability. They are on the top end of the pyramid-shaped labor distribution and act as governors of value chains because they have core factors of production and organize production activities by making production regulations and standards. Therefore, companies of this kind can promote the connection between their Chinese counterparts and help them to upgrade manufacturing processes, production and services.

Companies should strive for more added value in the global value chain and advocate green development. In the process of upgrading manufacturing flow and product quality, they shouldn't sacrifice the environment along the corridors. Instead, they ought to emphasize an environmentally friendly ideology and make sustainable development into reality. Currently, the Chinese government seeks cooperation with related countries and has made an ecological statement by setting development goals in accordance with the environmental standards of various countries around the world. Such moves are destined to be well received by countries and regions along the corridors.


Productive service
Revolutions of science and technology and the refinement of international labor division have given rise to emerging industries. Enterprises improve core technology and manufacturing capabilities by releasing the potential of relevant factors of production. At the same time, they innovate development paths and boost emerging industries, so production and business activities will be transferred to the industries with higher added value.

Monopoly or leading enterprises with competitive edges can further strengthen their dominance in R&D, design, branding and marketing by grasping market opportunities, actively expanding new industrial chains and innovating the governance mechanism of the value chain. Their leading role in the new value chain encourages interaction between domestic and global markets and motivates small-and-medium-sized enterprises to enter the global market together so that Chinese companies can export a great variety of items , including technical standards, production and manufacturing, brand building, and production services.

Production services ensure the export of each aspect of the value chain, so attention should be focused on production services while exporting equipment manufacturing. An innovative model combining industrial and financial capital should be explored in which financial organizations cooperate with insurance and supervision departments of related countries.

The establishment of the Asian Infrastructure Bank, the BRICS Development Bank and the Silk Road Fund provide important platforms for China to cooperate with countries along the corridors on production capability, demonstrating a new model of a developing country's involvement in making global economic rules.

It is also possible to diversify methods for use of foreign exchange reserves through construction of RMB offshore centers and offshore insurance centers in order to support companies' issuance of stocks and bonds, reducing their political, economic and social risks in foreign countries.

The "Belt and Road" initiative produces global cooperation on production capability and equipment manufacturing under the guiding principles of innovation, coordination, green development, openness and sharing, which were put forward in the 13th Five-Year Plan. The partnership helps to build an equal, justified and mutually beneficial global economic order and provide other countries excellent and competitive production capability by improving effective supply and leading global coordination. In this way, people along the corridors can benefit achievements of economic modernization as soon as possible, thus creating a new path for Chinese equipment manufacturing to become an exporter of brand, technical standards and productive services.
Li Xinzhong is from the Institute of Quantitative and Technical Economics at the Chinese Academy of Social Sciences.