Translating farming culture into realistic productive forces
Ji Xiaoqiao
|
2022-09-22
|
Hits:
Chinese Social Sciences Today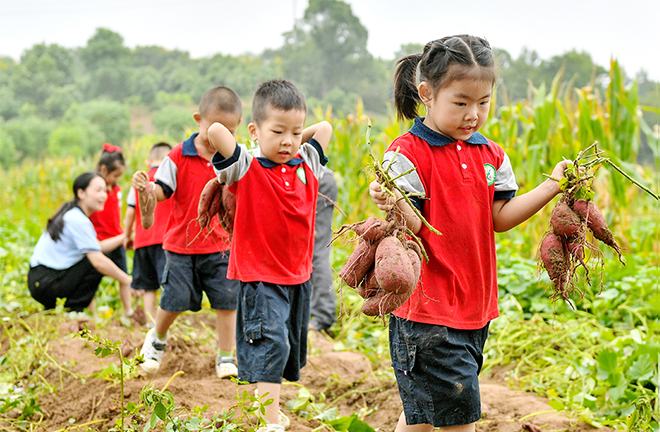 Children from the kindergarten experience farming culture in the agricultural park in Huzhou City, Zhejiang Province. Photo: Tan Yunfeng/CNS 
---
Farming culture is a unique culture retained in China's rural society. Over the past years, tremendous changes have taken place in agricultural productive forces and production modes, in rural appearance and farmers' ideas. The proper protection and inheritance of farming culture is thus an issue of urgency and values. 
Agricultural heritage protection 
In 2002, the Food and Agriculture Organization of the United Nations (FAO) launched the Globally Important Agricultural Heritage Systems (GIAHS), which aims to establish a system for protecting globally important agricultural heritage and relevant landscapes, biodiversity, knowledge, and culture. In 2005, the GIAHS pilot project for protection was launched in China. After more than ten years of development, China has made useful exploration in promoting ecological protection, in addition to agricultural and economic development of heritage sites.
According to the Plans for Rural Vitalization Strategy (2018-2022), it is necessary to effectively protect our refined agricultural cultural heritage and promote the reasonable and appropriate use of the heritage. Systematically speaking, farming culture should include four parts: a village system (forms of settlement, village organizations, and changes) and living environment for families; agricultural production (planting rice, raising silkworms, fishing, farming tools) and the handicraft industry; rituals in life (rites of birth, weddings, funerals, etc.) and various festival customs; folk beliefs and folk art and literature. These are creations made by people in the context of the farming civilization.
Taking the Jiangnan farming culture (a culture south of the Yangtze River) as an example. This type of culture is a cultural complex that was bred, grew, and formulated throughout the long course of the evolution of ancient Chinese feudal society. Since the local natural environment is suitable for crop production and reproduction of aquatic species, people from the Jiangnan region have been engaged in agricultural production with great enthusiasm for thousands of years. 
But Jiangnan culture not only includes the cultivation of crops and pertinent farming skills, but also involves a wide range of factors—a corresponding sequential calendar, making farm tools, rural culture, people's concepts, traditional customs, and other aspects. This profound and far extending farming culture is not only reflected through surface-level utensils and systems, but also in the process of the evolving agricultural civilization, which has profoundly influenced and shaped the thoughts and concepts of laborers in the Jiangnan region. Nowadays, modern society has begun to pay attention to the farming culture in this region and translate their traditional culture into realistic social productive forces. A premium has been paid on the farming cultural heritage in Jiangnan region, and in recent years, cultural phenomena and events related to traditional farming culture have emerged continuously. For example, the "Jiangnan Farming Culture Park" was built by Suzhou City, and "Learning Courses on Jiangnan Farming Culture" was opened by Dongjiang Experimental School in Wuxi City.
Coordinated efforts needed 
If cultural protection is the first step, then the issue of carrying forward relics and heritage which have been preserved throughout history is the next problem to be solved. In this aspect, the integration of culture and tourism offers important ideas. In recent years, distinctive forms of tourism full of cultural elements are thriving, which are favored by people today for their slow leisurely living, fashion, and other elements. 
Compared with classical sites and natural landscapes such as the clusters of gardens in Suzhou City and West Lake in Hangzhou City, the development of agricultural cultural heritage is less intentional. As trends of integrating culture and tourism emerge with growing popularity in many places, a number of successful cases have also appeared. 
An example is Lili Town in Suzhou City's Wujiang District, whose recorded history can be traced back to the Tang Dynasty (618-907). Led by the government of Wujiang District, the project that is developing Lili Town was launched in 2012, and the town was awarded the title of "National Famous Historic and Cultural Town" respectively in 2013 and 2014. Apart from Lili Town, there is a long list of such agricultural heritage sites.
For villages rich in natural, historical, and cultural resources, the protection and development should be coordinated in a combined way. Though the practical benefits of culture are not as immediate as the economic ones, its significance in the broad long-term sense should not be ignored. In addition, neither rural revitalization nor cultural heritage protection should be immersed in the old fashioned and extensively unconstrained methods of excavation. 
Ji Xiaoqiao is a lecturer from the School of Sociology and Population Studies at Nanjing University of Posts and Telecommunications. 
Edited by BAI LE