Post-disaster poverty should be avoided
JIA WEI, HAN ZIQIANG
|
2021-11-05
|
Hits:
(Chinese Social Sciences Today)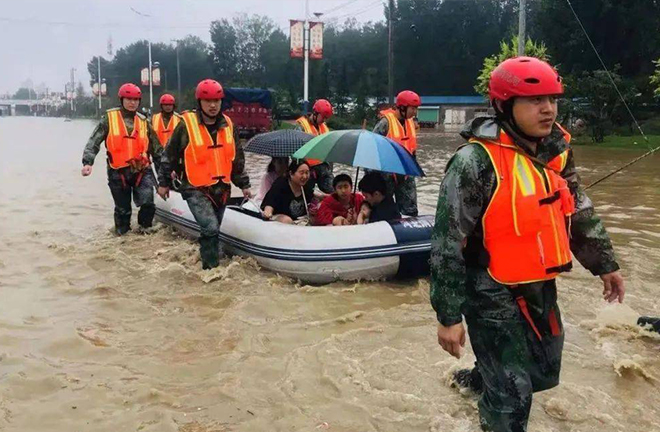 FILE PHOTO: Rescue crews save citizens by lifeboat when floods struck Zhengzhou City, Henan Province, in July this year.
---
Natural disasters are an important cause of poverty. From a global perspective, important factors that aggravate poverty include casualties, losses of means of livelihood depending on agriculture, social unrest, and people's displacement caused by natural disasters.
In terms of China, disaster-caused poverty is also one of the major types of poverty within the country. Affecting the infrastructure, livelihood, and health of people in disaster-stricken areas, disasters bring multiple pressures. In the face of natural disasters, it is necessary to prevent those people who have shaken off poverty from reverting back to absolute poverty and to avoid the possibility that relative poverty may be aggravated because of greater gaps between different groups. Apart from income, other factors such as living standards, infrastructure, health, and life satisfaction are also the benchmark for evaluating poverty.
To restore people's sustainable livelihood is an important measure to prevent falling into post-disaster poverty. Sustainable livelihood refers to individuals' and families' capability for earning a basic living, accumulating capital, and obtaining external support in the long term. Given weak risk-resistance ability, these groups may easily collapse onto the edge of subsistence, which requires a long period of time to recover from. These once-impoverished areas on the verge of becoming poor again also need support from policies and different social sectors to restore normal living and production.
Post-disaster relief is not merely a process which is static or progressively implemented, but a dynamic process in which multiple indexes interact and correlate with each other. A systematic entirety, it is not confined to the renovation of houses and other infrastructure, but emphasizes more the restoration of social, economic, and psychological levels. In particular, psychological care should be given to those disaster-afflicted residents and families in which membership of the core workforce suffers from heavy casualties. Mechanisms for long-term assistance are also needed to ensure their source of income.
In addition, the information system that tests poverty should be improved. China has rich experience in targeted poverty alleviation—those confirmed as poor are registered and a file is created in the national poverty alleviation information system. For post-disaster relief and reconstruction, similar experience can be drawn. Through this information platform, those blighted by disasters can be identified in a precise way so that targeted assistance can be offered to each individual and household registered in the system.
Post-disaster relief and reconstruction should not be limited to natural disasters that have already occurred. Higher consciousness to guard against risks and develop emergency management abilities is needed, for which, we need to reflect on issues concerning risk-identification and draw lessons from delayed risk-warning. During post-disaster construction, strengthened evaluation on risks regarding geological disasters can ensure that site selection for projects is scientific and that buildings are up to standard. For those protective areas for key agricultural products, the ability to take precautions against natural calamities needs to be particularly assessed to defuse disaster risks from the very beginning.
Finally, it is high time to establish a comprehensive long-term system for disaster-prevention and relief, which is an undertaking requiring knowledge of various fields such as emergency management, social governance, finance, and insurance. To achieve this, the collective roles of the government, community, and residents are also needed.
Jia Wei and Han Ziqiang are respectively from the College of Politics and Public Administration at Qingdao University and School of Political Science and Public Administration at Shandong University.