Overseas volunteer service creates special bond
HUANG YAN, HE YUYAN
|
2021-09-30
|
Hits:
(Chinese Social Sciences Today)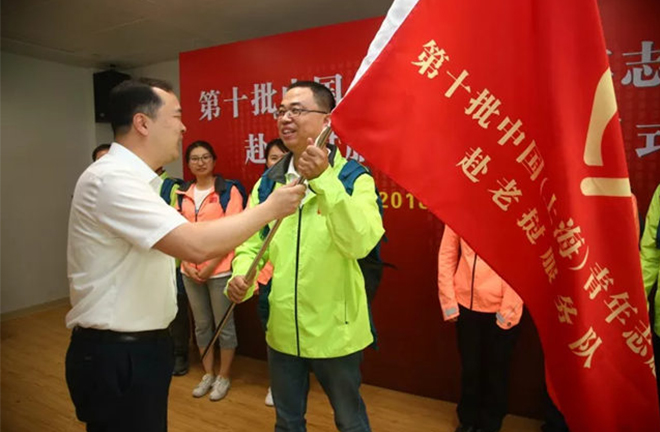 FILE PHOTO: The tenth batch of teams dispatched to Laos under the Overseas Service Program of Chinese Youth Volunteers
---
Since the "Belt and Road" (B&R) initiative was proposed, Chinese enterprises expedited their distrubution overseas. The economic activities conducted by these enterprises have also transformed from project contracting to industrial investment. Once primarily led by state-owned companies, the activities today draw participation from a wide range of companies of diversified types. Chinese capital, workers, technologies, and products have started to "go global" on a large scale. Meanwhile, communication with communities and people from the investment-targeted countries have started to rise to the surface.
Status quo of volunteer service
Led by transnational corporations in earlier times, overseas volunteer services offered by China can be found around the world with the globalization of these corporations. A long-term strategy for transnational corporations to undertake their social responsibilities and carry out localized management, the volunteer service is also a crucial issue of advancing the B&R initiative.
China's overseas volunteer service has reaped some results in recent years. Launched by the Central Committee of the Communist Youth League of China and the Ministry of Commerce of China in 2002, the Overseas Service Program of Chinese Youth Volunteers has, to this day, dispatched a total of 600+ volunteers to Asian, African, and Latin American countries. The service mainly covers Chinese language teaching, health and medical treatment, information technology, agricultural technology, and social development.
The program adopted one-to-one peer assistance offered by a particular province or municipality to a particular country, which fosters the economic and social development of the aided countries. Serving the big picture of Chinese diplomacy, it also cultivated young talents who are equipped with international vision and social responsibility.
Since 2004, China has set up more than 500 Confucius Institutes and opened more than 1000 Confucius Classes in over 130 countries, with students totaling more than two million. Among all the teachers, volunteers account for a large part. Some state-owned enterprises, especially those performing project contracting activities, have increasingly realized the importance of assimilating into local communities and improving the local environment and infrastructure. The China Railway Construction Co., Ltd dispatched their young employees as volunteer teams starting from 2012, and conducted fellowship activities together with Chinese naval escort taskforces which conduct missions in the Gulf of Aden. CITIC Co., Ltd established vocational schools in Angola, and trains local talent, which fosters the friendship between China and the native people.
Improving the effect of service
However, the overseas volunteer service is also small in its scale of teams and domain of service, which limits the effect as well as the social influence of the programs.
To remedy the situation, the overseas volunteer service should be elevated onto the level of national policy. A strategic project, it is the national demand prioritized by China. Therefore, economic account from the perspective of cost should not be considered. The programs should neither be implemented by one particular enterprise nor sector, neither one particular department nor province or region. Coordinated efforts need to be made at the national level. An elaborate job, the volunteer programs need to be completed with craftmanship and patience in a scrupulous way under multiple departments.
The volunteer service led by overseas industrial parks can play a pioneering role. China has already set up more than a hundred overseas industrial parks of various types, nearly 20 of which are directly supported by the Ministry of Commerce of China. Most of the enterprises that settle within the industrial parks are private manufacturing corporations, and their labor and employment, product markets, and other factors are closely correlated with the native countries. But some China-funded enterprises are still having difficulty assimilating into the local society which stirs tension in relationships within the local communities.
Chinese enterprises now have active investments in such Southeast Asian countries as Vietnam, Cambodia, and such African countries as Angola and Ethiopia. In view of this, volunteer service in these countries can play an exemplary role. Furthermore, mechanisms can be established to incentivize volunteers by improving their subsidies, conferring them honors, getting them dismissed or promoted according to their performance, etc.
Huang Yan and He Yuyan are from the School of Public Administration at South China University of Technology.