Seeking effective means for global food security governance
ZHANG SHUAI
|
2021-09-23
|
Hits:
(Chinese Social Sciences Today)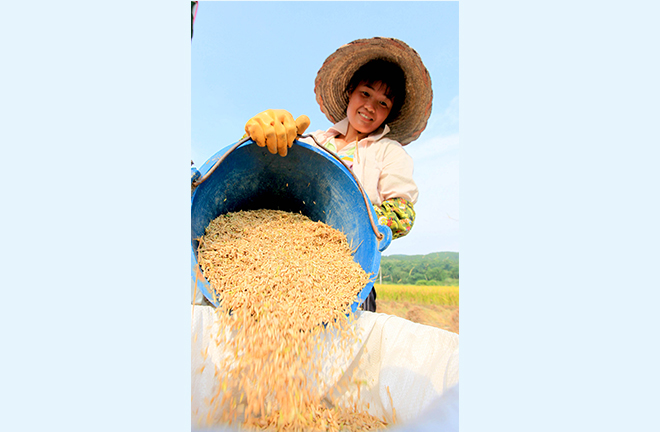 A farmer reaps cereal crops in Liuzhou City, Guangxi Zhuang Autonomous Region. PHOTO: Tan Kaixing/CNSphoto
---
A priority of national governance, food security is a core concern of the UN Millennium Development Goals (2000—2015) and Sustainable Development Goals (2015-2030). According to The State of Food Security and Nutrition, global food security governance still faces economic slowdowns, frequent extreme weather, wars and other continuous conflicts, and the ongoing pandemic. As a result, security dangers exist to food supply, availability, utilization, and stability. The situation will thus become more stringent, underscoring the immense challenge of achieving the Zero Hunger target by 2030.
Therefore, global food security governance is now at its critical juncture, which requires cooperation from countries and non-country actors to form a more resilient, inclusive, and sustainable system.
Governance guided by UN organs
Food security is the issue that the UN has prioritized since its foundation. Across a plethora of pressing international issues, food security is the only global issue that the UN set up three special institutions to resolve. Its global governance is now mainly guided by the Food and Agriculture Organization of the United Nations (FAO), the World Food Program (WFP), and The International Fund for Agricultural Development (IFAD).
With a wide range of functions, the FAO collects global food and agricultural information, fosters information exchange between member countries, provides technological support and policy support to developing countries, and negotiates on major issues concerning international food and agriculture. The WFP offers humanitarian aid to regions and countries blighted by disasters and conflicts. The IFAD helps developing countries improve their food production through raising funds.
A systematic project, food security governance also involves other security sectors such as the environment, hygiene, biology, transportation, and water resources. Mutually interconnected, the security issues of different sectors all together form a compound—insecurity in any sector might produce a chain reaction and trigger another security crisis. This can be perceived from the fact that the food system is impacted by extreme weather events such as flood, drought, etc, the raging COVID-19 pandemic, or blocked transportation routes. That is why the three major UN institutions of food and agriculture also conduct joint governance actions with the World Health Organization, the UN Environment Program, Joint United Nations Program on HIV/AIDS, and other international organizations. In this way, the unstable elements that threaten food systems can be eradicated starting from the origin of security.
Interference from food nationalism
A sound food trade environment is the prerequisite for the steadiness of a regional economy. But considering realistic factors such as national interest, countries quite often intervene in the market, such as by improving the subsidy to agricultural exportation in order to obtain food price advantages. This will easily cause vicious competition within regions. It is thus necessary to reach consensus on food trade to ensure the completeness of the food value chain and supply chain.
Each time that a crisis has broken out, food security has always been the prioritized area of prevention and control. But under the impact of food nationalism, most countries would, based on sentimental rather than rational understandings, formulate food policies that are in their own best interests. This would encourage similar follow-up protective policies within corresponding regions, and tides of panic about food shortages. In the early period of the pandemic, some food-producing countries blindly enacted tight food policies in spite of the actually increasing global food productivity, which led to tension in the food supply.
The European Union (EU), Association of Southeast Asian Nations (ASEAN), and African Union (AU) all place a high premium on regional cooperation on food security. The EU enacted the Farm to Fork Strategy, a directive designed to ensure a healthy and eco-friendly food system. From 2016 to 2020, the EU and FAO carried out 110 projects in Asia, Africa, and Latin America, which provided funds and technologies needed by developing countries for food production. By cooperating with the FAO, the AU tries to improve the agricultural mechanization and efficiency of productivity in Africa.
China's role as a participant
Chinese agriculture and world agriculture are closely correlated with each other. Agriculture is the bridge which connects China with the economic circles of Asia, Europe, Africa, North America, and South America. It is also an important issue on which China has conducted bilateral and multilateral cooperation with other countries. As an important participant who guides global food security governance, China has always been willing to offer aid in capital, technology, and human resources to many other countries.
On the global scale, China has established the South-South partnership with the FAO, WFP, and IFAD. In this way, China's experience will benefit more countries through an international mechanism. On the regional scale, food security is a focus under the frameworks of the Forum on China-Africa Cooperation, China-Arab States Cooperation Forum, China-CELAC Forum, Lancang-Mekong Cooperation, and China-ASEAN (10+1). This shows that China has reached a consensus with regional countries on guaranteeing food security.
Zhang Shuai is a lecturer from the Shanghai University of Political Science and Law.