Brick-and-mortar bookstores can play bigger role
LI TIENIU
|
2021-06-10
|
Hits:
(Chinese Social Sciences Today)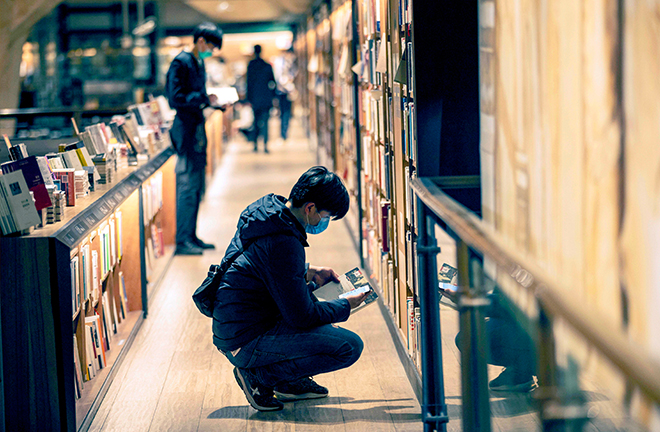 Citizens read books in Fangsuo Bookstore, Chengdu City on March 10. Photo: Wang Lei/CNSphoto
---
The advent of the internet and the digital era has quietly altered people's lifestyles and reading methods, which also brought a blow to the operation of local bookstores. Reading no longer requires physically holding a book, and book sales can also be conducted online, which makes many people doubt the necessity of brick-and-mortar bookstores' existence. Many bookstore operators who were once enthusiastic thus feel uncertain about the future. The COVID-19 pandemic brought calamities in close succession—pressure from rent, human resources, and other overhead costs made things worse. At this critical juncture, some government departments lent a helping hand in a timely manner through funding, subsidies, and other means, which helped many brick-and-mortar bookstores overcome difficulties during these harsh times. In some places, the number of brick-and-mortar bookstores began accelerating instead of declining.
Though libraries, exhibition halls, theaters, and other cultural service agencies play a considerable role in the public cultural service system, the overall number of locations is relatively small and they only offer a narrow range of services. Comparatively, brick-and-mortar bookstores have greater potential advantages in terms of public cultural service. Brick-and-mortar bookstore services can be accessed in a convenient way as they have flexible operating times. They are distributed in a wider range of spaces, with no mandatory requirement for consumption, nor tickets, nor extra fees. The low entry threshold for brick-and-mortar bookstores makes it easy for consumers to access.
In addition, brick-and-mortar bookstores are inclusive in terms of their services. The "bookstore plus" model makes cultural services pluralistic. Nowadays, brick-and-mortar bookstores cannot only sell books and culturally creative products, but also hold exhibitions, performances, plan book publishing, and some brick-and-mortar bookstores even provide accommodations. The injection of these new elements satisfies people's cultural needs and it can be said that today's brick-and-mortar bookstores are no longer just shops that sell books, but have become a cultural synthesis blended with different cultural elements.
To better utilize brick-and-mortar bookstores' advantages, social benefits should come first. "Content is king" is an important means to realize social benefits and to meet social demands. In fact, it can be argued that brick-and-mortar bookstores are also a form of media, as they carry the attributes of media communication. A collection of good reads, delightful for readers en masse, can be offered by better book selections, improved shelving layouts, promotion and advertising, publishing, research and development. The old one-way sales channels should be extended with stronger content communication abilities for books. In addition, so that they do not become isolated cultural carriers, brick-and-mortar bookstores also need to actively cooperate with other cultural service institutions to complement each other and join forces.
The next step is to optimize brick-and-mortar bookstores' marketing forms and service systems, as a new business form. The current diversified development of brick-and-mortar bookstores is an inevitable trend as a result of upgrading cultural consumption. Growing from the simple brick-and-mortar bookstores of the past to today's idea of a "bookstore plus" as a cultural synthesis—the transition of operating models represents a significant sign that a new business form for brick-and-mortar bookstores is arising. Brick-and-mortar bookstores thus need to explore laws which develop new business forms. A new business form which covers an array of operating models does not compete with the literate and reading atmosphere, but comprehensively improves brick-and-mortar bookstores' cultural service quality. Government departments should innovate bookstore management systems, optimize marketing environments, and provide specialized guidance and trainings to brick-and-mortar bookstores for an improved public cultural service system.
For brick-and-mortar bookstores, digital awareness is also important. In an era when information about anything and everything can be accessed at home through a cell phone and a screen, brick-and-mortar bookstores need to embrace today's digitized life with a positive mindset. Industrial digital platforms can be established and social media tools such as WeChat's Official Account, live streaming, and short videos can be used to provide readers with immersive reading experiences both online and offline. Furthermore, consumers' reading and learning experiences can be enriched through audio books, digital music, online education, knowledge services, and other forms, to give people a sense of fulfillment, which binds them even more closely to bookstores.
Li Tieniu is from the Beijing Research Center of Xi Jinping Thought on Socialism with Chinese Characteristics for a New Era.