Handicrafts preserved through digitization
LUO XUAN
|
2021-06-03
|
Hits:
(Chinese Social Sciences Today)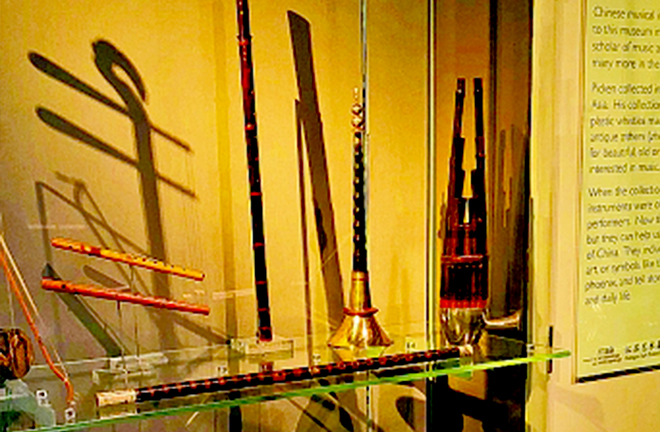 Musical instruments of Kunqu Opera displayed in the exhibition held by the Kunqu Opera Digital Museum Photo: GUANGMING DAILY
---
The rapid development of urbanization and modernization in today's China has significantly altered people's aesthetic tastes and consumption habits. Some traditional handicrafts have gradually fallen out of circulation, especially handicrafts which are limited in quantity and mobility due to their remote origins, facing the risk of not being inherited by the next generation. As such, digitized ways to exhibit traditional crafts by means of Virtual Reality (VR) technology can preserve and present these handicrafts in a new way.
This begins with obtaining data, building models and creating immersive experiences. When virtually displaying handicrafts, the first step is obtaining relevant data. For example, this data includes the spatial positioning, shapes, contour profiles, dimensional proportions, materials, textures, and other necessary attributes. In addition, information about inheritors, craftsmanship, cultural and geographical environments, and methods for demonstrating traditional artistry can be obtained in a digitized way. After making these original data forms compatible, they can be digitized. Based on this massive data acquisition, construction of virtual objects can be realized through 3-D modeling. Endangered and perishable handicrafts can therefore be re-created in a highly precise way and protected through time.
Take paper-cuttings as an example. It is first necessary to obtain information from a database of raw materials about paper categories, colors, and auxiliary elements, and then obtain information from the instrument database about scissors, bricks, crabsticks, and emery cutters. In addition, digitized recordings about paper-cut tools used in the process of preparation and design, videos of drawings and cuttings can be obtained, and each procedure would have its correspondent database of paper-cut making information. After the virtual stereoscopic space is established by means of VR technology, effective communication of paper-cuttings can be conducted using 3-D virtual exhibitions.
Online and offline communication through multiple platforms is different from the traditional static exhibition mode, as it integrates people, machines, and objects. In this way, viewers' experiences can be improved in a world filled with virtual art. For example, the world's first bilingual Kunqu Opera Digital Museum preserves collections in Jiangsu Provincial Department of Culture and Tourism and Cambridge University. Based on VR technology, the virtual equipment renders the Kunqu Opera into multi-dimensional 360 degree images. The application of new technologies such as 5G and AI in the multi-media era has made it possible to communicate traditional handicrafts in a more extensive and lasting way.
Though VR technology is of great significance for digitized restoration and the revival of traditional handicrafts, cultural preservation is the most appealing aspect of this technology and what is most worthy of being passed down. Therefore, VR technology's application must value the inheritance of traditional culture. Craftsmanship and cultural backgrounds should be communicated as much as possible, because only protection which combines these two is lively and diversified. At the same time, the ecological attributes of handicrafts should also be considered, with ecological culture as the background and the starting point of handicraft design, in order to contextualize raw handicrafts. Different from showing medical equipment or electrical appliances to the public, which would emphasize the exterior appearance, handicraft displays are more about conveying the cultural spirit, craft, and artistry. To perform its virtual design well, it is necessary to fully account for the visual and audio experience. Especially for young people, eye-catching designs by means of new technology will resonate more with their user experience.
In today's era, when informatization and intelligence develop in leaps, VR technology's participation in protecting traditional handicrafts is a new sustainable option. This technology demonstrates the cultural backgrounds, crafts, skills, and geographical features embodied in traditional handicrafts, offering new opportunities for its protection and development in a digitized way.
Luo Xuan is from the School of Art at Changzhou University.