Scholars explore what past pandemics teach us
WANG YOURAN
|
2020-04-21
|
Hits:
(Chinese Social Sciences Today)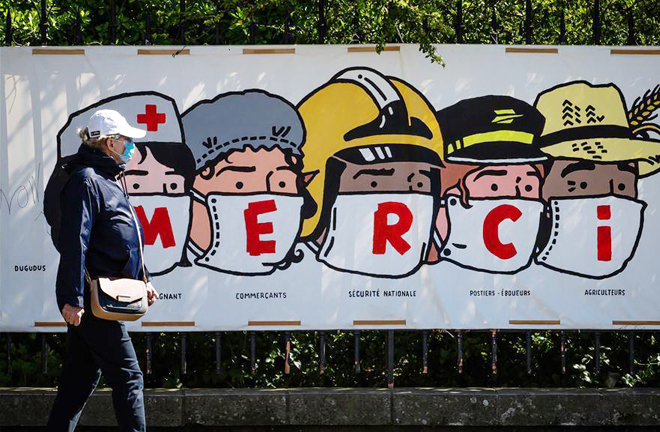 A poster in Paris expresses gratitude for the service of various professions during the epidemic. Photo: Aurelien Morissard/XINHUA
As COVID-19 spreads across the globe, countries need to discuss how to draw lessons from past pandemics, strengthen international cooperation and learn from each other.
The world went through at least four influenza pandemics in recent history, from the 1918 Spanish flu to the 2009 H1N1 pandemic, and the current coronavirus pandemic may be qualitatively different from any one we have experienced in our lifetimes, said Simon F. Haeder, assistant professor at the Penn State School of Public Policy. Today's world is highly interconnected, which allows outbreaks to quickly spread across the globe and makes them more difficult to prepare for and contain.
"That being said, the coronavirus shares inherent similarities with other contagious disease, so the standard playbook applies," Haeder said. Past pandemics truly indicate the need to plan ahead. There are things the US should have done months ago but did not do. This includes increasing the production of needed supplies such as masks and ventilators as well as augmenting hospital capacity.
The US and other countries facing COVID-19 outbreaks more recently can learn from countries exposed to the disease earlier, such as China and South Korea, said Nader Habibi, a professor of economics at the Brandeis International Business School. These countries used a set of responses including social distancing, lockdown regulations and travel restrictions. Now we can clearly see the positive outcomes of these measures. Of course, it is not possible to imitate the policies of other countries completely in the US because of the differences in political and economic institutions. Nevertheless, many useful lessons can be learned and applied.
Habibi emphasized the need for international cooperation to get COVID-19 under control. G20 members must provide financial and technical support to other countries that might need help to make sure every country is able to join a collective and coordinated program against COVID-19. The US should fully cooperate with other G20 members to form a collective leadership that can coordinate the global fight against COVID-19.
In the short run, the pandemic has devastated the US and global economies, and the economic impact of quarantine?and social distancing policies is likely to continue. If all countries coordinate their policies and synchronize their restrictive measures, the economic cost will be smaller, Habibi said. Otherwise, measures aimed at preventing imported cases, such as keeping borders closed and restricting global travel, will continue to be economically disruptive for all countries.
Much should and could be done to mitigate the fallout from COVID-19, Haeder said. It is very important to listen to experts. Obviously, epidemiologists and medical professionals can tell us how to save patients and prevent further infections. But the disruption caused by COVID-19 has been so significant that it affects all facets of society. Economists, sociologists, political scientists, psychologists and experts from many other disciplines all have much to offer.
The US needs to see its federal government be much more engaged, take charge and coordinate the response nationally, Haeder said. Local responses are both inadequate and ineffective because of the porous intra-US borders. The US also needs to focus resources on developing antibody tests to assess who has been infected and who can go back to work to keep society running. This should be done by the federal government in coordination with other nations.
"It is obvious that while shutting things down right now is the only remaining option, we cannot go on like this forever," Haeder said.