Global synergy key to fighting COVID-19
MING HAIYING, SUN MEIJUAN and ZHANG YIXIN
|
2020-04-07
|
Hits:
(Chinese Social Sciences Today)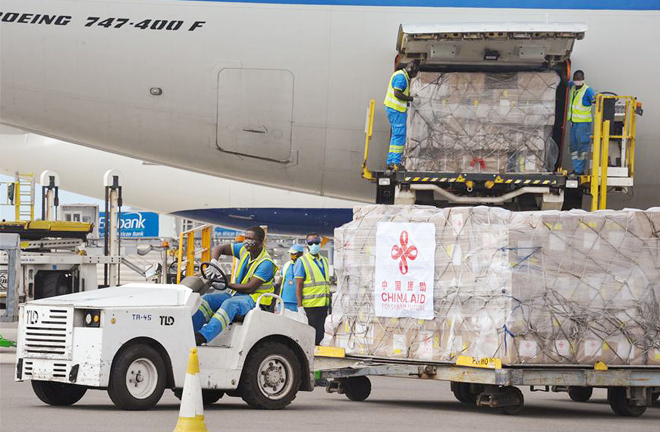 Staff unload Chinese medical supplies from an airplane at Kotota International Airport in Accra, the capital of Ghana, April 6. China's medical supplies for 18 African countries arrived there on Monday and are scheduled to be delivered to the other 17 countries within a few days. Photo: Xu Zheng/XINHUA
Chinese President Xi Jinping on March 26 called for a resolute all-out global war against the COVID-19 outbreak as leaders of the Group of 20 (G20) convened an extraordinary summit to coordinate a multilateral response to the pandemic.
"It is imperative for the international community to strengthen confidence, act with unity and work together in a collective response," Xi addressed the summit via video link from Beijing.
Calling major infectious disease an enemy shared by all, Xi said the international community must comprehensively step up international cooperation and foster greater synergy so that a united humanity can win the battle against COVID-19.
Xi's remarks are a profound interpretation of the concept of a community of shared future for mankind, said Wang Zhanqi, dean of the School of Public Administration at China University of Geosciences in Wuhan. The virus knows no national boundaries, Wang said.
"A global crisis requires global solutions," said Wang Yong, director of the Center for International Political Economy at Peking University. The world should adhere to the concept of a community of shared future for mankind and strengthen existing international organizations and platforms. Joint prevention and control is the key.
Joint prevention and control requires information exchange and transparency as well as policy coordination and mutual learning, Wang Zhanqi said. It also necessitates sharing experience and jointly carrying out scientific research on vaccines and drugs.
Under current circumstances, all G20 members should strengthen their coordination of macroeconomic policies and ensure that those policies, including monetary and fiscal policies, work in the same direction, Wang Yong said. This could boost investor confidence across the globe and prevent further decline in the stock market or global recession.
Yin Zhichao, dean of the School of Finance at Capital University of Economics and Business, said that proactive monetary and fiscal policies must be adopted to assist the areas of production and consumption that have been hardest hit by the virus. This will help prevent the unemployment rate from rising in the aftermath.
Wang Zhanqi observed that the pandemic is going to worsen other preexisting global concerns, including a lack of momentum in the global economy and an ever-widening wealth gap. To address these issues, Wang pointed out, all countries must protect the international economic and trade order, eliminate trade protectionism and continue to promote economic globalization. Meanwhile, countries should invest more in the medical and healthcare industry. Governments should also protect vulnerable groups and improve the overall consumption level.
"The pandemic is likely to trigger a global recession, which calls for countries to coordinate their macro policies," said Yu Zhen, associate dean of the Economics and Management School at Wuhan University. He said that countries need to coordinate their fiscal and monetary policies, especially interest rate policies and exchange rate policies, in order to avoid competitive depreciation and debt crisis.
Countries should work together to stabilize global industrial and supply chains, Yu continued. Countries should strengthen trade cooperation and improve customs coordination and negotiation. While prioritizing effective pandemic prevention and control, a cross-border logistics channel should be opened as soon as possible to ensure an unimpeded cross-border supply chain. Meanwhile, international organizations should also play their part and facilitate the development of an emergency mechanism for global supply chain cooperation.
​edited by NIU XIAOQIAN, WENG RONG