Xi's visit bolsters China-Greece ties
ZHANG JUNRONG
|
2019-11-21
|
Hits:
(Chinese Social Sciences Today)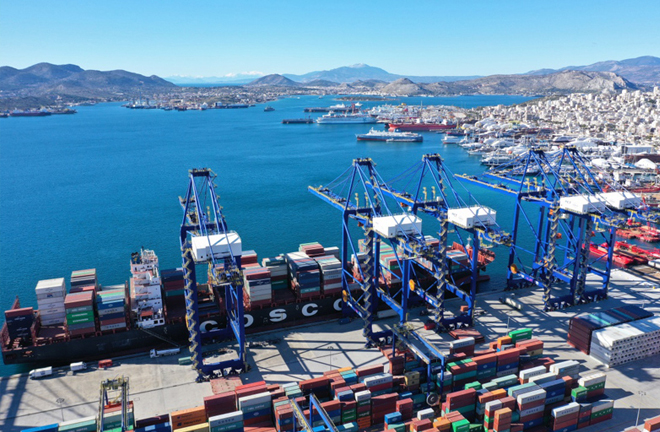 The Piraeus Port in Greece is a hub for the 21st Century Maritime Silk Road. Photo: Wu Lu/XINHUA
---
China and Greece signed a joint statement on Strengthening the Comprehensive Strategic Partnership. The announcement came as Chinese President Xi Jinping paid an official visit to Athens Nov. 10–12, during which he met with Greek President Prokopis Pavlopoulos and Prime Minister Kyriakos Mitsotakis.
"Both China and Greece boast a long history and glorious culture. They have had a major impact on Asian civilization and European civilization and have an important position in the history of civilization," said Chen Yugang, a professor from the School of International Relations and Public Affairs at Fudan University.
Wang Mingjin, a professor from the School of International Relations and Diplomacy at Beijing Foreign Studies University, said that both China and Greece have a strong desire to facilitate cultural exchange and mutual learning. Both sides support multilateralism in the field of economic and trade cooperation, adhere to opening up and oppose trade protectionism.
In the past few decades, China and Greece have exchanged views and signed a series of important agreements covering economy, commerce, municipal issues, education, science, art and social issues, said Liu Zuokui, secretary-general of the China-CEEC Think Tanks Network at the Chinese Academy of Social Sciences.
In Wang's view, pragmatic cooperation is a highlight of China-Greece relations. Greece actively develops its relations with China, supports China's Belt and Road (B&R) initiative, and appreciates China's support for European integration.
Greece became a full participant in the mechanism of the Cooperation Between China and Central and Eastern European Countries (China-CEEC, now known as 17+1) this April.
Liu said that Greece is both a new member and an old friend of the China-CEEC cooperation. From 2015, Greece had been attending the summits of the China-CEEC cooperation as an observer.
Reflecting the inclusiveness of the China-CEEC cooperation, Greece's participation has strengthened the China-CEEC cooperation and helped the mechanism play a greater role in maritime cooperation, cultural exchange, interconnection, tourism cooperation and other fields.
Chen said that Greece is a country with important geopolitical influences in Europe and a model for implementing the B&R initiative. Greece's participation in the China-CEEC cooperation has expanded the mechanism. The channel construction of the China-CEEC cooperation will greatly change the East-West-oriented interconnection pattern in European history and form a new pattern of common development in Europe.
Wang said that the development of China-Greece relations, especially bilateral cooperation in infrastructure construction and investment and financing, will become a model for China-European relations and promote China-EU relations to a new level.
"The Piraeus Port project in Greece is a hub for the China-Europe land-sea fast intermodal transport route and a new hub of China-Europe shipping. It is also an important project for B&R construction," Liu said, adding that this project will help promote regional interconnection.
The development of a good cooperative relationship between China and Greece can promote China-EU relations in the direction of pragmatism, mutual benefit and mutual trust, Liu noted.
"In view of the unique geographical location of Greece and the influence of its traditional civilization, the development of China-Greece relations will bolster China-EU relations and accelerate B&R construction," Chen said. The success of the Piraeus Port project is a model for the joint construction of the B&R and will boost trade and investment.
edited by JIANG HONG