CICA looks to Asian security and development
WANG GUANGLU
|
2019-06-27
|
Hits:
(Chinese Social Sciences Today)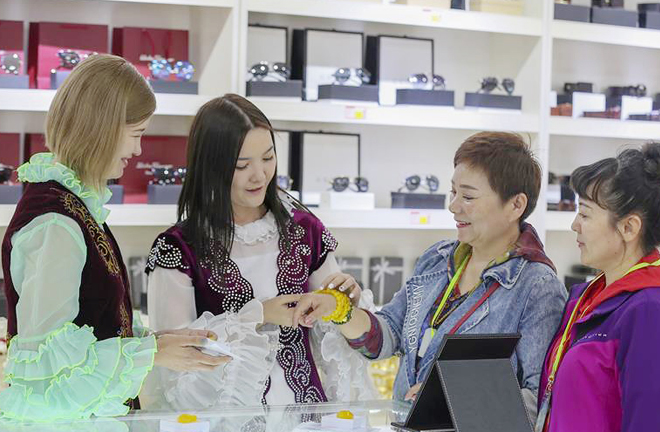 Kazakh sisters (Left) show their country's jewelry to Chinese tourists at the Horgos International Border Cooperation Center on the China-Kazakhstan border, in northwest China's Xinjiang Autonomous Region, in mid-June. With the promotion of the Belt and Road initiative, Xinjiang has increased trade with Central Asian countries. Photo: Zhou Xu/XINHUA
---
Addressing the fifth summit of the Conference on Interaction and Confidence Building Measures in Asia (CICA) in the Tajik capital of Dushanbe on June 15, Chinese President Xi Jinping called for building an Asia featuring mutual respect and trust, security and stability, development and prosperity, openness and inclusiveness, and cooperation and innovation.

The summit makes it our common goal to build a safe and stable Asia, and its core is the security concept for Asia proposed by President Xi at the 2014 CICA summit in Shanghai, said Zheng Xianwu, a professor from the Institute of International Relations at Nanjing University. The declaration of the fifth CICA summit affirmed the importance of dialogue on a regional security architecture that is open, transparent, inclusive, evolutionary and based on universally recognized principles of international law. This marks significant progress for the security concept for Asia at the regional multilateral and bilateral levels since the concept was proposed more than five years ago.

"There are both opportunities and challenges for Asia's security and development," said Xing Guangcheng, director of the Institute of Chinese Borderland Studies at the Chinese Academy of Social Sciences (CASS). On the one hand, Asia is the world's most dynamic region in economic development. Asia has broad prospects and great momentum for growth, and it has accumulated a lot of development experience.

On the other hand, Xing said that Cold War thinking, unilateralism and bullying have threatened and brought instability to Asia. The level of mutual trust among Asian countries needs to be improved. The development of regional cooperation in Asia needs to be deepened, and the dialogue among Asian civilizations needs to continue.

Xu Qinhua, deputy director of the National Academy of Development and Strategy at Renmin University of China, said that in light of the increasing changes in non-traditional security and traditional security, Asia's security and development face a complicated geopolitical situation. The initial formation of the Asian security complex is very complicated. Countries have different levels of development, institutional systems, civilizations and economic models. Coupled with the collision between major countries, these factors have led to the system having unclear boundaries, a complicated structure of internal power, and overlapping cooperation mechanisms. How to carry out Asian security governance and set up topics for governance requires extensive and in-depth discussion.

The intervention of major countries outside Asia, the increasing pressure on non-traditional security, the changes in Asian countries' industrial layout, division of labor, and the transformation and upgrading of industrial structure have all posed greater challenges to Asian countries, said Zhang Ning, a research fellow from the Institute of Russian, Eastern European and Central Asian Studies at CASS.

"Despite its many unstable factors, Asia is still the most dynamic and promising region in the world," Zhang said. Asia is home to the largest number of emerging economies. Asian countries are striving for development and have shown the strongest growth momentum. Against the current international situation, the cooperation among Asian countries is good. Most Asian countries oppose unilateralism, support multilateral cooperation, and appreciate the cooperation within the region, especially China's Belt and Road initiative. The region has seen increased consensus and found new drivers for growth.

Xi emphasized that as a member of the Asian family and a responsible major country of the international community, China will continue to be a builder of world peace, a contributor to global development, a defender of the international order, and an advocate for the building of a new type of international relations and a community of shared future for mankind.

"Asia's security and mutual trust for the future requires the joint efforts of all Asian countries," said Hu Qingliang, a research fellow at the Guangdong Institute of Party Building. Hu proposed to recognize cultural and civilizational differences, advocate economic, political and cultural dialogues, adhere to independence and avoid complications, so as to better resolve the existing conflicts and eliminate barriers and misunderstandings.

China must continue to actively facilitate new international relations. Hu said China must also clearly understand that to create a new phase in the development of Asian security, we must advance incrementally.
edited JIANG HONG