City diplomacy crucial to global governance
ZHANG JUNRONG
|
2018-07-19
|
Hits:
(Chinese Social Sciences Today)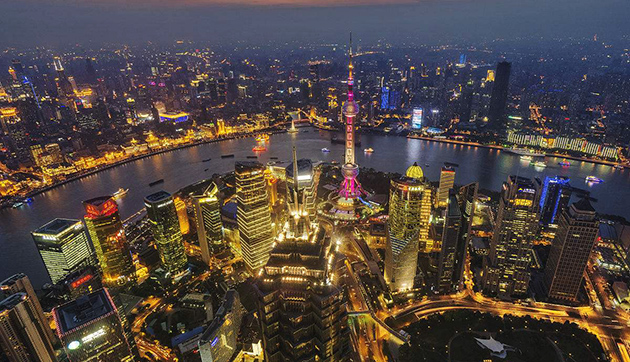 With Shanghai at its core, the Yangtze River Delta city cluster is one of China's most open, dynamic and innovative regions. It is among the six largest urban agglomerations in the world.
---
On July 1, a symposium titled "Cities and International Order" was held in Beijing. Domestic and foreign scholars discussed the role of cities in the international order and global governance, China's "host diplomacy," and construction of the Belt and Road.

The 21st century is unfolding with rapid urbanization. Currently, 54 percent of the global population lives in cities, and this figure is expected to reach 70 percent by the year 2050. Cities are driving the global economic growth.

"According to the traditional view, cities are 'introverted' organizations, focusing only on local power. This view has been increasingly challenged in recent years," said Zhang Yue, an associate professor of political science at the University of Illinois, Chicago.

Under the influence of economic globalization, urban policies are becoming more "extroverted" than before, Zhang said, adding that this is changing city governance practices on a global scale.

For example, many cities have joined in the fight against climate change. The C40 Cities Climate Leadership Group has connected 90 cities since its establishment in early 2005. In 2017, when US President Donald Trump announced his country's withdrawal from the Paris Agreement, mayors of 279 cities in the US signed a joint statement pledging their continued support and implementation of the agreement.

Cheng Jian, director of the Shanghai World City Day Affairs Coordination Center, said that presently the international situation is changeable and complicated as populism and trade protectionism are surging in a few Western countries. Many major economic, social and cultural issues have expanded from the national and regional level to the city level. Metropolises such as Beijing, Shanghai, New York and Tokyo are playing increasingly important roles in the institutional design of global governance.

The Boao Forum, World Economic Forum and other international multilateral conferences are examples of the unique roles cities play in international exchanges and global governance.

City diplomacy studies is an interdisciplinary field that integrates the study of diplomacy and international relations with the general urban science, urban economics, politics and sociology, said Xiong Wei, a professor from the Department of Diplomacy and Foreign Affairs Management at China Foreign Affairs University.

Geopolitics is the only traditional theory of international relations that includes study of space. One shortcoming of this concept is that it implies predeterminism in thinking that space places constraints on peoples' behavior and the direction of a nation's foreign policy. In fact, cities are built by people and therefore people are masters of urban space rather than subordinates. In this sense, the study of city diplomacy has provided a new dimension for international relations research.

Recently, Shanghai Institutes for International Studies (SIIS) released "A Research Report on the Vitality Index of Chinese Cities in International Communication" which analyzed the foreign interactions of 50 major cities in China. Yu Hongyuan, director of the Institute of Comparative Politics and Public Policy under the SIIS, said that the vitality of a city's international exchange is closely related to the city's development.

With the constant development of the Belt and Road, the economic and trade index as well as international exchange index of China's border areas have risen remarkably, showcasing strong vitality of Chinese cities in the field of international communication.
(edited by JIANG HONG)