Bridging the gap between academia and policymakers
WANG YOURAN
|
2018-07-19
|
Hits:
(Chinese Social Sciences Today)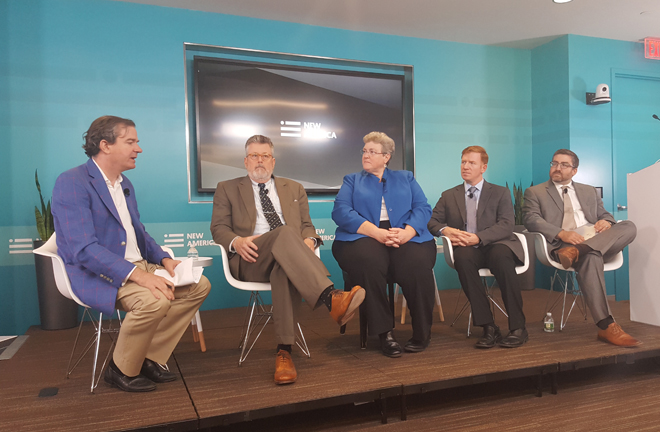 On June 26th, a symposium titled "The Beltway and the Ivory Tower: Bridging the Gap" was held by the US think tank New America in Washington D.C. Scholars in social sciences discussed ways to make academic research more useful to policymakers.(WANG YOURAN/CSST)
---
WASHINGTON—On June 26, a symposium titled "The Beltway and the Ivory Tower: Bridging the Gap" was held by the US think tank New America in Washington, D.C. Scholars discussed ways to build a closer relationship between social science research and policymaking.

"The real test of whether academic research is relevant to policy is whether or not policymakers think it is useful to them," said Susan Peterson, a professor of government and international relations at the College of William and Mary. In 2017, the Notre Dame International Security Center (NDISC) collaborated with the Teaching, Research and International Policy (TRIP) program initiated by William and Mary to conduct a survey among nearly 3,600 policymakers who served in the US government from 1993 to 2016 at a rank of assistant director or above. The policymakers were asked to evaluate how useful they found various social science research methods and outcomes in their daily work.

Generally, the survey found social science research is useful to policymakers. When asked "How often do you relate social science arguments and evidence to your work?", 26 percent of all respondents said "every single day" and 48 percent said "a few times a week."

In terms of the ways that policymakers relate social science arguments and evidence to their work, most respondents said that it provided the background. With regard to the usefulness of different social science methods, 75 percent of policymakers suggested "quantitative analysis" is either very or somewhat useful to them, which contradicts the conventional wisdom that "quantitative analysis is not very useful to policymakers."

Another crucial question was "What are the major obstacles to policymakers using academic research?" Although many may assume that the nature of social science research itself limits its usefulness to policymakers, this survey found that the biggest obstacle is a lack of time necessary to keep up with academic work.

Others included intrinsic characteristics of academic research, such as its tendency toward abstraction, insufficient timeliness or narrow focus on esoteric internal debates.

In academia, there is a growing demand for applied research. Michael Desch, director of NDISC, said that since the 1950s and 1960s, policy-oriented political science research has been on the decline, and theoretical research has become increasingly dominant.

A survey conducted by the TRIP program on international relations (IR) indicates that, from the 1980s to 2015, the proportion of papers giving policy suggestions dropped. Another TRIP survey shows that over the past decade, the proportion of IR scholars engaged in applied research has remained at 30 to 35 percent, while roughly two-thirds of academics focus on basic research.

Desch added that for a long time, academics have given priority to basic research while policymakers focus more on applied research. This is where a gap between academic research and policy making forms.

Paul Avey, an assistant professor of political science at Virginia Tech, and his colleagues researched the roles new media can play in bridging the gap. They found that new media outlets have certain advantages such as brevity, plain language and timeliness. It is desirable for scholars to write academic work and then disseminate research findings via new media, while giving advice on pressing issues based on research expertise.
WANG YOURAN is a foreign correspondent with Chinese Social Sciences Today.