Researching public policy towards good governance
ZHANG JUNRONG
|
2018-07-12
|
Hits:
(Chinese Social Sciences Today)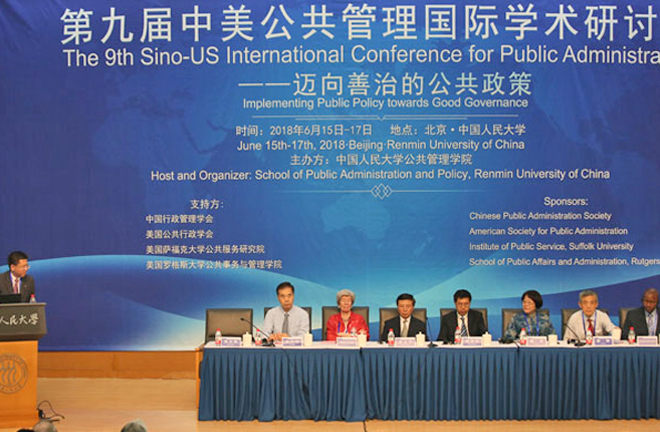 From June 15 to 17, the 9th Sino-US International Conference for Public Administration was held at Renmin University of China in Beijing. This year's theme is "Implementing Public Policy towards Good Governance". (CSST)
---
Recently, the 9th Sino-US International Conference for Public Administration was held in Beijing. The meeting focused on the experiences and lessons of countries around the world on governance reform and public policy innovation under the theme of "Implementing Public Policy towards Good Governance".

Zheng Shuiquan, vice chairman of the university council at Renmin University of China (RUC), said that public policy for good governance is not only a hot topic at the cutting edge of theoretical research, but also a touchstone for modernizing China's national governance system and capacity. The conference aimed to explore ways to help "the world understand China and vice versa", facilitate exchanges between China and other countries, and promote the development of public administration as a discipline globally.

Looking back on the public administration experience since China's reform and opening up, Xue Lan, dean of the School of Public Policy and Management at Tsinghua University, summarized three aspects. First, making efforts to find patterns and regularities in China's public administration experience. Second, summarizing experiences marked by socialism with Chinese characteristics and innovating to keep pace with the times. Third, strengthening field research and theoretical summaries of the public administration experience of other developing countries.

Bao Jing, executive vice president and secretary general of the China Public Administrative Society, said that IT has expanded the territory of national governance. In this context, reforming the global governance system is the general trend. Pursuing good governance is no longer a matter for a single country or region, but for the global village as a whole.

Yang Kaifeng, dean of the School of Public Administration and Policy at RUC, said that good governance can be researched as a special public policy, and the value of public administration should be embodied in multiple aspects such as rule of law, participation, openness, response, responsibility, fairness and effectiveness.

Qian Zhengrong, an associate professor at Beijing Normal University (Zhuhai Campus), said that public policy is a basic tool for implementing the national strategy, which requires modernizing the national governance system and capacity. In this context, summarizing the research backgrounds and specific measures of governance policies in Western countries is of great significance in improving public policy and national governance.

Yu Xing'an, director of the China Academy of Personnel Sciences, said that in today's world, the fundamental driving force for change is technological progress. This progress has brought about changes that have become new topics for the theory and application research of public administration. For public policy innovation, the source lies in public administrators at the primary level, public service providers, and the general public.

Artificial intelligence (AI) has brought about an all-round impact on social development. Li Zhihong, an associate professor of the School of Humanities at the University of Chinese Academy of Sciences, said that to embrace the opportunities and address the challenges of the AI era, formulating public policies has become an important part of social governance. When formulating policies, we should advance the development of AI, while at the same time, be alert to the ethical, social, and legal issues arising from AI development.
(edited by SHAO YIJIA)