'B&R' promotes cultural exchange
MAO LI
|
2018-06-28
|
Hits:
(Chinese Social Sciences Today)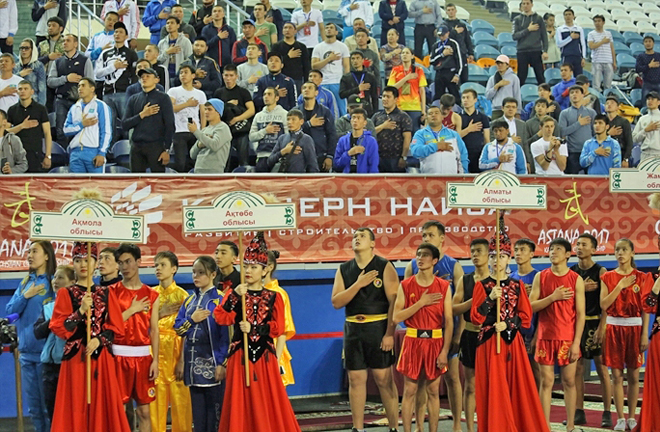 Kazakhstan National Martial Arts Championship 2017, sponsored by the Chinese Embassy in Kazakhstan, took place in Astana in May, 2017.(XINHUA)
---
Experts discussed humanities and cultural exchanges along the routes of the "Belt and Road" ("B&R") initiative at the CASS Forum in Beijing in mid-June.

Humanities exchanges and cooperation are integral to the B&R. Kong Dan, president of the CITIC Foundation for Reform and Development Studies, said that it is not easy for a new concept and form of cooperation to gain broad support given that the world has been under the Western discourse system for too long and the law of the jungle still reigns supreme.

The construction of the B&R does not follow a single model. It can flexibly select and innovate various models according to the national conditions of the partners, Kong said. "A project cannot be called good only because China believes it benefits its partners. Good projects should be widely recognized by the local government, society and people. This requires us to know each other's situation, understand each other's national and social conditions, and people's feelings, as well as know each other's thoughts, wishes and worries."

The B&R involves extensive cooperation between different ethnic groups, countries, political systems, civilizations, religions and regions. Without cultural exchanges, cooperation and identity, or inclusiveness of different cultural values, it is impossible to have empathy or a broad social consensus, said Liu Binjie, dean of the School of Journalism and Communication at Tsinghua University.

It is necessary to steadily deepen cultural exchanges and cooperation for a long period of time, and overcome the frictions created by cultural differences and civilization barriers, Liu said.

Armenian Ambassador to China Sergey Manasaryan said that the B&R is a platform for not only economic cooperation but also mutual recognition of different civilizations. The Silk Road spirit of "peace and cooperation, openness and inclusiveness, mutual learning and mutual benefit" is a great heritage of human civilization. If all countries can truly understand and promote this spirit during the humanities exchanges, economic and trade cooperation will surely reach a new height, and human history will open a new chapter, he concluded.

"At present, the interpretation of the B&R in the world is more from the political and economic aspects. The understanding of the humanities exchanges and cooperation needs to be deepened," Azerbaijani Aambassador to China Akram Zeynalli said. When understanding the B&R in depth, we will find that it is the way to connect people and lead to a community of shared future for mankind.

Cultural exchanges have been active along the routes of the B&R. Andrey Denisov, Russian Ambassador to China, said the two countries have achieved results in recent years in humanities exchanges and cooperation in sports, arts, education, media and tourism.

In particular, sports cooperation has progressed steadily, including the friendly ice hockey match between Chinese and Russian youth recently watched by Chinese President Xi Jinping and Russian President Vladimir Putin as well as the preparations for the Beijing 2022 Winter Olympics. In 2017, Russia and China's first landmark joint university—Shenzhen MSU-BIT University was officially established, he said.

Shakhrat Nuryshev, Kazakhstan's ambassador to China, said that there are currently more than 14,000 Kazakh students studying in China, and China has established four Kazakhstan centers. Composer, the first film jointly produced by China and Kazakhstan, tells about the friendship between the Chinese composer Xian Xinghai and the Kazakh composer Bakhitzhan Baykadamov through hard times. Progress has also been made in translating Kazakh literature and history books into Chinese.

Manasaryan said that the Beijing Foreign Studies University and Dalian University of Foreign Languages have already set up Armenian language courses, and the Confucius Institute is also prospering in Armenia. Chinese language and culture are increasingly popular in Armenia. It is not uncommon for the younger generation to be able to speak Chinese.

Zhang Shuhua, director of the Institute of Information Studies at the Chinese Academy of Social Sciences (CASS), said that the B&R has not only significantly enhanced China Studies in the international arena, but also made China re-understand the world and rethink the roadmap of cultural communication, breaking away from the shackles of the Western centralism, and turning attention to a wider range of countries including Belarus, Georgia, and Azerbaijan.

Ilham Mammedzade, director of the Institute of Philosophy at the Azerbaijan National Academy of Sciences, said that the B&R is a worldwide initiative that has opened up a broader vision for Azerbaijan's humanities exchanges. It is necessary to interact with culturally similar countries and also with unfamiliar countries with greater cultural differences, which requires deepening mutual understanding through cooperation among think tanks.

Think tanks should comprehensively and systematically summarize the practice of the B&R construction over the past five years, sort out the experience and laws it has accumulated, and identify issues that should be avoided in the future, said Pei Changhong, former director of the Institute of Economics at CASS. "Think tanks in the countries along the routes should cooperate in this regard and jointly write down the B&R political economy."
MAO LI is a correspondent with Chinese Social Sciences Today.
(edited by JIANG HONG)