Breaking new ground for China-EU people-to-people exchanges
MAO LI
|
2018-06-28
|
Hits:
(Chinese Social Sciences Today)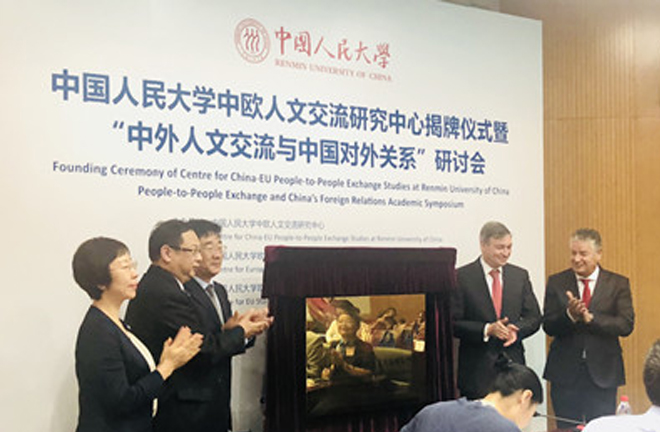 The founding ceremony of the Center for China-EU People-to-People Exchange Studies at Renmin University of China(PEOPLE'S DAILY ONLINE)
---
Recently, a symposium titled People-to-People Exchange and China's Foreign Relations was held at the founding ceremony of the Center for China-EU People-to-People Exchange Studies at Renmin University of China. Experts discussed ways to inject momentum into China-EU relations in the new era through cultural exchanges.

In his speech, Renmin University President Liu Wei said China-EU relations have become one of the most important partnerships in the world today, and people-to-people exchanges have served as a "stabilizing anchor." The establishment of a mechanism for high-level people-to-people exchanges has laid a solid foundation for China-EU cooperation.

Given that world geopolitics is plagued by uncertainties, stable China-EU relations will not only benefit the two sides but also contribute to global stability, said Hans Dietmar Schweisgut, EU ambassador to China. In addition to political mutual trust and cooperation in economics and trade, the "third pillar" of China-EU relations is cultural exchange, he said.

Yang Xiaochun, deputy director of the Center for China's International People-to-People Exchange under the Ministry of Education, said that the "Belt and Road" initiative and "the community of shared future for mankind" concept proposed by President Xi Jinping have provided Chinese solutions for world peace and growth. Bonds between individuals are the prerequisite for these aims, and this requires joint efforts of governments and people of all countries, Yang said.

Zhou Hong, Member of the Chinese Academy of Social Sciences and president of the Chinese Association for European Studies, said that some European think tanks are raising doubts about China-EU relations. In order to dispel misgivings and enhance trust, China and the EU need to find common ground through strengthened people-to-people exchanges.

China, Europe and the world need to look at China-EU interpersonal exchanges from a new perspective, said Wang Yiwei, director of Renmin University's EU Research Center. China must research Europe in a more sophisticated way and innovatively draw on European experience. The rise of populism, extremism and other trends have shaken traditional belief in Europe as a normative power. On a global level, China-EU relations have gone far beyond the economic and trade as well as bilateral levels. Cultural exchanges are playing an increasingly important role.

Huawei, the largest telecommunications equipment company in China, commissioned German think tanks and polling agencies to produce a report titled "Germany and China: Perception and Reality." After analyzing the report, Hu Chunchun, deputy director of the German Research Center at Tongji University in Shanghai found that young Germans have a better impression of China than previous generations. More than half of the respondents under age 29 have positive views of China. "If China-EU people exchange starts from school, the relationship will probably be less affected by historical burdens, such as the Cold War, and a bright future can be created."

In the future, breakthroughs are needed in traditional fields, said Wang Kun, deputy director of the China-France People-to-People Exchange Research Center at Beijing Foreign Studies University. Wang said new space for cultural exchange between China and Europe should be created in areas like cultural heritage protection.
MAO LI is a correspondent with Chinese Social Sciences Today.
(edited by YU HUI)