China-Russia Think Tank Forum expounds on bilateral cooperation
MAO LI
|
2018-06-19
|
Hits:
(Chinese Social Sciences Today)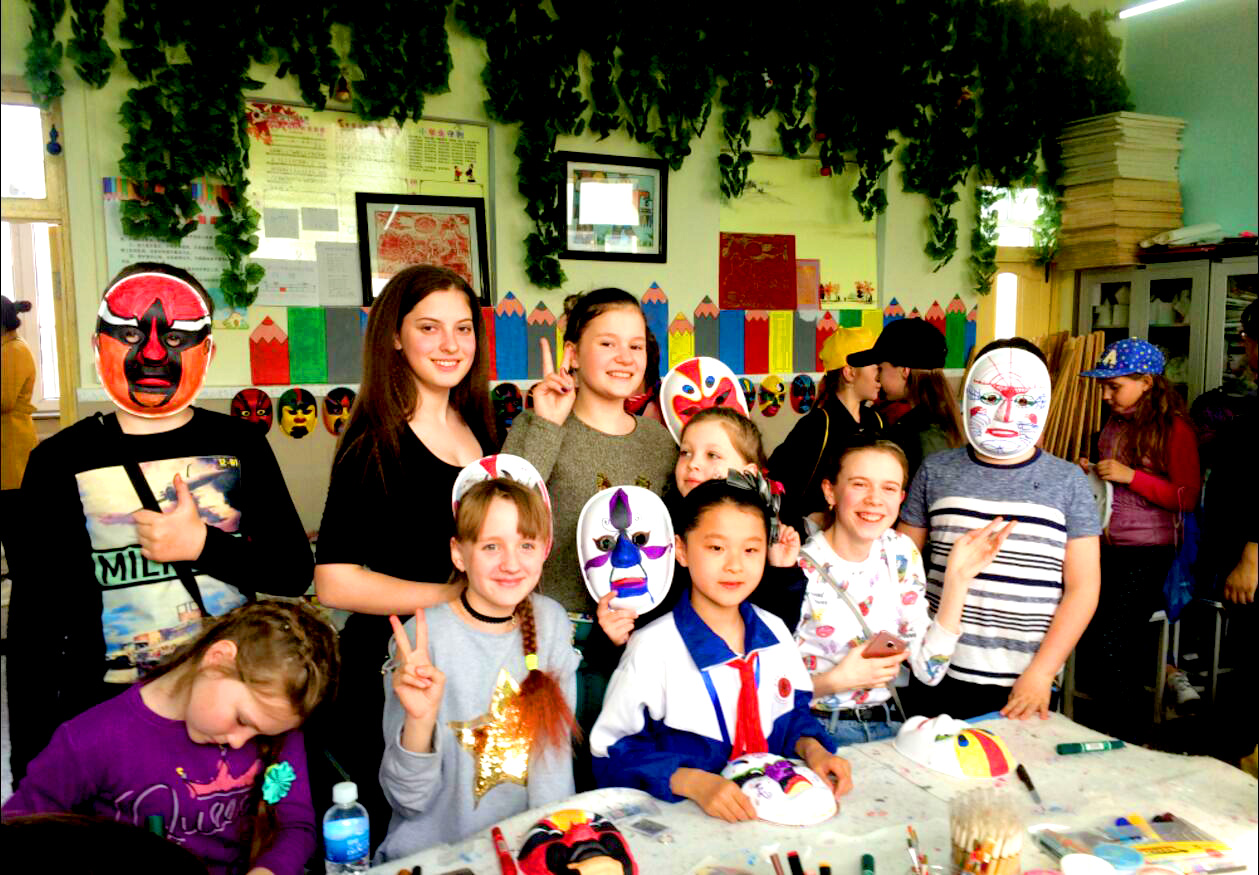 Youths from China and Russia learn the art of face-painting in the Beijing Opera during the Far East Youth Art Week in Heihe City, Heilongjiang Province in early May.(DBW.CN)
---
At the China-Russia Think Tank Forum in Beijing in late May, participants discussed cooperation between China and Russia in such realms as security, energy, infrastructure, trade, economics and the humanities.

Dai Bingguo, former state councilor and Chinese chairman of the China-Russia Friendship Committee for Peace and Development, said that today's world is undergoing extensive, enormous, profound and rapid changes, and human society has made tremendous progress. The relationship between the two neighboring countries of China and Russia has become a healthy and mature new type of major-country relations through development over the years.

This strong bilateral relationship has effectively promoted development in both countries, safeguarding their sovereignty, security and developmental interests while promoting world peace, stability and prosperity, Dai said. Looking to the future, he called on China and Russia to push their bilateral comprehensive strategic partnership of coordination to a higher level.

At the Moscow State Institute of International Relations on March 23, 2013, Chinese President Xi Jinping proposed the idea of promoting the construction of a community of shared future for mankind, offering Chinese wisdom and a Chinese approach to solving the problems facing mankind, said Xie Fuzhan, president of the Chinese Academy of Social Sciences (CASS), secretary of the leading Party members group of CASS and director-general of the High-end Think Tank of China-Russia Strategic Cooperation at CASS. Over the past five years, this concept has won worldwide recognition and demonstrated strong international influence and appeal, Xie said.

A world-renowned national-level think tank, CASS undertakes the important mission assigned by the CPC Central Committee to accelerate the construction of philosophy and social sciences with Chinese features. Entering the new era, CASS is facing new situations and tasks. On the basis of continuing to carry out comprehensive research, it is crucial to deepen research on major international issues and a series of major theoretical and practical issues in China-Russia relations in the new era, he said.

CASS is willing to work closely with domestic and international think tanks, such as the Russian International Affairs Council, to carry out joint research, and promote research on forward-looking, strategic and policy issues, contributing to the healthy development of China-Russia relations, the prosperity and stability of the Eurasian region, and maintaining world peace and progress, Xie said.

Igor Ivanov, president of the Russian International Affairs Council, said that Russia-China relations are a model for a new type of major-country relations, providing the world with a brand-new approach to cooperation. The partnership between China and Russia does not target any third party, and it has been determined by the two countries' needs and development patterns.

Discussing the key directions for strengthening cooperation between Russia and China in the future, he said that cooperation in the high-tech field has had a huge radiation effect. In particular, Russia and China should work together to promote cooperation in the fields of information technology and artificial intelligence.

2018-2019 is the year of Russia-China local cooperation and exchange. Russia and China should focus on expanding and deepening exchanges and cooperation between various localities in the two countries. In terms of strengthening investment cooperation, Russia and China not only should attach importance to cooperation between large enterprises of the two countries, but also SMEs. In addition to strengthening bilateral cooperation, Russia and China should also strengthen coordination and cooperation in improving international order and addressing hot issues at the international and regional level, Ivanov said.

The full development of diplomatic relations with China is the top priority of Russian diplomacy, said Russia's Deputy Foreign Minister Igor Morgulov. In recent years, the breadth and depth of Russia-China cooperation have been continuously expanding, and fruitful results have been achieved in cooperation in the fields of security, economy and trade, energy, and humanities.

In today's unstable international order, Russia and China have become important forces in safeguarding world peace and stability, and are particularly important for promoting the development of the Asia Pacific region, he said.

In the economic field, the trade agreement that China recently signed with the Eurasian Economic Union has opened a new phase of Russia-China economic and trade cooperation, which will lead the entire Eurasian economic and trade cooperation, and promote regional economic integration, he said.

In the area of security, Russia and China have abandoned the form of military alliance, resisted the security challenges and threats based on the principle of equality and mutual trust, and emphasized the role of the Shanghai Cooperation Organization in maintaining regional security and stability, Morgulov said.
MAO LI is a correspondent with Chinese Social Sciences Today.
(edited by JIANG HONG)