Successful cloning of monkeys sparks reflections on bioethics
PAN YUEFEI
|
2018-02-08
|
Hits:
(Chinese Social Sciences Today)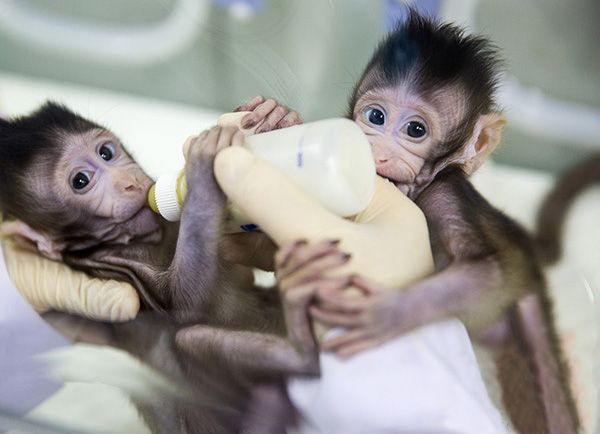 Pictured above are the two cloned macaques named Zhong Zhong and Hua Hua. They were created using the nuclear transfer technique that was adopted to make Dolly the sheep. The method didn't work in primates previously, so Chinese scientists' success is significant. (XINHUA)
---
A recent major breakthrough in cloning technology by Chinese scientists has prompted academics to reflect on bioethics.

Two macaques have been successfully cloned from somatic cells with the same method British researchers used to make the sheep Dolly, according to the website of the scientific journal Cell on Jan. 25. This is the first time monkeys have been successfully cloned, bringing the field one step closer to cloning humans.

The rapid development of science and technology in life and biomedicine has given rise to a series of related disciplines, including bioethics. Originating in the 1960s and 1970s, bioethics is the study of ethical issues in biology and medicine, covering decision, action, policy and law in cross-disciplinary and cross-cultural contexts.

Li Jianhui, a professor of philosophy at Beijing Normal University, pointed out the significance of bioethics in preventing bioscience from causing harm to human health.

Since biomedical applications have the potential to affect everyone, bioethics is not about medical ethics in the narrow sense, Li said, adding that bioethics in the broad sense is vital to maintaining the life dignity of every human being.

Bian Lin, a professor from Hebei Medical University, interpreted bioethics as a branch of moral philosophy because it examines issues regarding life science through the lens of ethics and morality.

Moreover, bioethics is of great value to the advancement of life science and technology in that it can direct its development to the right track, instill human wisdom and defend its rationality, while questioning and criticizing its direct and potential negative effects on human evolution, life quality and health conditions, Bian said.

Bian also stressed the social value of bioethics, saying that it provides a basis for society as a whole to draw conclusions in theory and choose life-related moral behaviors in practice.
Epochal advances in life science and technology have brought new opportunities for bioethical research and understanding of related issues.

As life scientists deepen their perception into life, a more solid foundation has been laid for revealing the moral nature of life from an ethical perspective, Bian said.

Meanwhile, with the extension of high technology to the medical field, clinical medicine is increasingly able to control, intervene in and change the human body and life, Bian said. In light of this trend, bioethics should be more forward looking, proposing bioethical concepts and ideas that can influence decision-making.

With growing public concern about quality of life, health problems and relevant bioethical issues are becoming a common concern. Li said the issues bioethicists examine will continue to be hot topics, including ethical issues related to human body, reproductive technology, health and death.

In China, a growing number of medical institutions and universities, such as Peking University Health Science Center and the School of Life Sciences and Biotechnology at Fudan University, have established ethics committees, laying the groundwork for the development of the discipline, Li noted.

While embracing opportunities, bioethics also faces a variety of challenges in theory and practice. "The response to bioethical problems caused by high-tech development is not desirable, and more efforts are needed in cross-disciplinary research and the construction of pertinent disciplines," said Zhang Daqing, a professor from the Institute of Medical Humanities at Peking University.
(edited by JIANG HONG)