Five major global environment, development issues for 2018
HOU LI
|
2018-02-08
|
Hits:
(Chinese Social Sciences Today)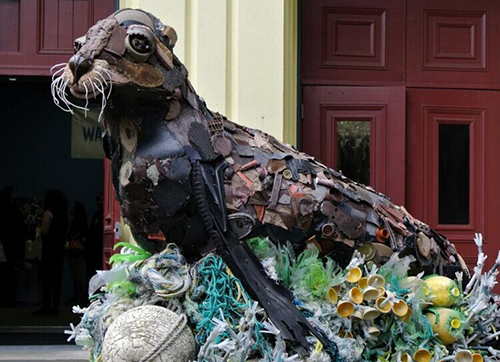 Whale skeletons are made using marine litter such as plastic bags and bottles by an art educator, to call on people to protect the marine environment.
---
In 2017, the world experienced many unprecedented disasters and rising global emissions as well as shifting political dynamics in the United States and other countries. The World Resources Institute (WRI), a global research organization, hosted a public seminar themed "The New Era of Eco-Civilization for Economic Transition of China and the World" in Beijing on Jan. 26. Attendees discussed global environmental trends in 2018 and China's role in global sustainable development.

The event brought together a range of leading scholars and experts from government agencies and non-governmental and academic organizations.

Manish Bapna, executive vice-president of WRI, highlighted five major priorities for sustainable development this year, including air pollution, the future of oil, global climate action, water management and oceans.

Data showed that one in nine deaths globally is now caused by air pollution, making it the world's top environmental health risk. Air pollution has also negatively impacted food production, solar energy output and climate change.

Though Beijing's air pollution decreased by 20 percent in 2017, the issue remains critical in China and other developing countries, Bapna said.

Though the use of oil as fuel contributes greatly to air pollution, it continues to be one of the world's biggest energy sources. Five out of the 12 most profitable companies are in the oil industry. WRI estimated that in 2018, the United States will produce a record 10 million barrels a day while China is to consume more than 12 million barrels daily this year.

At the same time, the global demand for new energy is growing. The United Kingdom, France, Norway and the Netherlands have announced plans to produce no new gas cars after 2040 while Germany, China and India are considering the possibility. At the moment, China has become one of the leading markets for electric cars.

This year will be an important year for climate action, as countries work to enact the provisions of the Paris Agreement and lay the foundation for meeting stronger national climate commitments. Global carbon emissions need to be cut quickly to reduce global warming and its impacts, Bapna said.

China has seen its carbon emissions rise by 3.5 percent last year. However, the government is investing heavily in renewable energy and it has launched a national carbon market, which is expected to generate some positive results this year.

Global water stress is rising. It is estimated that 33 countries in the world will face extreme water shortage by 2040, which will have far-reaching implications on food production and even regional security. Therefore, WRI predicted that the UN Security Council may take up a climate resolution on the connection between water and climate and security in 2018.

Half the world's coral reefs have been lost due to bleaching, and 9 million tons of plastic waste is dumped into the ocean yearly. The ocean has also become a rising political issue, as policymakers explore ways to protect oceans and fulfil a sustainable blue economy, Bapna said.
Global ecological and environmental crisis is one of the greatest threats facing humans. As Bapna said at the forum, "China has entered into a new era of ecological civilization. It is contributing to global recovery and growth while promoting its own transition. China's new path of high-quality and sustainable economic growth has both domestic and global model implications. We expect to see a rising China that will play a more important role on the global arena of sustainable development."
HOU LI is a correspondent with Chinese Social Sciences Today.
(edited by YANG XUE)