Confucius Institutes worldwide contribute to building community of shared future
LU HANG, LIU QING
|
2017-12-21
|
Hits:
(Chinese Social Sciences Today)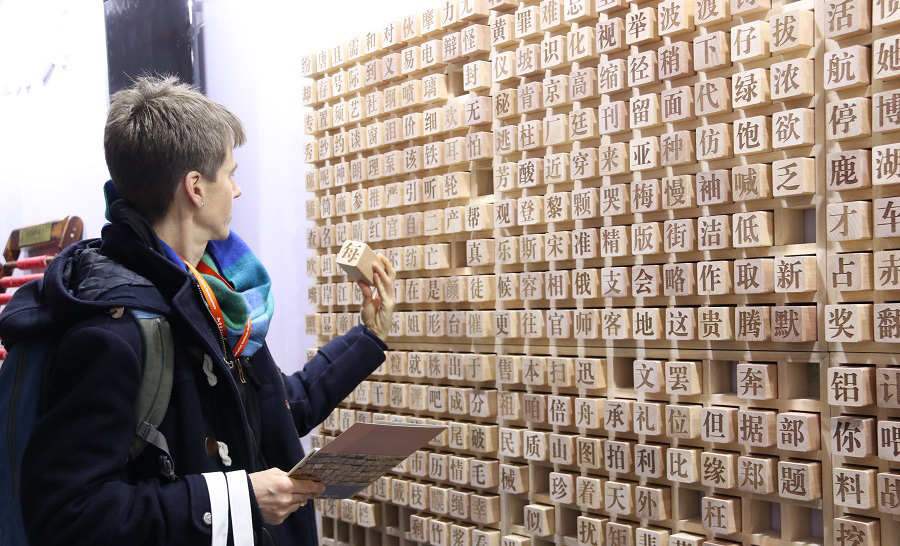 A foreign participant looks at a Chinese character taken from a Chinese character wall during the 12th Confucius Institute Conference that was held from Dec. 12 to 13 in Xi'an, capital of Northwest China's Shaanxi Province. (PHOTO: WWW.CNR.CN)
---
Commenting on the rapid development of Confucius Institutes around the world, participants at a recent conference said that the institutes have made huge contributions to the construction of a community of shared future for mankind.

The 12th Confucius Institute Conference was held from Dec. 12 to 13 in Xi'an, capital of Northwest China's Shaanxi Province, under the theme "Deepening Cooperation, Developing Through Innovation, Working together to Build a Community of Shared Future for Mankind." More than 2,500 directors of Confucius Institutes and presidents of the host universities from 140 countries and regions attended the meeting.

The Confucius Institute was founded 13 years ago. So far, 525 Confucius Institutes and 1,113 Confucius Classrooms have been set up in 146 countries and regions, with a cumulative enrollment of 9.16 million students of various types.

In her keynote speech, Liu Yandong, vice-premier of the State Council and chair of the Council of Confucius Institute Headquarters (Hanban), said through the joint efforts of Chinese staff and foreign partners, the Confucius Institute has adhered to joint construction and co-sharing and made active contributions to promoting exchanges and mutual learning between China and foreign civilizations.

Ghofran Shamseldin Babiker Ali, an 18-year-old student from the Confucius Institute at the University of Khartoum in Sudan, delivered a speech in Chinese about how she learned Chinese language despite her inability to see caused by congenital pigmentary retinitis.

"I could see big characters at the beginning, but these characters disappeared before me gradually, so I could only learn Chinese language with my ears," Ali said. "Though difficult, I have never given up."

"Prior to each lesson, I would preview the text assigned by the teacher, listen to the new words three times and memorize the text by heart. Otherwise I would understand nothing in class," she said.

Due to her condition, she is unable to write Chinese characters, and therefore was not qualified to sit the Chinese proficiency test, also known as the HSK (Hanyu Shuiping Kaoshi) examination. This year the Confucius Institute Headquarters held a special HSK test for Ali. Not only did she pass it, but she also gained the "Confucius Institute Scholarship," and will come to study in China for one year.

"Learning Chinese has changed my whole life," Ali said.

The charm of the Chinese language is attracting growing numbers of foreigners like Ali to learn. In addition to the aforementioned numerous Confucius Institutes and Classrooms, and learners, more than 500,000 teenagers from countries around the world are taking part in the "Chinese Bridge" proficiency competitions for foreign college and middle school students each year. Over the past 10 years, global Confucius Institutes and Classrooms have held a total of 220,000 cultural activities, covering 100 million audience members.

Daniel Mote Jr., president of the US National Academy of Engineering and council member of the Confucius Institute Headquarters, noted that the University of Maryland established the first Confucius Institute in North America in 2004. In the last decade, the number of participating students has grown at an unexpectedly fast pace in the region and the world at large.

This is because the 21st century is an age promoted by talent and innovation, and the Confucius Institute has presented an important platform for exchange in this regard, Mote said, adding that the institute, valuing innovation and cooperation, is committed to building a community of shared future for mankind through cooperation and innovation.

The continuous development of Confucius Institute has remarkably advanced cultural exchanges between China and foreign countries, and brought many opportunities to Chinese universities, said Peng Long, president of Beijing Foreign Studies University and council member of the Confucius Institute Headquarters.

"The participation of Chinese universities in the construction of Confucius Institutes is a great undertaking in the history of world language communication," Peng said. While involved in international Chinese language instruction, more than 220 universities have conducted exchanges and cooperation with foreign institutions of higher learning in diverse fields and at multiple levels, significantly contributing to the internationalization of Chinese education.

The conference was sponsored by the Confucius Institute Headquarters and Shaanxi Provincial People's Government, and organized by the Education Department of Shaanxi Provincial Government and Xi'an Municipal People's Government. In addition to the meeting, a variety of exhibitions were launched, including Confucius Institutes' achievements exhibition, Confucius Institute Chinese language teaching resource exhibition, theme exhibition on Chinese food culture, and calligraphy creative product exhibition.