Nation's cyberspace outlook hailed as conducive to B&R cooperation, global digital economy
PAN YUEFEI
|
2017-12-14
|
Hits:
(Chinese Social Sciences Today)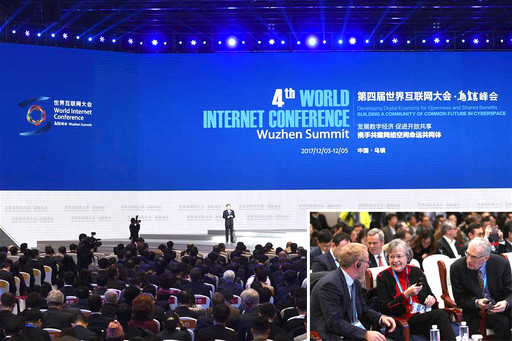 Foreign attendees communicate prior to the forum under the theme "Artificial Intelligence: Smarter World, Better Life" at the fourth World Internet Conference. The conference, also known as the Wuzhen Summit, was held from Dec. 3 to 5 in Wuzhen, East China's Zhejiang Province.
---
Following the fourth World Internet Conference (WIC), scholars said that the Chinese proposal of "building a community of common future in cyberspace" will contribute to closer cooperation on the "Belt and Road" ("B&R") initiative and advance the global digital economy.

The conference was held from Dec. 3 to 5 in Wuzhen, East China's Zhejiang Province under the theme of "Developing Digital Economy for Openness and Shared Benefits, Building a Community of Common Future in Cyberspace."

The proposal of "building a community of common future in cyberspace" was put forward by Chinese President Xi Jinping at the WIC of 2015, and he brought it up again in his congratulatory letter to the opening of this year's conference.

The idea reflects China's "world outlook" on cyberspace, said Jiang Qiping, secretary-general of the Center for Information Studies at the Chinese Academy of Social Sciences. Stressing the common interests of different stakeholders, it opposes unilateralism and imposing one's will on others.

Examining the current situation of global internet governance, Shen Yang, a professor from the School of Journalism and Communication at Tsinghua University, said it is time to build a community of common future in cyberspace.

A new IT-based technological and industrial revolution is bourgeoning and boosting socioeconomic development, Shen said, adding that the internet has intensified the interaction between individuals.

Constructing a community of common future in cyberspace is a vital goal in China's strategy to grow stronger through internet development. Shen Yi, deputy director of the Cyberspace Governance Study Center at Fudan University, said that a safe, stable and prosperous global cyberspace is the precondition for the internet to thrive around the world.

Shen Yi pointed out that in a community of common future in cyberspace, all countries jointly promote its development, maintain its security, and participate in its governance while sharing the resultant fruits.

In recent years, China has successively contributed ideas and wisdom to global internet governance, playing an increasingly significant role in building a community of common future in cyberspace.

Shen Yang said that the Chinese internet is developing swiftly, healthily and ever more creatively, with a quickening pace to "go out."

During the construction of the "B&R" initiative, it has been striving for better interconnectivity among nations along the routes in internet infrastructure, Shen Yang said. China has gradually shaped an internet development path with Chinese characteristics and made important contributions to the internet of mankind, he added.

While B&R construction covers Asia, Europe and Africa, connects the Asian and European economic communities, and facilitates international cooperation, the Chinese internet links global Chinese and friends from all over the world, driving the construction of an online community of common future, Jiang said.

In the congratulatory message, Xi said China's digital economy is entering the fast lane, and the nation encourages other countries to board the express train of its internet and digital economy development.

Shen Yi noted that the digital economy, in China's understanding, is not narrowly confined to the internet. Instead, it is an umbrella name for the economic activities of a country, even the world.
China's judgment about digital economy is based on its solid grasp of information revolution laws, Shen Yi said. It will result in a holistic and fresh digital economy that will power global growth and share its development benefits, he added.