Experts: Chinese experiences, opportunities to benefit world
MAO LI
|
2017-12-07
|
Hits:
(Chinese Social Sciences Today)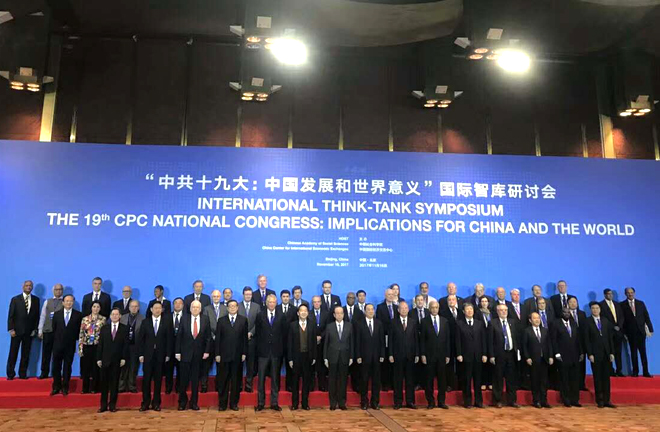 The International Think-Tank Symposium "The 19th CPC National Congress: Implications for China and the World" was held on Nov. 16 in Beijing.
---
Weighing in on the 19th CPC National Congress, scholars at a recent symposium praised Chinese achievements and experiences, saying that the concept of a community of common destiny for mankind and the "Belt and Road" ("B&R") initiative will provide opportunities for world development.

The International Think-Tank Symposium on "The 19th CPC National Congress: Implications for China and the World" was held on Nov. 16 in Beijing. Co-hosted by the Chinese Academy of Social Sciences (CASS) and the China Center for International Economics Exchanges, the meeting gathered more than 240 think tank scholars and former politicians from 31 countries and international organizations.

Attendees spoke highly of the historical achievements China has made. Yasuo Fukuda, former Japanese prime minister and chairman of the Boao Forum for Asia, said he is impressed by the swift development of Chinese high-speed rail.

Launched in the 1960s, Japan's Shinkansen, a network of high-speed railways, now has 2,600 kilometers of track in operation, but China's high-speed rail has been expanded to more than 20,000 kilometers within a few years, Fukuda said. The breakneck pace of development can be seen not just in the railway sector, but in each and every aspect of Chinese industry.

The amazing achievements were attributed to Chinese President Xi Jinping's Thought on Socialism with Chinese Characteristics for a New Era, which attendees said serves as a guide for understanding China.

Nguyen Xuan Cuong, director-general of the Institute of Chinese Studies in Vietnam, said that defining Xi's Thought on Socialism with Chinese Characteristics for a New Era as the guiding principle of the CPC is the most important achievement of the 19th Party congress. The thought is a new chapter of Sinicization of Marxism and opens up a new frontier for theory on socialism with Chinese characteristics, offering guidance for theories, ideas and actions concerning China's development.

Nguyen expressed the belief that the thought will guide Chinese reform and opening up to achieve greater results and enable China to play a more constructive role in global affairs.

Behind the extraordinary attention to the 19th CPC National Congress is the world's desire to learn from China's experiences. Sergei Luzianin, director of the Institute of Far Eastern Studies in Russia, said that the congress has not only great significance for China but also far-reaching implications for the world because it has put forward solutions to many common challenges facing human society.

The congress's blueprint for eradicating poverty was one of the most heated topics at the symposium. Cai Fang, a renowned economist, CASS Member and vice-president of CASS, offered an analysis of Chinese experiences on poverty reduction.

First, reform and opening up has resulted in inclusive growth and improved people's quality of life, Cai said. Nearly 40 years of high-speed growth has created a multitude of job opportunities and transferred rural surplus labor to more productive industries, strengthening labor productivity from the macroeconomic perspective and increasing individual and household incomes at the micro level.

Moreover, strategies to develop central and western regions have bridged the developmental gap and contributed to poverty reduction, Cai said. Also the people-centered development policy has broken the established law of diminishing returns in the field.

In the past five years, 10 million people have been lifted out of poverty annually on average. Cai predicted that China can eliminate poverty by 2020 if it continues to make progress at the same pace.

The new era that socialism with Chinese characteristics has entered is particularly meaningful to the world's search for better social systems. Juan Chavez, president of Cuban High Council of Social Sciences, said that China's success has set an example for the development of socialist countries.
Participants also applauded the Chinese idea of a community of common destiny for mankind and the "B&R" initiative.

"The concept of a community of common destiny for mankind pursues harmonious, inclusive relations, rather than confrontational and strained ties," said Sudheendra Kulkarni, head of the Bombay-based Observer Research Foundation in India. India should view China's development from the perspective of a community of common destiny, Kulkarni said.

The world has paid attention to the 19th Party congress in order to seek opportunities from China's growth. The Belt and Road is the most important cooperative initiative that China proposed for the world and has hitherto been the most popular international public goods.

The "B&R" initiative will fundamentally change the world, said Shaukat Aziz, former prime minister of Pakistan.

Through new types of interconnectivity, the initiative has encouraged countries along the routes to open their markets as well as to enhance economic and trade exchanges, bringing more job opportunities to the world.

The Belt and Road has had a huge impact on Pakistan, Aziz said. It has not only addressed infrastructure needs but also unleashed development potential and truly raised people's living standards, he added.