Implementing green development in B&R
LIN YUEQIN
|
2017-11-30
|
Hits:
(Chinese Social Sciences Today)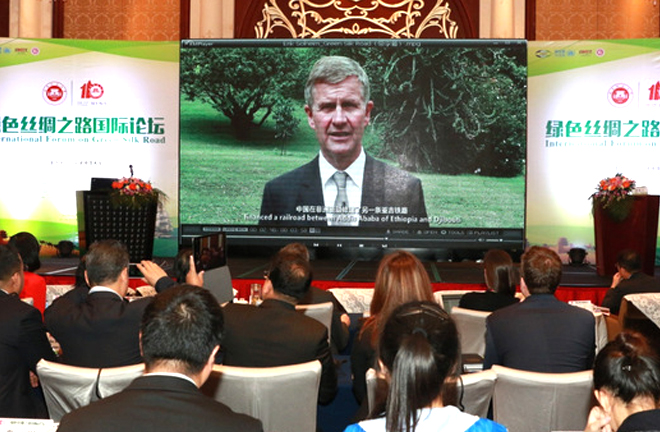 Erik Solheim, deputy secretary-general of the United Nations and executive director of the UN Environment Programme, delivers a video speech for the International Forum on the Green Silk Road held in Fuzhou, capital of Fujian Province, from Nov. 17 to 18.
---
The International Forum on the Green Silk Road was held recently at Fujian Normal University in Fuzhou, capital of Fujian Province. Promoting green development through the "B&R" initiative was the focal issue for scholars from China and abroad at the forum.

In a video-taped address to the forum, Erik Solheim, deputy secretary-general of the United Nations and executive director of the UN Environment Programme said that green B&R means green investment is to be guided toward such new energy technologies as solar power instead of traditional energy sources such as coal. Green B&R also means establishing environmentally friendly infrastructure based on protecting nature, he said.

Green B&R will be a major way to promote global green development, and Chinese enterprises are actively providing solutions in terms of green transportation and infrastructure, Solheim said. Green B&R cannot be established without the spirit of mutual learning, openness and sharing, he said. China and other nations should learn from each other to gain valuable experience and discover new approaches, he added.

Cooperation between China and the UN Economic Commission for Europe (UNECE) has expanded rapidly in recent years, said Olga Algayerova, executive secretary of UNECE, in her video speech. The National Development and Reform Commission (NDRC) of China and UNECE have jointly launched a comprehensive Public-Private Partnership (PPP) capacity-building program this year, which will help realize global sustainable development goals (SDGs), she said.

Mohan Munasinghe, former vice-chair of the UN Intergovernmental Panel on Climate Change, said that global development faces a series of challenges, including resource shortages, poverty, imbalance, trade barriers and climate change. The decision-making capability and leadership in sustainable development also lag behind global demand for sustainable development, he said. All these challenges should be jointly addressed by increasing consensus and strengthening cooperation from a global vision, he added.

Lu Zhongyuan, former vice-president of China's Development Research Center of the State Council, said that the essence of green development is to establish a development model that is low-carbon, harmonious, highly efficient, and ecologically and socially sustainable. Most countries along the routes of the "B&R" initiative have middle and low average incomes. They face resource constraints and other environmental issues as they try to achieve ecological, sustainable development, he said. Hence, green development should conform to the national situation of each country, he said.

The resource endowment of each country should be considered and no country, including China and other developing countries along the routes, should put a one-sided emphasis on low-carbon development without considering its actual national conditions, Lu said. Green development should not be considered separately from the developmental stage of a country. For example, the ecology in Central Asian countries is fragile, and harmony between humanity and nature in these countries should be stressed, he said. The resource exploitation should be based on the bearing capacity of local resources, he added.

The development mechanism is also crucial to green development, Lu said. Negative externality is the most noticeable defect of market mechanism, which means that the investors scarcely consider the external influence that the investment might have on locals and society. Large public welfare projects could not be done by individual investors, which makes government intervention necessary, he said. However, excessive intervention is also not acceptable and coordination between the government and the market is vital, he said.