Forum: Innovation, cooperation vital to building new Asian order
LI YU
|
2017-06-15
|
Hits:
(Chinese Social Sciences Today)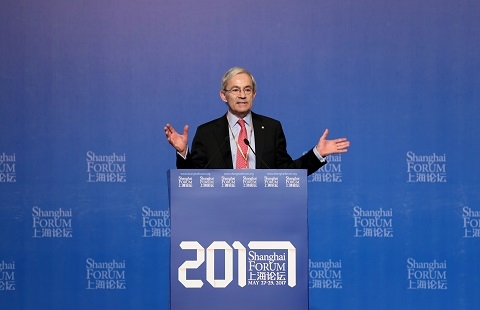 Christopher Pissarides, 2010 Nobel Laureate in Economics, gives a speech at the Shanghai Forum 2017.
---
The Shanghai Forum 2017 themed "Asia and the World: New Impetus, New Structure and New Order," co-hosted by Fudan University and The Korea Foundation for Advanced Studies, and organized by Fudan Development Institute, took place in Shanghai from May 27 to 29. More than 700 delegates from academia, political circles, think tanks and enterprises gathered to explore the potential and responsibility of Asia in the context of the transforming global pattern and the changing international order.


Innovation and reform
Participants in the forum highlighted the importance of injecting momentum into economic growth as a means to drive Asian development. They reached consensus that innovation and reform in the aspects of technology, production and mechanism are the new driving forces.

Christopher Pissarides, the Nobel laureate in economics in 2010, said that sustainable economic growth requires the constant emergence of new technology. The rapid development of artificial intelligence and robotics has readjusted and transformed the traditional industrial structure, greatly increasing efficiency and reducing the amount of labor hours needed to produce commodities.

Technology has also allowed a number of jobs to be done through work-sharing. In addition, in the context of an aging society, new technologies have created space for improvement in sectors of medical services, healthcare, leisure, entertainment and education.

Security and the free allocation of resources, technology, personnel and capital is particularly paramount for a sound Asian economy, which hinges upon the establishment of an institutional mechanism featuring economic and trade coordination and integration, said Former Prime Minister of Kyrgyzstan Temir Sariev.


Reshaping international landscape
The attendees agreed that one of the major challenges that Asia faces is to bring about a new international political landscape that emphasizes mutual benefit and is based on geopolitical economic ties and a multilateral framework.

The "Belt and Road" initiative is one such laudable, exemplary attempt that has been made, said Sariev, who noted that cross-regional coordination and global cooperation has become ever more urgent with the increasing emergence of regional conflict, transnational crime and economic crises in recent years.

The sustainable development of humanity is reliant on a secure international situation that requires equity, mutual respect and plurality, he added.


Regional order and governance
"The problems that arise in the process of irreversible globalization must also be the challenges posed by global governance," said Quan Heng, director of the Institute of World Economy at Shanghai Academy of Social Sciences. He pointed out that a more open, inclusive and efficient global governance system is the key to resolving these problems that globalization encounters.

Park In-kook, President of the Korea Foundation for Advanced Studies, said that despite challenges to globalization posed by trade protectionism and isolationism, the great advances in the internet of things, cloud computing, big data and mobile technology will inject favorable effects into social economy. Besides, the interconnectivity that the "Belt and Road" facilitates will provide a renewed impetus for Asian development and globalization at large, he said.
LI YU is a reporter at the Chinese Social Sciences Today.