Landmark Kenyan railway enriches China-Africa friendship
LI XINFENG
|
2017-06-09
|
Hits:
(Chinese Social Sciences Today)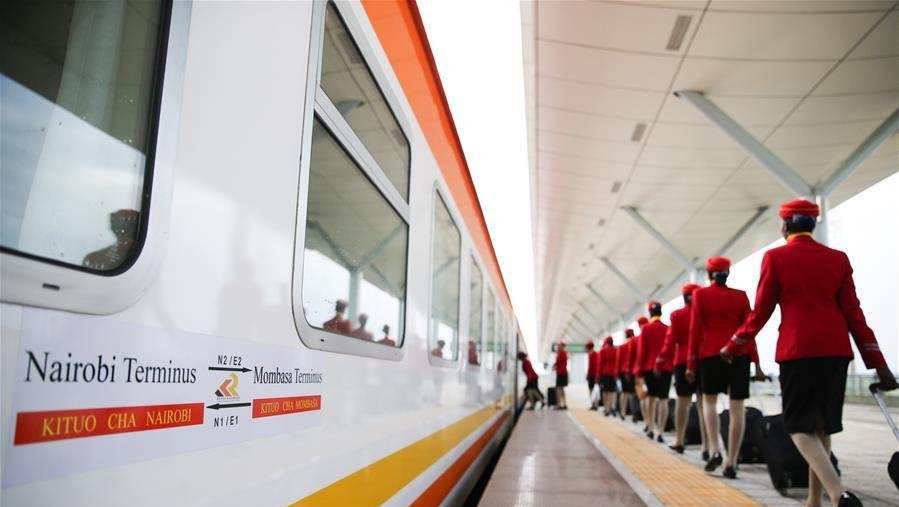 Crew members of the Mombasa-Nairobi Standard Gauge Railway board a train at the Mombasa Terminus on June 1. The Chinese-built railway marks a new milestone in the China-Africa friendship.
---
On May 31, the standard gauge railway (SGR), funded and built by China, was officially launched in Mombasa, a port city of Kenya. Kenyan President Uhuru Kenyatta boarded the first train headed for Nairobi, the nation's capital. The Chinese-built railway has far-reaching practical and historical implications, marking a new milestone in the China-Africa friendship.

The Mombasa-Nairobi Standard Gauge Railway meets Kenya's urgent needs in terms of economic and social development, fulfilling a dream that the nation's people have had for more than 100 years. During the short period of more than two years, Chinese and Kenyan citizens worked in concert to efficiently realize that dream.

The railway is an example of not only efficient construction and fast trains but more importantly high-quality engineering. Responsible for the project, the China Communications Construction Company has committed to fostering a "Centennial Brand," thus achieving results that satisfy the needs of Chinese and Kenyan people alike.

The railway project exemplifies the Chinese spirit. Chinese ideas have penetrated the design, construction and operation processes, displaying the great charm of Chinese culture. The SGR is eco-friendly. Featuring sections that run through wildlife reserves, it uses elevated bridges to allow for the movements of animals. Moreover, the project created about 460,000 jobs for Kenya. Local employees account for approximately 90 percent of the entire staff.

During a visit to Kenya in mid-March following a delegation of the Chinese Academy of Social Sciences, the author participated in a field investigation into the Nairobi Terminus of the SGR, when Chinese specialists were instructing African drivers how to operate the train carefully. Chinese standards, technologies and facilities carry heavy Chinese responsibilities.

Behind the Chinese spirit is the Chinese outlook on righteousness and benefit. Forty-one years ago, the launch of the well-known Tazara Railway had a lasting impact on the whole African continent. During an interview with the author, former Tanzanian President Kenneth Kaunda couldn't help saying, "'A friend in need is a friend indeed.' China has provided timely help when we needed it most. We will keep it in mind."

Now another modernized railway built by China has been inaugurated. This is another landmark project in which China has offered Africa tangible help, exemplifying China's policy of "sincerity, real results, affinity and good faith" toward Africa and the correct viewpoint on righteousness and benefit.

The 480-kilometer SGR, designed to have a transport capacity of 2,500 tons, is a bond linking China and Africa. In the future, not only will the railway invigorate cities and regions along the route and boost Kenya's GDP by 1.5 percentage points annually as anticipated by the Kenyan government, but it will also extend to such countries as Uganda and Rwanda, benefiting more than 300 million Africans.

Kenya is an important station on the Maritime Silk Road. More than 600 years ago, Chinese Ming Dynasty diplomat and navigator Zheng He led his fleet to visit Africa four times, sending silk, porcelain and tea to Kenya and creating a lasting legacy of China-Africa friendship.

Today, the Mombasa-Nairobi SGR connects China and Kenya closely again. It will not only be a substantial achievement in the linking of Chinese and Kenyan development strategies but also an early result in the implementation of the "Belt and Road" initiative and the "Ten Cooperation Plans" that Chinese President Xi Jinping announced during the Forum on China-Africa Cooperation in 2015. It is a milestone in the plan to help African countries build high-speed railways, expressways, regional aviation networks and other infrastructure that will facilitate industrialization and bilateral capacity cooperation.

The SGR has set an example for mutually beneficial China-Africa cooperation. It signifies that the traditional China-Africa friendship is advancing along the track of "sincerity, real results, affinity and good faith." It will benefit Africa, China and the world in broader fields, wider ranges, and at deeper, higher levels.
This article was translated from People's Daily Overseas Edition. Li Xinfeng is an expert in African studies and deputy editor-in-chief of the Social Sciences in China Press under the Chinese Academy of Social Sciences.