Experts shed light on China's role in fostering peace, security of Africa
By DU MEI, ZHANG MENGYING
|
2016-10-20
|
Hits:
(Chinese Social Sciences Today)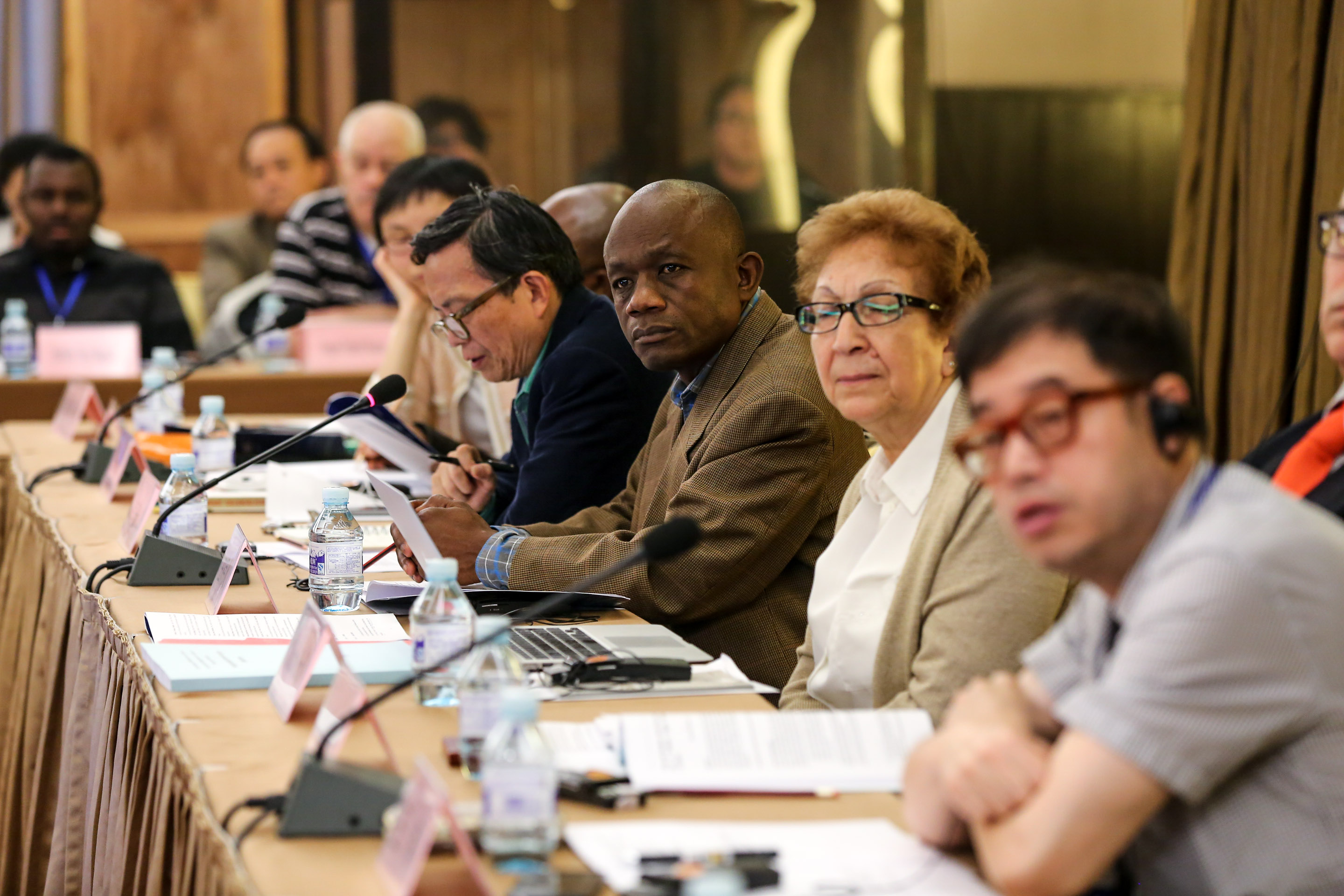 A scene of the International Conference on China's Constructive Engagement in Africa's Peace and Security
China's constructive engagement reflects its complete respect of Africa's right to self-determination in peace and security issues, which also explains why African countries sincerely hope to strengthen communications and cooperation with China in this respect, said Dai Bing, deputy director-general of the Department of African Affairs at the Ministry of Foreign Affairs, at the opening ceremony of an international meeting held in Beijing from Oct. 18 to 19.

The two-day International Conference on China's Constructive Engagement in Africa's Peace and Security gathered domestic and international scholars, policymakers and entrepreneurs for in-depth discussion on how to promote African peace and security, and the continued healthy and rapid development of China-Africa relations.

"The conference focuses on a vital topic both for China and Africa. Nowadays, Africa still faces much conventional violence, but new challenges and non-traditional threats from terrorism are revealing a rising trend," said Fatima Harrak, former president of the Council for the Development of Social Science Research in Africa.

Last December, Chinese President Xi Jinping initiated 10 cooperation plans to promote African development at the Johannesburg Summit of the Forum on China-Africa Cooperation (FOCAC), and the plan for peace and security was prioritized.

Charles Onunaiju, director of the Centre for China Studies in Nigeria, and Yang Baorong, an associate research fellow and deputy director of the Institute of West-Asian and African Studies at the Chinese Academy of Social Sciences (CASS), both examined China-Africa cooperation on peace and security under the framework of the "Belt and Road" initiative.

Onunaiju spoke highly of China's contributions to Africa's peace and security issues and said China is an important cooperative partner. He explained that China's "Belt and Road" initiative has established a network to achieve interconnectivity among countries, and African communities are an indispensable member. China's assistance in African infrastructure construction will enable African countries to better realize national and regional integration and further accelerate African security.

Sudanese politician Elshafie Khidir Saeid Ahmed indicated that China has the potential to boost Africa's political, scientific and economic bargaining power to counter neocolonialist tendencies in modern globalization. He suggested that China engage in a constructive dialogue with think tanks in Africa beyond the intergovernmental level.

"The only solution to the security issue is to strengthen the governance capacity of African countries through international cooperation and domestic development," said Pan Huaqiong, an associate professor at Peking University.

In the 1990s, terror attacks were episodic and limited to certain local contexts. Today, the security scenario has changed in Africa as internal conflicts are increasingly being replaced by terrorism. Focusing on the security situation in West Africa and the Gulf of Guinea, scholars claimed that the challenges to global capital require new forms of international cooperation from the Global South. It is at this level where China is being called upon to be more proactive in working with Africa to redefine the question of peace and security in the context of a changing international landscape.

Zhang Chun, a research fellow from Shanghai Institutes for International Studies, elaborated on China's principles for solving pressing security issues, including non-discrimination, non-intervention and non-militarization (securitization).

Scholars also touched upon the impact of external interventions, especially those by ex-colonial powers, on the continent's security situation, calling for African solutions to African problems. Horace Campbell, a professor from Syracuse University said, "peace must be linked to the right of all peoples to have a decent livelihood and the ability of human to live in a clean environment." They agreed that dialogues rather than externally imposed peace plans are sustainable.

Supervised by the Secretariat of the Secretary-General of Chinese Follow-up Committee of the FOCAC and organized by the Social Sciences in China Press at CASS, the conference not only gathered scholars and experts from 12 African countries and approximately 60 Chinese experts on African issues, but also attracted scholars from Latin America and America.
Du Mei and Zhang Mengying are reporters at the Chinese Social Sciences Today.