Hangzhou Summit lays basis for China-Africa green partnership
By Lü Mengdi, Mao Li
|
2016-09-19
|
Hits:
(Chinese Social Sciences Today)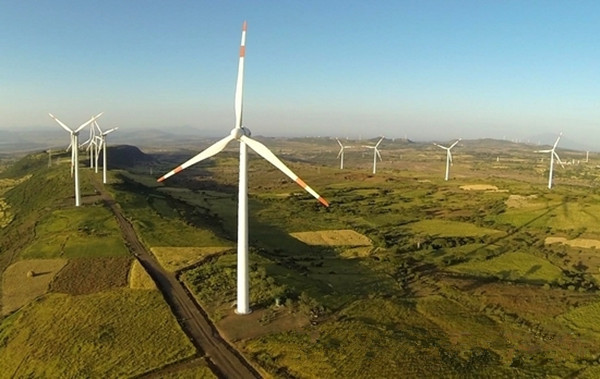 Pictured is the Adama Wind Power Project in Ethiopia, which was undertaken by China with an installed gross capacity of more than 100 megawatts.

After the G20 Hangzhou Summit in early September, scholars said that the high-level conference is a starting point for China and Africa to deepen cooperation on projects aimed at reducing carbon emissions.

In addition to South Africa, a G20 constituent nation, China also invited leaders of many other African countries and organizations to the summit while promising to support Africa and most underdeveloped countries in industrialization and improving efficiency of clean and renewable energy.

He Wenping, a research fellow from the Institute of West-Asian and African Studies at the Chinese Academy of Social Sciences, noted that African countries invited to the Hangzhou G20 Summit are collaborating with China in different areas and at different levels. Among them is Senegal, which assumes the rotating presidency of the New Partnership for Africa's Development, and rotating president of the African Union Chad.

Green cooperation between China and Africa is a "two-way path" that will benefit both sides, He said.

Judging from the status quo of green industry in China and African countries, the two sides are quite complementary, said Liu Hongwu, director of the Institute of African Studies at Zhejiang Normal University.

In terms of low-carbon development, Africa has advantages in terms of resources and market potential, but the industry suffers from a shortage of capital and technology. At the same time, China is home to the fastest-growing new energy sector, which has made remarkable progress in low-carbon and carbon-neutral technologies, Liu said, adding that China and Africa can deepen cooperation in industrial transfer and carbon trading.

In fact, the Chinese government has lent policy and capital support to African countries. At the World Economic Forum on Africa in May 2014, China announced an aid package of $10 million to assist Africa's efforts to preserve its wildlife resources, boost biodiversity and promote sustainable development.

At the Johannesburg Summit of the Forum for China-Africa Cooperation in December of last year, Chinese President Xi Jinping proposed 10 plans for bilateral cooperation, the fifth of which focuses on green development cooperation. Moreover, China will take various financing means to support Africa in photovoltaic and biomass energy power generation projects as well as power transmission and grid programs in a bid to relieve the continent of power shortage.

Liu said that low-carbon aid is a good starting point for aid to Africa. Based on past experience, it is necessary to expand low-carbon and agricultural technology assistance to make it a highlight of China-Africa cooperation and enhance the effect and reputation of Chinese aid.

It is common to see Western media criticize China's investment endeavors in Africa, claiming that they are harmful to the environment. Some African scholars said that green low-carbon cooperation between China and Africa is a powerful refutation of this claim.

"The Chinese people have brought mutual benefit to Africa," said Michael Ehizuelen, a Nigerian research fellow at the Institute of African Studies at Zhejiang Normal University. Green cooperation proves that the bilateral partnership does not come at the expense of Africa's environment and long-term interests, and it is expected to benefit more African people in the future, he said.

Infrastructure interconnection is an essential condition for Africa's industrialization, but infrastructure like road networks and power grids require enormous investment, so the problem will take time to address. Developing small-scale off-grid clean energy, to some extent, will help Africa address its lack of infrastructure, Liu said.

Cheng Zhigang, secretary-general of the China-Africa Industrial Forum, cited a recent report released by the International Energy Agency, saying that Chinese enterprises have built nearly one-third of the new power facilities for sub-Saharan Africa in the past few years.

Meanwhile, China stresses developing Africa's "hematopoietic function," which refers to cultivating new energy talent for Africa while handing the managerial and operational authority over to African parties after projects are up and running, Cheng said.

For example, control over the second stage of the Adama wind power project in Ethiopia undertaken by China with an installed gross capacity of more than 100 megawatts was transferred to Ethiopia's ruling party in May this year.

"A dozen similar projects are under construction, and even more are undergoing negotiation procedures. The G20 Hangzhou Summit is a new transitional starting point. In the next three to five years, more low-carbon projects will be implemented in Africa," Cheng said.
Lü Mengdi and Mao Li are reporters at the Chinese Social Sciences Today.