China-Germany ties point to future cooperation of East, West
By Wang Yiwei
|
2016-06-17
|
Hits:
(Chinese Social Sciences Today)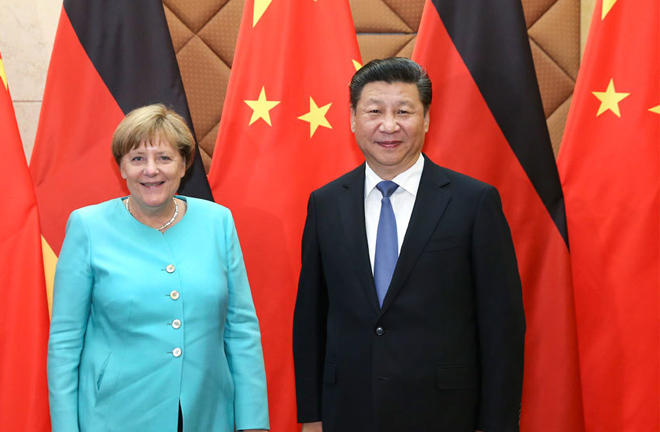 Chinese President Xi Jinping met with German Chancellor Angela Merkel on June 13.
The relationship between China and Germany has become a barometer for the nation's ties with Europe and developed countries. The recent state visit of German Chancellor Angela Merkel from June 12 to 14 signals a new era of cooperation between China and Western economies.

This was Merkel's ninth visit to China since she took office. Prior to her trip, Chinese Ambassador to Germany Shi Mingde said that the China-Germany relationship has entered the best period in its history.

This unprecedented relationship is not only manifested in the maturing of bilateral ties, but in the three guiding roles it is playing.

First, the relationship is guiding China's relations with developed countries. As China climbs up from the lower end of the global industrial chain, the competition between China and the developed world is intensifying, making it increasingly difficult to reduce trade barriers.

Chinese and German leaders have shown great foresight in connecting "Made in China 2025," a 10-year plan to transform China into an advanced manufacturing power, with Germany's "Industry 4.0." By channeling German investment into such inland cities as Chengdu, Sichuan Province, and Shenyang, Liaoning Province, they have fully tapped the potential of bilateral cooperation and established a model for relations between China and developed countries.

During her visit, Merkel also attended the fourth Chinese-German government consultation. The consultation was frank and fruitful when it comes to China's core interests, rule of law, as well as competition and cooperation with developed countries.

Second, the relationship is setting the tone for China-Europe relations. Trade with Germany accounts for one-third of China's total trade with Europe and roughly equals to the combined volume of its trade with the United Kingdom, France and Italy.

Moreover, Germany plays a critical role in EU governance, including the decision to grant market economy status to China. Currently, less competitive EU countries like France, Spain and Italy are opposed, worrying that the country's excess capacities will worsen a regional economy already plagued by high unemployment. At the same time, the United Kingdom, the Netherlands and other northern European countries favor granting market economy status, which means Germany can be the deciding voice in the debate.

Merkel's visit will lay a solid foundation for the upcoming 18th China-EU Leaders Meeting. The Chinese-German government consultation even proposed the two sides collaborate to develop a third-party market.

Third, the relationship is guiding global governance. China and Germany will assume the rotating presidency of the G20 summit this year and next, respectively. The leading role of the two states is crucial to the process of jointly building an innovative, invigorated, interconnected and inclusive world economy while promoting the G20 to become the major platform for global governance and international order. Merkel is about to pay another visit to China this September to attend the G20 summit in Hangzhou, Zhejiang Province, and take over the rotating presidency from China.

During this visit, she also reached consensus with Chinese leaders about Afghanistan, Syria and maritime security issues, reflecting the growing global significance of bilateral ties.

China and Germany need to communicate about a growing number of issues, which is the result of a maturing relationship. The agreements that came out of the consultation suggest that China-Germany relations have no insurmountable problems and will remain at this historical peak as long as both sides are frank, respectful of each other and committed to achieving mutual benefit.
This article was translated from the People's Daily Overseas Edition. Wang Yiwei is a professor of international studies at Renmin University of China.