International historical studies trending toward globalization
By Mao Li, Zhang Qingli
|
2015-09-18
|
Hits:
(Chinese Social Sciences Today)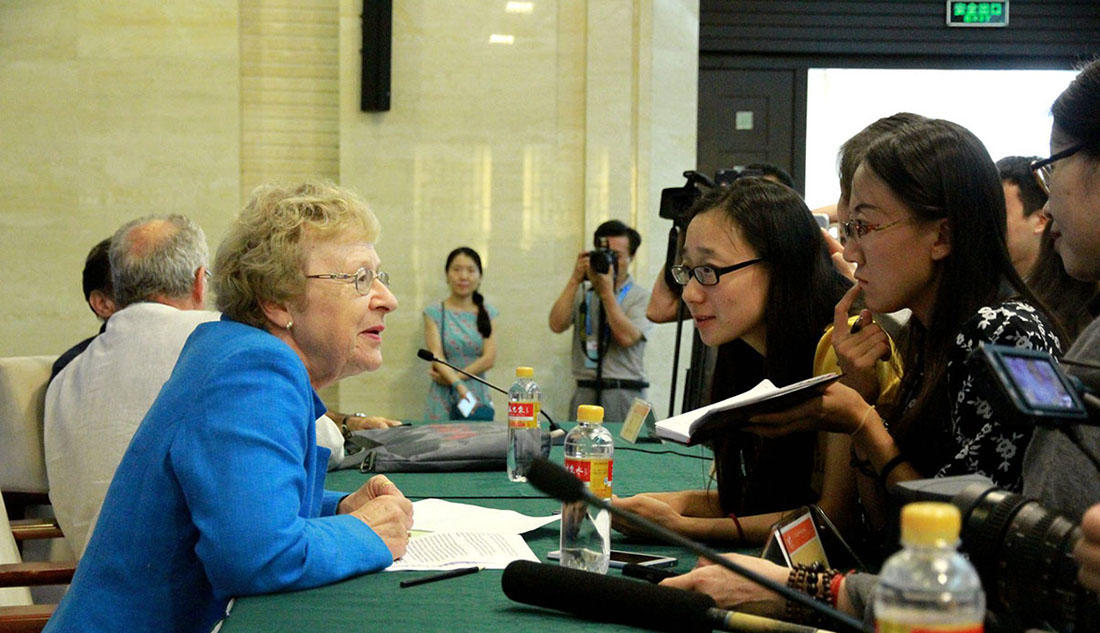 Marjatta Hietala (left), president of the International Congress of Historical Sciences (ICHS), is interviewed by Chinese journalists.
At the weeklong International Congress of Historical Sciences (ICHS), which concluded on Aug. 29 in Jinan, Shandong Province, scholars identified three emerging trends in global historical studies.

Breaking Western monopoly
The 22nd session of the congress was the first to be held in Asia. The discussion panels this year featured greater diversity than in years past. More historians from Africa, Asia and Latin America were involved than in previous sessions, reflecting the transition of international historical studies from a narrow focus on the Western world to a more inclusive, globalized perspective.

"Including China as a major theme on the seven-day agenda is a particularly successful attempt to break away from a Eurocentric historical view or West-centered theory," Robert Frank, outgoing secretary general of the ICHS, said in the closing statement.

"China from Global Perspectives," which was at the top of all the 14 major themes, attracted experts from Italy, France, Japan and the US. They said China is a critical aspect of global history, and China can be best understood by looking at its historical interaction with world civilizations.

Turning to digital world
The major theme "Digital Turn in History" and the evening session "Promoting Digital History Internationally" indicate that digitization, as a new tool for historians, is reshaping historical studies.

In the past, historians would have had to sift through countless ancient texts, but in the digital age, they have moved from libraries to computer terminals.

"Digitization has indeed shortened time and distance, enhanced the efficiency of interaction, and made the world smaller. On the screen, historians can connect the past to the present in a vaster space," said Yvan Combeau, a professor from the University of Reunion Island in France.

Digital technology is not merely a handy new tool for historians; the sharing platform it provides can also maximize the integration of research achievements. "The digital revolution has presented opportunities for worldwide project cooperation," Yvan said.

Serge Noiret, a professor from the European University Institute in Florence, Italy, noted the opportunities for and challenges of constructing digitized public historiography.

On one hand, it is important to encourage historical professionals and non-professionals to participate in digitally recorded public history and help form collective memory. On the other hand, social media has empowered more non-professionals to create memory-based personal history, further blurring the line between history and memory.
Professional historians are duty-bound to guide public history to develop soundly in the digital age, attending scholars said.

False information is overwhelming on the Internet, which requires professional historians to tell right from wrong and screen it with balanced world perspectives, values and judgment criteria, said Tom Dublin, a professor from SUNY Binghamton in the US.

Historicizing emotions
"A few years ago, who had any idea about writing emotional history? Now discussions on related topics have fully justified 'historicized emotions,' waking everybody up to the importance of the new factor," Frank said.

When it comes to history, we shed more light on politics, economy and culture. How can emotions mirror social and historical change?

Ute Frevert, a professor from the Center for the History of Emotions at the Max Planck Institute for Human Development in Berlin, Germany, said that research on emotional history focuses on the history of emotional development and the influence of emotions as a driving force of historical change.

When studying emotions, how can history be associated with other disciplines?

Natural scientists need to understand how the brain absorbs cultural and social factors in historical change to enrich expressions of emotions, while historians can also draw upon research findings in the fields of biology, neurology and genetics, said Tuomas Tepora from the University of Helsinki in Finland.

At present, many biological insights have been applied to studying the history of emotions, Tepora said. However, while referencing natural sciences research, it is essential to respect the truth and objectivity of history, he said.

"This is a new area. Its theory and methodology are in infancy, calling for interested scholars to explore it constantly," Frevert said.
Mao Li and Zhang Qingli are reporters at the Chinese Social Sciences Today.