Enriching research methods to develop linguistics
By Huo Wenqi
|
2015-06-08
|
Hits:
(Chinese Social Sciences Today)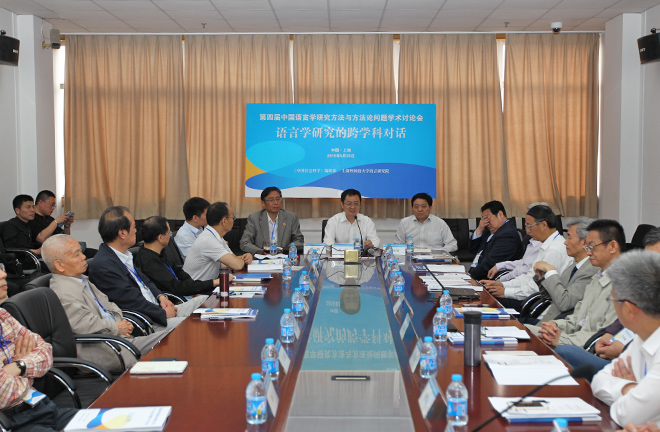 Conference site
Language is playing an increasingly significant role in the national development strategy, making linguistics an important discipline with valuable real-world implications.

Co-organized by the Social Sciences in China Press (SSCP) and the Institute of Linguistics at the Shanghai International Studies University, the fourth Symposium on Research Methods and Methodology of Chinese Linguistics was recently held in Shanghai. Attending experts and scholars conducted interdisciplinary discussions on the development of linguistics.

Gao Xiang, secretary-general of the Chinese Academy of Social Sciences (CASS) and editor-in-chief of the SSCP, said that the innovative capability of the nation is largely linked with the creative ability of individuals, which in turn is closely tied to language.

In recent decades, the integration of natural and social sciences has been strengthened. Gao pointed out that there are two main issues facing Chinese academia: one is no major theoretical or practical problem can be addressed solely by a single discipline; the other is that the development of a discipline cannot depart from other related subjects.

The development of linguistics also follows the aforementioned tendencies. In recent years, the integration of linguistics with other disciplines, including sociology, historiography and anthropology, has been enhanced, breaking traditional boundaries.

Yao Xishuang, director of the Language Application Department at the Ministry of Education, said interdisciplinary research is required to meet urgent real demands.

Zhang Zhenxing, a research fellow from the Institute of Linguistics at CASS, outlined his research on the relationship between oceans and dialects at the symposium.

Yang Yiming, a professor from the School of Linguistic Sciences at Jiangsu Normal University, also presented his studies on the neural mechanism of speech disorders, focusing on the life and learning of persons with disabilities. All of these application-oriented studies have significant implications for social stability and individual happiness.

Li Yuming, Party secretary of Peking University, said that drawing on the experience of other disciplines is a major goal among linguists.

Li argued that the development of linguistics should also depend on the research methods of both social and natural sciences. "In terms of talent cultivation, discipline setting and the belonging of research projects, it is necessary to conduct deep reform to better serve society and the whole country," Li added.

On the issue of methodology, Gao emphasized the necessity of drawing lessons from historical studies to avoid the problem of fragmentation. "Linguistic research should also capitalize on modern research techniques," Gao added .

Attending scholars agreed that it is necessary to enrich research methods and methodology, which is conducive to deepening studies and increasing its international influence.
Huo Wenqi is a reporter at the Chinese Social Sciences Today.