China, Russia join in search for Soviet soldiers' remains
By Geng Xue
|
2015-06-01
|
Hits:
(Chinese Social Sciences Today)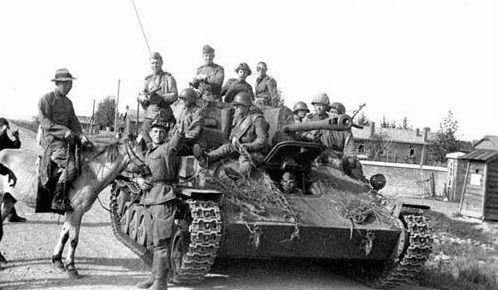 Soviet forces participate in the fight against the Japanese army in northeast China.

China and Russia launched a joint effort in Muleng City, Heilongjiang Province on May 12 to search for the remains of Soviet soldiers who died in China during World War II. The effort, the first of its kind, is to commemorate the sacrifice of Soviet soldiers who died during the fighting in northeast China in 1945.

In 1945, Soviet forces fought fiercely against the Japanese army near the Huoshao Mountain. According to a Russian document, there are remains of about 120 Soviet soldiers in an area covering 16 square kilometers near the mountain.

Wang Lewen, deputy director of the Historical and Cultural Tourism College at Heilongjiang University and a participant in the search, said that the search team includes experts in the fields of archaeology, archival science, medical appraisal and geological prospecting. The Russian team comes from the Historical and Cultural Heritage Protection Center in Amur Oblast and Blagoveshchensk State Normal University while the Chinese contingent is made up of teachers and student volunteers from Heilongjiang University.

Wang said that a 10-day general survey has already been conducted, during which several incomplete remains have been found that could possibly belong to missing soldiers. The archaeological excavation is predicted to close at the beginning of June, he added. "And in the future, Chinese and Russian team members will cooperate in accurate positioning and excavation as well as identification of remains."