Evidence sheds light on cruelty of Japan's POW camps
By Geng Xue
|
2015-06-01
|
Hits:
(Chinese Social Sciences Today)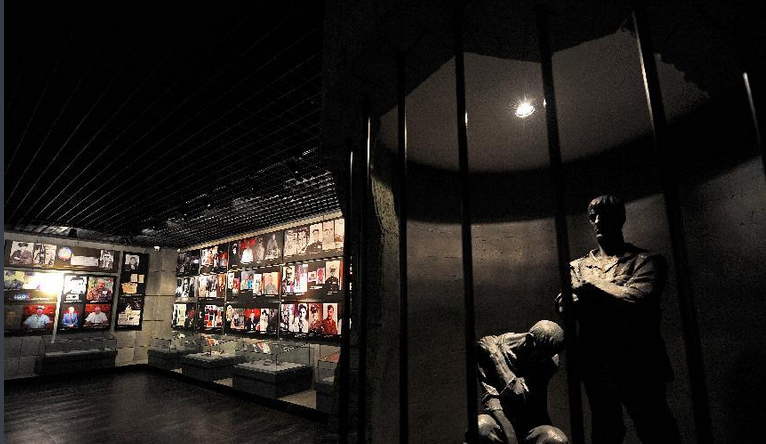 The sculpture at the Shenyang WWII Allied Prisoners Camp Site Museum is based on two American prisoners held in a dungeon at the time. The museum opened on May 18, 2013.
In recent years, scholars have been able to paint a clearer picture of conditions in prisoner-of-war (POW) camps built by the Japanese during World War II (WWII). Investigations by Chinese scholars show that some prisoners camps, even those held up as models, were full of inhuman atrocities and had an alarming mortality rate.

Shocking number of prisoners
During WWII, Japan established institutions in many places to lock up prisoners from the Allied forces, which now are referred to as "Allied prisoners camps." According to data collected by Guo Hongmao, head of the Institute of Japanese Studies at the Jilin Academy of Social Sciences, 18 normal Japanese institutions and many other temporary detention centers housed up to 280,000 Allied soldiers and prisoners. There were four such camps in China alone, and they were located in Hong Kong, Taiwan, Shanghai and Mukden (now Shenyang), respectively. At the time, Japan laid down a whole set of rules and regulations for the management of prisoners of war.

Among the Allied prisoners in those camps, many once served as high-ranking military officers in the army. Gao Jian, a research fellow from the Research Center of the Shenyang WWII Allied Prisoners Camp Site Museum, said that the Shenyang WWII Allied Prisoners Camp housed prisoners from the most countries, mainly America, Britain, the Netherlands, Canada, France and Australia. Shanghai, Hong Kong and Taiwan camps mainly held prisoners from the American and British forces.

High mortality
The Shenyang WWII Allied Prisoners Camp stood out among prisoners camps set up by the Japanese forces. "It once housed dozens of top military officers of Allied forces," said Yang Jing, a professor from Shenyang University. "Moreover, it was the only permanent camp specially built by the Japanese army to hold prisoners of war." Some other scholars said that it had an astonishingly high level of "specialization."

Japan touted the Shenyang WWII Allied Prisoners Camp as a model camp where, according to Japanese forces, prisoners led "comfortable" lives. The Japanese defense in the International Military Tribunal for the Far East cited the good conditions in the Shenyang camp in terms of healthcare, accommodations, food and clothing, claiming that prisoners there had not suffered from malicious abuse and they never lacked materials, medical services and supplies.

However, evidence shows that these claims did not match the reality of life in the camp. Through his studies, Yang demonstrated the high mortality rate in the Shenyang camp. He said that from November 1942 to August 1945, 250 Allied prisoners died in the Shenyang camp, constituting a mortality rate of 16 percent, which was more than 13 times that of German POW camps. "A more significant historical characteristic of the Shenyang camp was that the Japanese army took senior officials as hostages to hold ground in occupying Manchu," he added.

Gao pointed out that the Shenyang camp violated the international conventions Japan signed by confiscating private belongings of prisoners and forcing them to produce weapons. Furthermore, cold, hunger, malnutrition and infection led to numerous deaths. "Arbitrary beatings happened frequently and imprisoned high-ranking officers, including American Lieutenant General Jonathan Wainwright (1883-1953), suffered torture and insults by Japanese guards.
Research lacks depth
At present, scholars in this field concentrate on northeast China, and their studies are limited to the Shenyang WWII Allied Prisoners Camp. Overall, only a handful of scholars are dedicated to the research of Allied prisoners camps. Having recruited only one researcher, Shenyang University canceled the Shenyang Camp Research Lab in April this year.

Gao explained the reasons for the research status. On one hand, studies in this field have just started in China, and it was after the discovery of the site that Chinese historians began to pay attention to the research on the Shenyang camp. On the other hand, the Shenyang camp was located in northeast China, confining related studies to the region.

In addition, few relevant historical materials are located within China. The vast amount of original files and oral accounts of prisoners are recorded in many languages and scattered among Japanese, American, British, Australian and Swiss archives and museums, making it difficult to gather the documents and conduct textual research.

The current shortage of researchers is all the more problematic in light of the vast number of issues that need to be addressed, Yang said.

He said that scholars need to search for more historical evidence, like the missing prisoners, while conducting in-depth studies on such subjects as decision-making and implementation of the Japanese approach of "sustaining the war by means of war." Moreover, some historically inaccurate literary works about prisoners camps are a subject of great concern to researchers.

Yang said research on POW camps is global and provides a unique perspective that should include the voices of Chinese scholars. "In addition to probing historical facts, we should keep alert to those attempts to revise the narrative of history while ignoring truth."
Geng Xue is a reporter at the Chinese Social Sciences Today.