Disaster-epidemic ethics gains ecological boost
By Ming Haiying
|
2015-05-08
|
Hits:
(Chinese Social Sciences Today)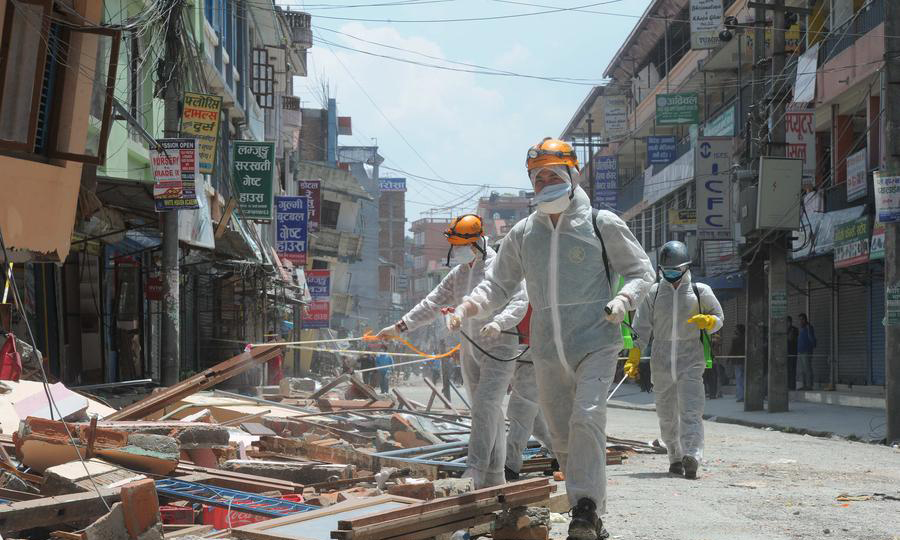 Chinese relief workers spray disinfectant to minimize the risk of a disease outbreak in Kathmandu on May 2 following an 8.1-magnitude earthquake that struck Pokhara in Nepal on April 25. With the increasing frequency of natural disasters and epidemics, scholars have paid closer attention to the development of disaster-epidemic ethics.
On April 25, an 8.1-magnitude earthquake struck 80 kilometers east of Pokhara in Nepal at a depth of 20 kilometers. More than 7,000 people were killed and many ancient buildings were destroyed. The increasing frequency of natural disasters and their related epidemics has attracted great attention from scholars of ethics.

A few years ago, some scholars proposed establishing a new interdisciplinary subject for disaster-epidemic ethics, aiming to provide ethical solutions for the prevention and control of post-disaster epidemics and reconstruction efforts.

In the late 1980s, scholars from China and abroad were engaged in discussions on ethical issues related to natural disasters. Tang Daixing, a professor from the College of Political Education at Sichuan Normal University, said that the rapid development of disaster science introduced disaster issues into the humanities and social sciences, triggering the rise of disaster-epidemic ethics.

Chinese scholar Wan Yanhua first brought up the idea of constructing disaster-epidemic ethics in his book Urban Disaster Prevention.

The outbreak of SARS in 2003 stepped up scholars' review of epidemic diseases. Sun Muyi, a professor of medical ethics from Southeast University in Nanjing, Jiangsu Province, defined the new interdisciplinary subject as "exploring the ethical issues and relations of emergent epidemic situations and related public health policies and institutions." Sun added that the subject involves natural disasters and all kinds of epidemic diseases, including the plague.

He Zhiqing, a research fellow from the Institute of History at the Chinese Academy of Social Sciences, claimed that this definition still needs to be reconsidered.

After SARS, the study of disaster-epidemic ethics fell silent. In 2008, there were a series of natural disasters, including the Wenchuan earthquake in Sichuan Province, China, Hurricane Hanna in Haiti and massive wildfires in Los Angeles, US. The world once again reflected on disasters and epidemic situations.

Organized by Sun, China's first academic symposium on disaster-epidemic ethics was held in November 2008 in Wuzhen, Zhejiang Province. Many experts of medical ethics, disaster science and psychology called for the establishment of disaster-epidemic ethics. Tang said that the convening of the symposium symbolized the rise of the discipline in China.

"In order to boost the independent development of disaster-epidemic ethics, we must rely on the theories of related disciplines and study the differences between these disciplines," said He.

He also said that the development of disaster-epidemic ethics involves the participation of various subjects, including ecology, environmentology, psychology, medical science and history.

In contemporary society, disasters and epidemics are linked with ecological issues. Tang claimed that an ecological perspective is needed when analyzing disasters and epidemics in a framework of humanity, life, Earth and the universe.

Sun also said that it is necessary to incorporate the discipline into the teaching system. Schools, especially secondary and primary schools, should conduct ethical education of disasters and epidemic situations, added Sun.

Luo Zude, a professor from East China Normal University in Shanghai, also claimed that scholars should pay great attention to disaster-prone regions and cities. Some disasters can trigger secondary threats, such as aftershocks, requiring the comprehensive research of various disasters, noted Luo.

Research methods and techniques need to be further improved, said Luo, adding that in the past researchers mainly relied on methods of observation, description and speculation and focused more on the process and result of disasters rather than causes, occurrence mechanisms and prevention measures.

"With the development of modern science, new theories and techniques should be applied into the research of disasters, further boosting the new discipline," said Luo.