China, Latin America advance South-South cooperation
By Deng Zhimei
|
2015-01-22
|
Hits:
(Chinese Social Sciences Today)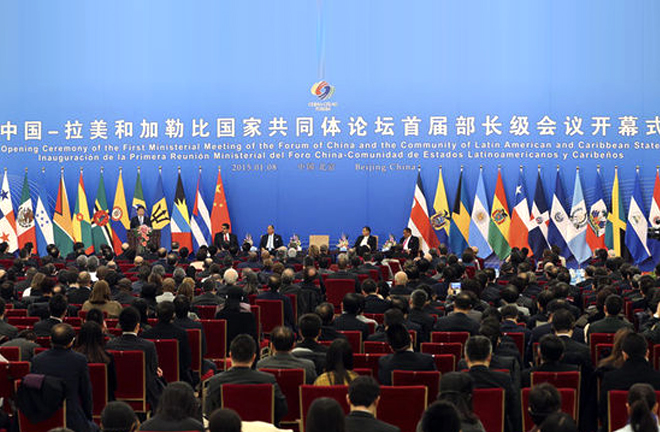 Scholars spoke highly of the first ministerial meeting of the Forum of China and the Community of Latin American and Caribbean States (CELAC) that concluded in Beijing on Jan. 9, hailing it as a milestone for China and Latin America to engage in all-round cooperation and promote South-South cooperation.

The significance of cooperation between China and Latin America was also discussed at an international symposium themed "New Breakthroughs in the China-Latin America Relationship within the South-South Framework" held in Beijing recently.

Since the 1990s, the Sino-Latin American relationship has witnessed rapid development.

Data shows that the volume of bilateral trade progressed from $12.6 billion in 2000 to $2.62 trillion in 2013. Meanwhile, Chinese direct investment stock in Latin America has exceeded $ 80 billion.

"The development of trade and investment between China and Latin America is astonishing," said Wu Baiyi, director of the Institute of Latin American Studies (ILAS) at the Chinese Academy of Social Sciences, adding that the boost in bilateral relations is not only manifested in economy and trade, but has also been extended to many areas including politics, culture and technology.

Wu noted the different structures of trade ties between the 33 Latin American and Caribbean states and China. By comprehensively upgrading China-Latin America cooperation, small economies can also benefit from general preferential policies, he said.

The opening of the China-CELAC forum signified full coverage of all-round cooperative mechanisms between China and developing countries. Pinpointing cooperation within the South-South Cooperation framework as an important feature of the China-Latin America relationship, scholars claimed that the deepening of bilateral ties has not only enriched the content of South-South Cooperation, but also advanced exchanges among developing countries.