Healing war wounds lays ground for better Asian ties
By Wang Xiaozhen
|
2014-09-22
|
Hits:
(Chinese Social Sciences Today)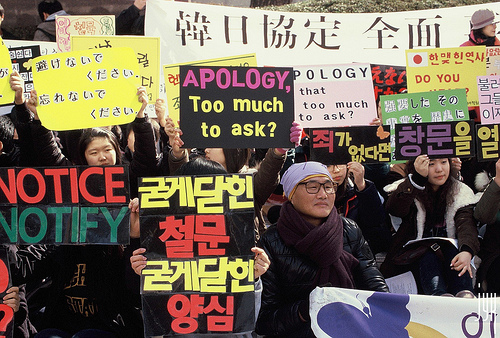 In 2007, the Comfort Women held their first protest. Since then, they have held more than 1000 protests at the Japanese embassy in Seoul.
Sept. 3 is both the first official Memorial Day of Chinese People's War of Resistance against Japan and the World Anti-fascist Victory Day.
To this day, there remain divergences of opinion among the North Asian countries of China, Japan and South Korea regarding such lingering historical problems as the nature of the war, compensation for victims, territorial disputes and other issues, which pose a persistent threat to regional stability and peace.
The Japanese government has failed to adequately reflect and atone for the issues of wartime history that continue to impact relations in the region. This calls for practical ideas to help resolve tensions surrounding these issues.
In the past years, efforts have been made for better ties among the Asian countries. Japan and South Korea began conducting joint historical research in 2001 with a project sponsored by the Japanese government aimed at mitigating the fallout from the approval of controversial textbooks and the prime minister's visits to the Yasukuni shrine honoring Japan's soldiers, including war criminals.
China and Japan began joint research in 2006. Five years later, the Trilateral Cooperation Secretariat (TCS), an international organization was established by the governments of China, Japan and South Korea in Seoul to promote peace and prosperity among the three countries.
Professor Yang Daqing from George Washington University said that despite these efforts, there remain disputes on historical facts. In general, more agreement comes out of non-governmental projects, Yang said, but dialogue topics often avoid the most controversial issues that need resolution; the academic quality of some publications is questionable; some agreements made are only for political convenience.
On May 12, the report Wartime History Issues in Asia: Pathways to Reconciliation was released by the Shorenstein Asia-Pacific Research Center at Stanford University. As it proposes, an ongoing historical dialogue should be created.
There are two possible formats for such a dialogue. One would be to confine the dialogue to historians from the region, with supplementary participation from American and European historians. Such a dialogue could focus on specific historical events or on a broad theme.
The second possible format would be to create a broader international dialogue, which could include, for example, more European participation. It could take place within the region or also outside of it, such as a place like Stanford. For example, a dialogue session could be held in Europe with the goal of holding a comparative discussion of the European and Asian experiences.
Japanese history textbooks have been a source of controversy since the 1980s, but since then, the government has required that the texts take into account views of other governments in the region. However, textbooks produced by Japanese conservative groups have continued to cause tensions.
Sneider, deputy director of the Shorenstein Asia-Pacific Research Center explained that history textbooks have been a major focus of attention because they play an important role in forming a sense of national identity.
Scholars from Stanford also analyzed how each country's textbooks portrayed four wartime issues: the Manchurian Incident, the Nanjing Massacre, forced labor and comfort women, and the atomic bomb. The research found that in reality, the differences in accounts of these incidents from country to country were usually tied to national identity: American textbooks focused on the atomic bomb; Chinese focused on the Nanjing Massacre, and South Koreans on the forced labor issue.
Sneider also discussed the Divided Memories and Reconciliation project conducted by the Shorenstein Asia-Pacific Research Center. The project focuses on a comparative understanding of the formation of perceptions of wartime memories in East Asia.
North Asian countries share common interests in terms of economy and culture. The government needs to place more emphasis on academic research and incorporate dialogue recommendations into policymaking and textbook compilation. Fostering recovery from historical trauma is without doubt of great necessity to keeping peace and promoting development in Asia.
The Chinese version appeared in Chinese Social Sciences Today, No.641,
September 1, 2014.
Edited and translated by Bai Le
http://sscp.cssn.cn/xkpd/xszx/gj/201409/t20140901_1311065.html