Evaluation of journals raises bar for scholarship
By Zhang Xiaoxi
|
2014-09-11
|
Hits:
(Chinese Social Sciences Today)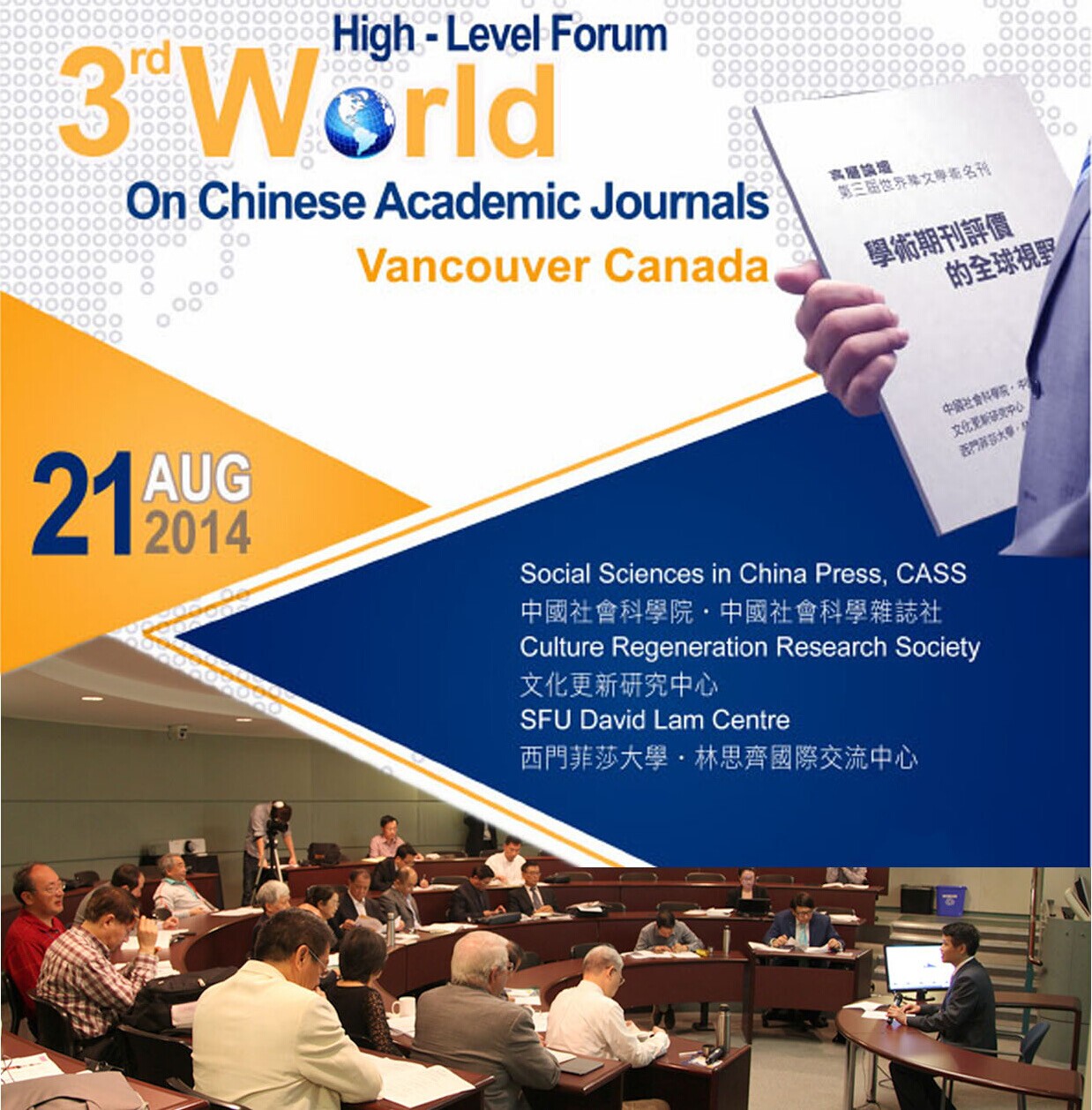 VANCOUVER- With the theme "In­novation and Guidelines: Evaluation of Academic Journals in a Global Context," the Third World High-level Forum on Leading Chinese Academic Journals was co-hosted by Social Sciences in China Press(SSCP) and the Culture Regeneration Research Society (CRRS) in Vancouver on Aug. 19. The forum was co-chaired by Yu Xinhua, deputy editor-in-chief of the SSCP and Liang Yancheng, director of the CRRS and editor-in-chief of Cultural China. More than 30 chief editors of leading Chinese academic journals from Canada, the United States, Singapore and China (in­cluding Mainland, Taiwan and Macao) were in attendance.
"Scholarly evaluation sets guide­lines for academic research and serves the objective of scholarly journals," Yu said in his speech. The authority of a scholarly journal is not defined solely by the publication of high-end, cutting-edged academic achievements. A journal must guide the direction of future academic re­search and constantly broaden the scope of study, Yu continued.
The purpose of the forum is to dis­cuss the impact an evaluation system for journals can have on academic research, said Yu. With the establish­ment of evaluation criteria, Chinese journals should be able to deliver their voices among international scholarly community.
Overseas Chinese journals as a bridge
Liang Yancheng introduced the mission of their journal Cultural China in the keynote speech. He said the CRRS and its Cultural China cel­ebrated their 20th anniversary this year with the goal of furthering their mission to objectively and fairly show an accurate picture of China to the Western world while better dissemi­nating Chinese culture and improving the nation's influence.
You Junhao, deputy director of the Chinese Language and Culture Center at Nanyang Technological University in Singapore, used The International Journal of Diasporic Chinese Studies as an example of how overseas Chinese academic journals are guided by a mission and philosoply as they work to promote research as well as how to follow an international pattern in the process of globalization. Wu Qixing, a professor from the UCLA School of Hu­manities, presented a comprehensive review of the development of Chinese media in North America from the mid- 19th century to the present, including five important transitions. Keeping pace with the rapid development of China, the Chinese media have shown an obvious trend, Wu said. Starting with small local Chinese newspapers, Chinese media over time began to draw increasing attention from the North American mainstream press. The Chinese media not only deliver information to the Chinese-speaking world in a timely manner but also present a more comprehensive picture of China to the world.
Building scholarly evaluation system
In the process of building a scholarly evaluation system, principles are of vi­tal importance. Scholars summarized three principles: First, we adhere to the principle of understanding who we are and what we need. In response to internationalization, Chinese scholarly journals should not only simply copy international academic standards but also adopt scholarly evaluation sys­tems in line with our own reality and evaluation criteria.
The second is to always have a clear understanding of the valuable tradi­tions of Chinese academia because it springs forth from the same historical and cultural background. Common origins and shared aspirations for the fu­ture shall generate a clearer consciousness.
The third principle is to remain confi­dent even as research lags behind. Aca­demic development in today's world is undergoing profound changes, providing an opportunity to catch up. We need to be adaptive and proactive in promoting suit­able scholarly evaluation criteria and take advantage of innovations to effectively promote the development of the Chinese academic community. Some scholars have stressed that Chinese scholarly journals should take the responsibility to facilitate communication between scholars and readers, research and society, China and the world, the past and the future through scientific and effective evaluation activi­ties with the goal of helping the Chinese-speaking world contribute more to the development of human civilization.
Meanwhile, scholars were highly inter­ested in the efforts the Chinese Academy of Social Sciences (CASS) has made in es­tablishing an academic evaluation system in China. Based on China's experience and academic globalization as well as quanti­tative and qualitative evaluation, literature evaluation and social evaluation, these explorations greatly deepen our under­standing of academic-centered principle and the role of theoretical guidance that academic journals should follow, scholars at the forum said. They said that they hope the process that began at the forum will be expanded to construct a Chinese evalu­ation system on philosophy and social sciences that is capable of effectively en­riching and developing Chinese academia.
The World High-level Forum on Leading Chinese Academic Journals is an impor­tant annual philosophy and social sciences innovation project under SSCP. The first and second World High-level Forum on Leading Chinese Academic Journals were held in 2012 and 2013 in Moscow and Sydney, respectively, marking the begin­ning of global cooperation among Chinese scholarly journals as well as the establish­ment of an institutional mechanism for exchange and cooperation among Chinese scholarly journals worldwide.
The Chinese version appeared in Chinese Social Sciences Today, No. 638, Aug.25, 2014
The Chinese link is: http://www.cssn.cn/xspj/qkpj/201409/t20140903_1316182.shtml
Translated by Yang Xue