Asian studies increasingly active with continent's rise and new technology
Zhao Xiaoxi
|
2014-05-07
|
Hits:
Chinese Social Sciences Today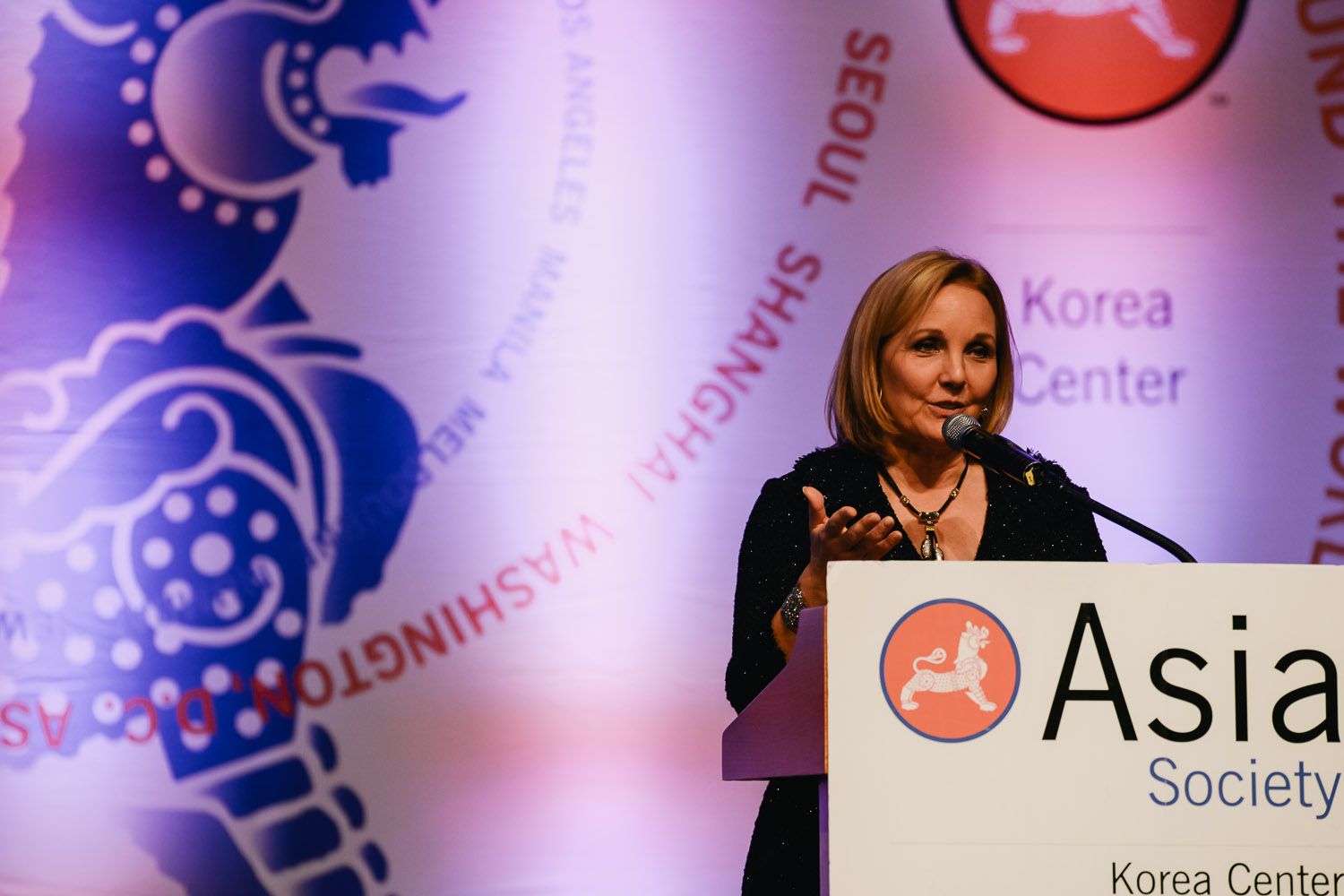 Asia Society President Josette Sheeran speaking during the 5th Anniversary Dinner of the
society's Korea Center in November 2013
With Asia's ever growing influence on international politics, economy and culture, Asian studies is gain­ing more significance in the global academic sphere. Now at the outset of the "Pacific Century", scholars in the field are questioning what advan­tages from traditional Asian studies should they strive to maintain as their disciplines evolve, and the most exciting new developments in Asian studies. These concerns became cen­tral issues of discussions at the 2014 annual meeting of the Association for Asian Studies of America that took place on March 27 to 30.
Thongchai Winichakul, president of the Association for Asian Studies and professor of Southeast Asian His­tory at the University of Wisconsin- Madison, asserted that the scope of research in Asian studies has been changing, with scholars studying new topics and employing new ap­proaches. With their rapid growth, China and India have become the focus of Asian studies. Publications focusing on these two countries have proliferated.
Winichakul iterated in the several decades following the Cold War, Asia has evolved from an object of study to a center for producing knowl­edge. With its emerging network of academic institutions, scholars and theories, Asian Studies is increasingly active in world academe.
"While there are many scholars in this field, and some Asian scholars get trained in the U.S. and Australia before returning to Asia, Asian schol­ars start from a very different per­spective compared with that of the Western scholars, in that their love and care of their nation and home­town is in their blood," observed Winichakul. He noted that while Asian studies is changing, much traditional and classic content will remain the same. Many Asian na­tions are blessed with a long history and splendid traditional culture, the academic value of which will never die, he affirmed.
Translation has played a vital role in facilitating international Asian studies. It has become faster and more efficient thanks to modern technology, said Timothy George, a professor and chair of the Depart­ment of History at the University of Rhode Island, whose work "Mina­mata: Pollution and the Struggle for Democracy in Postwar Japan" was published in English, Chinese and Japanese. Based on his own experi­ence, George asserted that transla­tion provides a significant link be­tween scholars from different fields, countries and regions.
Technology has not only facilitated translation, but also enabled scholars to employ new research approaches. Traditionally, research in the humani­ties tended to focus on gathering, col­lating and analyzing large volumes of textual and archival information. This is also beginning to change, however.
A staff member from the China Data Center at the University of Michigan said that their database was widely used by China studies scholars from countries all over the world shortly after it was launched in 1997. Its Chinese Enterprise Database is particularly popular among large corporations, including German technology giant Siemens. In fact, the main goal of their center is to facilitate quantitative analysis within China studies as well as ac­cess to textual resources and sharing among English-speaking countries. They hope their databases can help people have a better understanding of China and enable better research on humanities and natural sciences in China.
Robban Toleno from the Depart­ment of Asian Studies at the Universi­ty of British Columbia, uses the latest digitalized software to study ancient Chinese history. His current research focuses on longevity in ancient Chi­na,, a topic he has been able to access voluminous records on through Har­vard University's China Biographical Database. The database, launched in June 2013, includes information on the lifespans of people from a variety of occupations including emperors, officials, monks, Taoist priests, men of letters and doctors.
Digitalized research does have some limitations, however. Toleno noted that the information he was able to obtain from the database mostly reflects the social elite rather than ordinary people. He advised that researchers cannot be too de­pendent on databases, but rather they need to integrate the informa­tion available from databases with traditional materials. In addition, in­terdisciplinary research can make up for deficiencies in technique in one area, he commented.
The Chinese version appeared in Social Sciences in China Today, No. 580, April 4.
Translated by Jiang Hong
Revised by Charles Horne