California racial preference bill dropped
Feng Daimei
|
2014-04-02
|
Hits:
csstoday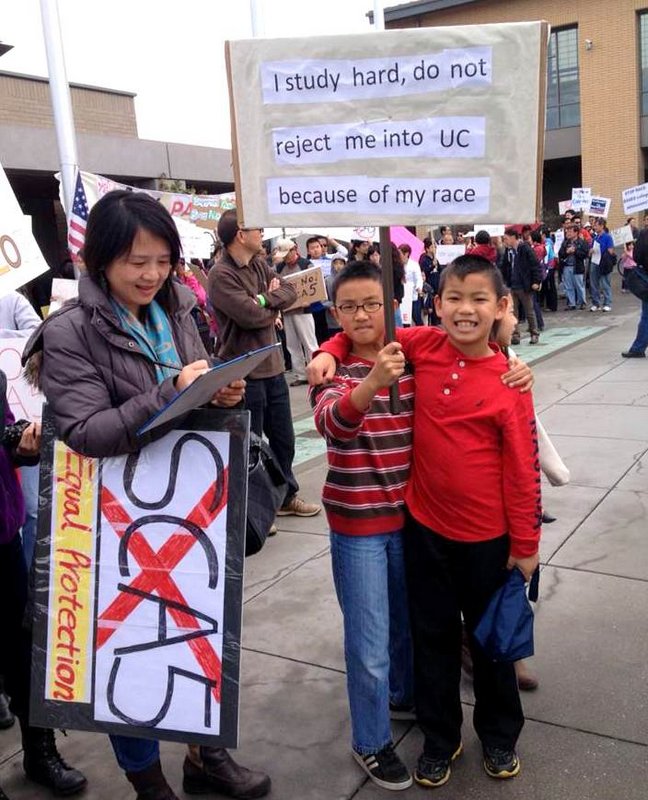 bonstonese.com
Two students hold up a sign outside Cupertino Community Hall, where a townhall meeting was held to discuss SCA-5 on March 2, 2014.
Senate Constitutional Amendment 5, a controversial California bill aiming to bring back affirmative action into public higher education, has been indefinitely placed on hold after waves of backlash from California Asian Americans potentially affected by the bill.
Since California Proposition 209 went into effect in 1998, admission into California's competitive state university system has been race-blind. In January, the California Senate passed SCA-5, a bill that would put to referendum the possibility to repeal portions of California Proposition 209 and allow the state to use race, sex, color, ethnicity, or national origin as a consideration for accepting students or hiring employees.
State Senator Ed Hernandez, a Los Angeles Democrat and the initiator of the bill, said "the percentage of minority students in the University of California and California State University systems have declined precipitously since Proposition 209 has passed", reported the Washington Post.
Although it passed by a wide margin of 27-9 in the senate, SCA-5 sparked strong resistance, particularly from Asian Americans, one of the "minorities" in the U.S., who alleged that the target of the bill was to shrink the number of Asian Americans within the UC system. By March 18, a Change.org petition urging legislators to veto the bill had received more than 112,000 signatures.
In light of the strong opposition, some Democrats who previously supported the bill have reversed their stance. In a letter to Assembly Speaker John Pérez, state senators Ted Lieu, Carol Liu, and Leland Yee wrote, "As lifelong advocates for the Asian-American and other communities, we would never support a policy that we believed would negatively impact our children."
Seeing many Asian faces on California universities campuses is hardly surprising for many visitors. Asian Americans have becoming a dominate group in U.S. higher education while other ethnicities are underrepresented, according to UC data. In 2013 the freshman class of the entire UC system was 36 percent Asian, though as of the 2010 census, Asian Americans constituted 14.9 percent of California's total population. The rest of the UC system's incoming class was 28.1 percent white, 27.6 percent Hispanic and 4.2 percent black. At some campuses, including UC San Diego and UC Irvine, Asian Americans accounted for more than 45 percent of admitted freshmen this year.
Most Chinese regard the bill as racist and a serious attempt to discriminate against Asian Americans. Xudong Sun, president of the American Anhui Association of Scholars and Students, said "under-represented minority groups like African Americans and Hispanics need protection, but such protection should not be made at the expense of Asian Americans."
Should race be a factor in the admissions process? This is certainly not the first time of the question has been asked. In 2008, Abigail Fisher, an unsuccessful Caucasian applicant to the University of Texas, filed suit against the University, claiming its use of race during the admissions selection process violated the equal protection clause of the 14th Amendment. Ms. Fisher maintained university had accepted minority candidates with less impressive academic records.
The idea of giving certain ethnic groups an advantage in employment and admissions processes in the United States first emerged as part of the Civil Rights Movement in attempt to compensate for historical attitudes and policies that had prevented social mobility among American minorities. Critics then and since have asserted that some of these policies are "anti-discrimination" discrimination.
Other critics argue that ethnic categories are often too broad in the U.S. for policy to target the most disadvantaged groups. In a recent report published by the Center for American Progress, Farah Z. Ahmad and Christian E. Weller note that the category of Asia American includes anyone of Chinese, Indian, Pakistani, Vietnamese, Cambodian, and Laotian descents. Such highly aggregated data cannot accurately reflect the large nuances between the cultural, social and historical backgrounds of the constituent groups, the report, "Reading Between the Data", argues.
The passage of Proposition 209 in 1996 made California the first state to outlaw affirmative action in public university admissions and state hiring. Washington and Michigan have since followed suit.