Experts call for deeper understanding of diversity in ASEAN
By Mao Li
|
2013-08-30
|
Hits:
Chinese Social Sciences Today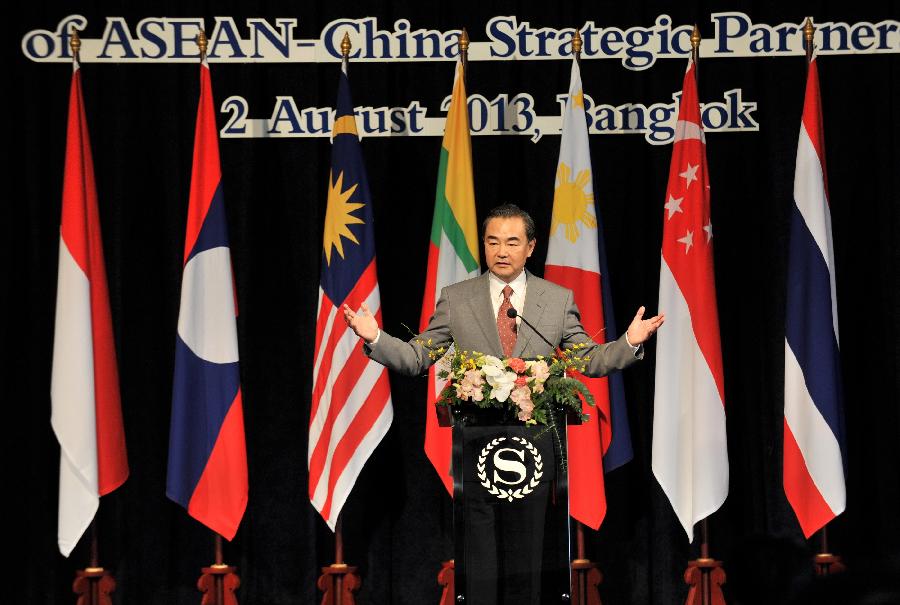 Chinese Foreign Minister Wang Yi addresses the opening ceremony of the High-Level Forum on the 10th Anniversary of China-ASEAN Strategic Partnership held in Bangkok, Thailand, on Aug. 2, 2013.
Xinhua
On August 2, China's Foreign Minister Wang Yi met with representatives from the ASEAN for the High-Level Forum on the 10th Anniversary of China-ASEAN strategic partnership in Bangkok, Thailand.
Reflecting on the past decade of China-ASEAN relations, CSST has spoken with several leading scholars on the achievements of this partnership and its prospects for the next decade and beyond.
Good neighborly relations
"ASEAN is the first regional organization that China has established strategic partnership with, and China is the first nation that ASEAN has established such partnership with," noted Xu Liping, a research fellow from the National Institute of International Strategy at the Chinese Academy of Social Sciences (CASS). Xu asserted that as a "10+1" pattern, the China-ASEAN strategic partnership sets a good example for cooperation throughout East Asia.
Zhang Yunling, a member of CASS's Presidium of Academic Divisions and director of its Academic Division of International Studies, listed three major accomplishments of the China-ASEAN strategic partnership: cooperation within Asia has been elevated to a higher level, trade relations between China and ASEAN have grown even further, and the partnership has acted as a stabilizing and pacifying influence on the situation in the South China Sea. Elaborating on this last point, Zhang said that the Declaration on the Code of Conduct of Parties in the South China Sea, signed by China and all of the ASEAN members, has demonstrated the signatories' desire to maintain peace and stability in the South China Sea. The document stipulates clearly that members will seek peaceful resolution to specific, individual controversies or disputes through friendly consultation and negotiation.
Cao Yunhua, director of the School of International Studies and the executive director of the Academy of Overseas Chinese Studies at Jinan University, asserted that China and ASEAN are actively striving toward a relationship defined by partnership, friendship and good neighborliness. In addition to the regular dialogs and negotiations the two sides have held, Cao noted China and Thailand's cooperation on national defense affairs, and China's cooperation with its neighboring countries in combating terrorism and drug-trafficking. China and Thailand's cooperation has strengthened mutual trust and dispelled doubts, while China and other ASEAN member states have made some breakthroughs on non-traditional security issues, he said.
Increased regional economic integration
Since the establishment of their strategic partnership, China and the ASEAN economies have become increasingly integrated. In 2002, the year before the partnership, ASEAN member states' actual investment in China totaled $3.26 billion; while by 2012, investment had more than doubled, reaching $7.1 billion. China, in turn, constitutes ASEAN's biggest source of foreign investment, with cumulative investment in ASEAN countries reaching nearly $30 billion by the end of June 2013.
Wang Qin, director of the Center for Southeast Asian Studies at Xiamen University, pointed to the rapid development of the regional economy and the completion of China-ASEAN Free Trade Area (CAFTA), which came into effect in January 2010, as catalysts for the quickly increasing economic and trade cooperation. These changes have provided the framework and the mechanism for China-ASEAN economic cooperation, Wang said, observing that economic cooperation has been all-encompassing, multi-level and wide-ranging, gradually enhancing the level of regional economic integration.
In 2012, bilateral trade volume between China and ASEAN countries exceeded $400 billion, and is expected to pass $500 billion in 2015. ASEAN has become the third largest trade partner of China while China has been ASEAN's largest trade partner.
The two sides have cooperated smoothly in many sectors, including infrastructure, agriculture, and manufacturing and fabrication, among others, said Wang Qin. ASEAN members are an important market for China in terms of engineering and contracting and labor service cooperation, he added.
China and ASEAN have also furthered their financial cooperation. ASEAN countries have set up over 30 banks in China and China has set up 11 branches of financial institutions in ASEAN countries. The China-ASEAN Inter-bank Association was launched in October, 2010. Under this framework, China Development Bank has cooperated with banks from Vietnam, Cambodia and Burma on credit extension and other programs.
Assessing the future of China-ASEAN economic relations, Wang Qin forecasted that China-ASEAN trade will see a shift from the traditional pattern of trade based on differences in factor endowments and comparative advantage in particular industries to a new pattern of intra-industry trade based on scale economies and differentiated products. Regional production networks in East Asia will attract an influx of foreign direct investment (FDI) from inside and outside of the region, Wang continued, adding that by providing good conditions for an industrial division of labor within the region, CAFTA will also help attract FDI. The key to the future development of China-ASEAN regional economic development and cooperation is building and improving a regional investment environment that is based on the East Asian production network, he concluded.
A deeper phase of social cooperation
According to Xu Liping, China and ASEAN's cooperation on social and human issues since the establishment of their strategic partnership can be divided into two distinct phases. The first phase lasted from 2003 to 2010, and was more of exploratory phase during which a system for cooperation was initially put in place but cooperation did not happen on a large scale, Xu said. Beginning in 2011, however, cooperation has entered a deeper phase, which Xu says has been defined by the implementation of specific plans on a larger scale. He expects this phase to last until 2015.
"Under the framework of 10+1 cooperation, China and ASEAN members have established a regular consultation mechanism between ministers of all parties in the fields of youth, health, education, science and technology and culture, which has laid the institutional foundation for formal and routine cooperation on social and humanistic issues,"Xu added.
Social cooperation covers many policy areas and issues that touch on people's livelihood and well-being, from public health, human resources and social security, poverty alleviation and disaster management, to local-governmental and non-governmental exchanges, while cooperation on human issues includes areas such as science and technology, sports, the environment, culture and media. China and ASEAN member states have strengthened exchange on policy and carried out dialogs and technological cooperation through various mediums such as forums and training courses, as well as cooperation on human issues on multiple levels and through multiple channels.
These exchanges have really benefitted both sides' societal construction and management, Xu Liping commented, adding that cooperation on human issues has strengthened mutual understanding and communication and exchange of different values, facilitating regional awareness and identity.
Xu anticipates several trends of for the future of China-ASEAN social cooperation, including the inclusion of South Korea and Japan in a 10+3 framework, increased supplanting of government forces with non-governmental forces in guiding roles, and increasingly expanded scale of cooperation such that bilateral personnel exchange reaches 15 million by 2015—a previously established goal. The pattern of cooperation will change from uni-directionally driven to bi-directionally driven, and from extensive to intensive. As for the areas of cooperation, Xu predicted that programs of collaboration will increasingly be focused on people's livelihood and living conditions.
More experts needed to address South East Asian diversity
Since 2008, the China-ASEAN Think-Tank Strategic Dialogue has been held five times. Zhang Yunling observed that this has laid a good foundation for the cooperation between Chinese think tanks and ASEAN countries' think tanks. However, he noted that that there is currently a dearth of Chinese experts on Burma, Thailand and Malaysia. In addition to training more junior scholars in Southeast Asian Studies, Zhang advised that the establishment of special programs for China ASEAN cooperation and exchange would enable more Chinese scholars to do fieldwork in Southeast Asian countries.
Along these lines, Cao Yunhua commented that in spite of increased research into China-ASEAN relations and the establishment of more institutes of ASEAN Studies beyond the five traditional institutes of Southeast Asian Studies located in South China, research results have been mostly underwhelming. "ASEAN is in fact quite a complex community and a diverse region. Each member state has its own foreign policy and its own China policy. Given this variation, we should pay more attention to the differences between ASEAN countries," Cao advised.
Mao Li is a reporter from Chinese Social Sciences Today.
The Chinese version appeared in Chinese Social Sciences Today, No. 483, Aug 2, 2013.
Chinese link:
http://www.csstoday.net/xueshuzixun/guoneixinwen/83306.html
Translated by Jiang Hong
Revised by Charles Horne