Scholars assess world economy during 9th Asia-Europe Summit
By Li Xiaokun
|
2013-08-29
|
Hits: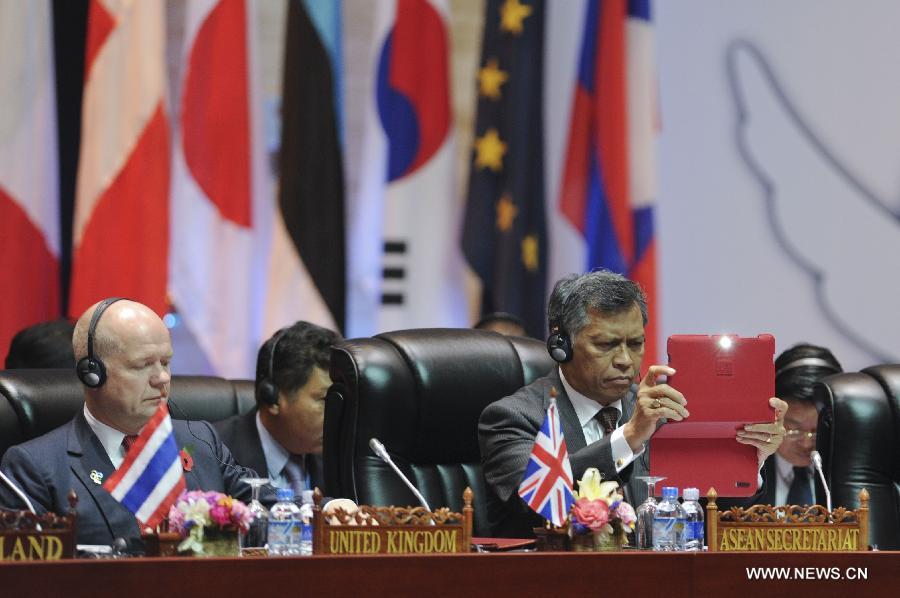 Surin Pitsuwan (R, Front), secretary general of ASEAN (Association of Southeast Asian Nations),takes photos by iPad at the second meeting of the Ninth Asia-Europe Meeting (ASEM) Summit in Vientiane, Laos, Nov. 6, 2012. (Xinhua/Zhang Duo)
Scheduled for Monday and Tuesday in Vientiane, Laos, the biennial summit of the Asia-Europe Meeting will bring together Asian and European government leaders to discuss the economic situation as well as global and regional issues.
According to IMF forecasts, the world economy is now facing "considerable downside risks". The global growth rate has been estimated at 3.3 percent for 2012 and 3.6 percent for 2013.
However, EU statistics showed on Oct 29 that in the first half of2012, European exports to its 19 Asian ASEM partners rose by12.8 percent in comparison with the first half of 2011, from 226billion euros ($290.2 billion) to 255 billion euros. Their imports from the Asian members also increased by 1.6 percent, from 373billion euros to 379 billion.
Simon Shen, assistant professor with the Hong Kong Institute of Asia-Pacific Studies at The Chinese University of Hong Kong, told Xinhua that despite the lingering debt crisis and Europe's weaker status as an economy, people should not look down upon Europe's economic strength.
Still, fast developing Asian nations including China and India are facing "downside risks" over flowing from Europe, he said.
The ASEM mechanism is intended to make the two regions, which are at different development stages, complement each other, he said.
Zhan Jianxiong, an expert on European studies with the Chinese Academy of Social Sciences, said Asian economies, especially China, will hold more sway at the ASEM summit this year compared with previous ones due to their better economic performance.
"I think Asian countries, including China, will propose changes to the global economy and financial regulations to help boost the economy and make it fairer and more healthy," he said.
ASEM Expansion
Another highlight of the 9th ASEM summit will be its expansion. Bangladesh, Switzerland and Norway will join the summit, giving the group 51 members and making it represent nearly 60percent of the world's population and trade volume.
Shen Jiru, an expert on international strategy with the CASS, told Chinese media that the involvement of Bangladesh has made South Asia better represented in the ASEM mechanism.
The participation of Switzerland, a country with strong financial power, and Norway bears special significance to the meeting, especially for economic recovery, Shen said.
The ASEM summit, which started in Thailand in 1996, involves 46 countries and two international organizations - the European Commission and the Association of Southeast Asian Nations Secretariat. It is held every two years in Asia and Europe on a rotating basis.