UNESCO Congress says culture key to sustainable development
By Mao Li
|
2013-08-01
|
Hits:
Chinese Social Sciences Today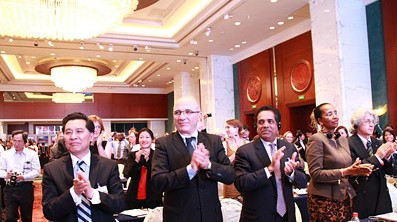 On May 15th to 17th, UNESCO's International Congress "Culture: Key to sustainable development" was held in Hangzhou.
UNESCO's International Congress "Culture: Key to sustainable development" convened in Hangzhou from May 15th to 17th. The congress marked the first UNESCO international conference to address the intersections and potential for collaboration between culture and development since the 1998 Stockholm Congress. Roughly 500 delegates from 82 countries and 26 international organizations explored common areas of concern and focused on articulating a vision for the role of culture in the post-2015 development framework. Their deliberations resulted in the Hangzhou Declaration, which will be submitted to UN General Assembly during discussions on the Post-2015 Development Agenda. Liu Yandong, vice premier of the State Council of the PRC, and Irina Bokova, director-general of UNESCO, launched the conference.
In her opening address, Bokova noted that now we enter into a critical period for designing the Post-2015 Development Agenda. Pointing out that the UN Millennium Development Goals (MDGs) will come to an end in less than 1,000 days, she stressed the need to evaluate their effectiveness—the gains achieved in their pursuit and aspects that fell short—in order to reach an agreement on the Post-2015 Development Agenda. Bokova firmly believes that the absence of culture as an important subject in the MDGs was disadvantageous, and that it should by all means become a part of the new development strategy. Her speech emphasized the narrowness of only evaluating culture in terms of its direct economic output: its products are not merely commodities; rather cultural appreciation has the capacity to elevate the human spirits. Connecting culture to sustainable development, she noted that culture gives humans the ability to reflect on themselves with dignity, and inspires in them the innovative energy to transcend their immediate material concerns and strive for sustainable development.
Bokova said that UNESCO is so happy to know some that countries, including China, put culture in a central position of national sustainable development strategy. They hope that China could develop their leadership in this area. In China, culture is not an article of luxury but the life spring. Culture is both the essence and driving power of humans' creation and invention.
Among the most discussed issues at the conference were the cultural aspirations of developing and less developed countries. Delegates sought means for these countries to use cultural measures to address or mitigate general and specific issues.

With regards to using cultural measures to fight poverty, Clément Mbom, a professor of modern languages and literatures from City University of New York, proclaimed that although the MDGs aims to eliminate extreme poverty by 2015 remains far from realized, culture can be a vital mechanism in assisting poor countries to eradicate extreme poverty. Having a long-held interest in African cultural issues, Mbom maintained that culture is a vehicle by which to promote the unique identity or traditional customs o certain social groups, and more tangibly to create employment opportunities, tax income and market opportunities. Also, cultural resources can boost development and drive the transition to an inclusive economy, thereby further eliminating poverty, he added.

Francesco Bandarin, assistant director-general for culture at UNESCO, noted the importance of culture in maintaining peace, preventing conflicts and working toward reconciliation. In particular, he noted the ameliorative effect of culture in social reconstruction, observing the immense potential of recovering cultural relics and encouraging cultural activities to restore normal patterns of life in regions exposed to armed conflicts or disaster areas.

Bandarin elaborated that cultural heritage is often the sacrifice of violent clashes, noting that as yet effective methods to protect cultural heritage during war have not been put forth. He opined that we must change international society's attitude toward the importance of preserving cultural relics, in the meantime prescribing the creation of a database to track and foster awareness of humanity's aggregate heritage. Overall, he reiterated the demand for multi-level collaboration between governments, societies and social organizations in this effort.

One of the ideas delegates put forth and reaffirmed was that, regardless of whether at the international, regional or local level, culture should meet different targets and objectives laid out in development strategies. In order to include culture in the Post-2015 Development Agenda, delegates proposed including measures of culture in the overall measures of social development.

Cristina Ortega Nuere, director of the Institute of Leisure Studies at the University of Deusto, noted that Bhutan's coining the term "gross national happiness" and the corresponding index has kicked off a trend in international academia to set up different indexes to measure the relationship among culture, happiness and social development. Nuere affirmed that today's happiness index indicates that culture has gradually become a key parameter of social development.

In discussing the design of a happiness index for the Post-2015 Development Agenda, some delegates argued for the necessity of developing a rubric for quantifying the contribution of culture in overall social development. Advocates of such a rubric maintained that it should be able to give weight to both qualitative and quantitative contributions of culture for sustainable development. They also noted the necessity of establishing multiple, coordinated indexes that are tailored to helping shape policy across issues such as trade, cultural industries, the creation of an incentive system and intellectual property rights.
The Chinese version appeared in Chinese Social Sciences Today, No. 451, May 17, 2013
Translated by Zhang Mengying