Bring Tibet to the world through academic promotion
Lu Hang and Zhang Yi
|
2013-07-25
|
Hits:
Chinese Social Sciences Today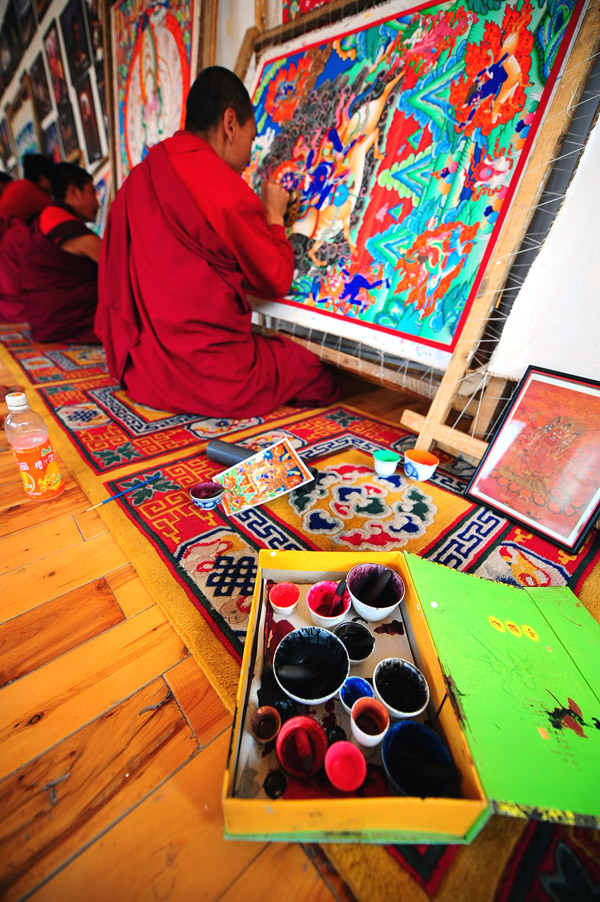 Thang-ga plays a significant role in internationl communication of Tibetan culture.
On June 29th and 30th, the First Advanced International Communication Forum on Tibetan Culture was held at Tibet University for Nationalities. Experts from Renmin University of China, Minzu University of China, China Tibetology Research Center and the High-level Tibetan Buddhism College of China, and researchers from the External Publicity Office of Tibet Autonomous Region met in Xianyang, Shaanxi Province to discuss how to develop Tibetology as an academic discipline and steps that can be taken to increase the international prominence of Tibetan culture through strengthening exchange and communication. At the forum, Lobsang Dechen (Luosong Deqing), president of the Tibet University for Nationalities remarked, "Social sciences scholars play an important role in transmitting Tibetan culture."
Attendees to the forum affirmed that both Han people and Tibetans are descendants of China, and that Han and Tibetan culture are both part of Chinese culture. However, due to differences in historical conditions, natural environment and customs, Tibetan culture is endowed with distinct characteristics that differ from Han culture. Strengthening academic research on China's ethnicities and fostering more exchange and international communication is a key element in the process of rejuvenating the Chinese nation.
"Through specializing their research and becoming experts in their given fields, scholars in the social sciences have become an important force in cultural transmission," said Lobsang Dechen. "They have contributed to the construction and transmission of the modern Tibetan sprit and the Tibetan ethnicity's harmonious way of life." Lobsang Dechen sees the spread of Tibetan culture as essentially interdisciplinary in nature, involving both theoretical and practical issues in history, philosophy, religion, nationalities, languages and writing, literature and arts, medicine and chronology, and folk customs.
Studies on cultural dissemination in Tibet need to break through the limits of regional history and emphasize a vision of total history, Lobsang Dechen advised. Though scholars should certainly focus on collecting, organizing and utilizing historical evidence to strengthen comprehensive analysis and ultimately try to trace the roots of Tibetan culture to their source, they should not just be in the library or the laboratory, he said. What scholars really need to do is get out and do extensive field work, he recommended, elaborating that in this way they can get an in-depth and on-the-scene perspective on historical events and the life activities of individual subjects by collecting oral accounts and physical artifacts.
One of the issues raised at the forum was widespread concern among attendees that there are some roadblocks preventing wide dissemination of Tibetan culture. For one, basic theoretical research is relatively weak compared with other disciplines, and Tibetology does not have a clear trajectory or direction for development. Additionally, efforts within the discipline are somewhat scattered and haphazard, leading to unnecessary overlap and redundancy.
Attendees reached a general consensus on several steps to deal effectively with these challenges, beginning with carefully sorting out the history of Tibetan cultural transmission. A key step is the promotion of comprehensive interdisciplinary research—especially comparative analysis of related materials in different disciplines. Second, Tibetology scholars need to take inventory of their own discipline, evaluating the strong points, weak areas and blanks in research on cultural transmission to cut back on redundant research and blind selection of topics without regard to the extant literature and pressing issues in the field. Lastly, attendees agreed that more international exchange and cooperation with foreign institutions will help raise the profile of Tibetology.
Attending scholars also voiced the need for further research on international dissemination of Tibetan culture, both as a means of introducing and showcasing China and introducing and showcasing Tibet. They consider this an inevitable requirement to improve China's soft power and fortify its capacity to withstand international public opinion.
Hou Yunhao, vice-director of the External Publicity Office of the Tibet Autonomous Region, also views academic research as a necessary step to ensure that Tibet's cultural traditions are passed down and spread to a broader audience, and to provide the ideational impetus for Tibet's economic and social development. Being clearer on this issue will ultimately help China achieve its great rejuvenation and realize its "Going Out" policy on a cultural level, he said.
"On the one hand, China needs to build its soft power one step at a time; on the other hand, foreign dissemination really needs social science scholars to provide theoretical support on practical issues," said Wang Xiaobin, a researcher at the China Tibetology Research Center.
"We want to use various forms of narrative to introduce China to the world and help foreign audiences better understand China through storytelling," said Zheng Baowei, a professor at the School of Journalism and Communication at Renmin University of China. Zheng iterated the urgency of establishing this new idea about international communication as soon as possible. One of the reasons this is important, he pointed out, is because connection with the world has become much more important in the information age. During news broadcasts, the paradigm that "China is distinct from the rest of the world" should be replaced by the paradigm "China and the world are becoming an integrated whole", Zheng advised. It is also important for China to be proactive when it comes to staying on top of the latest technology; for disseminating culture, we cannot passively lie in wait, hoping for the next thing to come to us, he added.
Yang Shengmin, a professor at the School of Ethnology and Sociology at Minzu University of China, iterated the importance of combing through Tibetan values and presenting them in an easily communicable order. This is an integral link for engendering understanding and respect from the international community, he said. To better adapt our words to internationally accepted discourse, figuring out Tibetan values, and communicating them with the world is an urgently needed step.
Wang Changyu, executive vice-president of the High-level Tibetan Buddhism College of China, expressed that the international dissemination of Tibetan culture needs to develop its resource base and cultivate areas of strength both regionally and internationally.
Appealing to the large network of groups affecting the spread of Tibetan culture internationally, Zheng Baowei called for universities, social science research institutes, administrative departments and the general public to unite in the effort.
Wang Xiaobin noted that scholars working on spreading Tibetan culture should gauge their target audience by closely watching foreign media's focus, angles and motives in their reports related to Tibetan culture. "Using quantitative analysis to figure out behavior patterns in the Western media's portrayal of Tibetan culture will help lay the academic foundation for disseminating Tibetan culture internationally," Wang added.
The Chinese version appeared in Chinese Social Sciences Today, No. 469, Jul. 1, 2013
Translated by Zhang Mengying
Copy Editor: Charles Horne
Chinese link: