Xi Jinping thought valuable to China and world
BAI LE
|
2023-05-25
|
Hits:
Chinese Social Sciences Today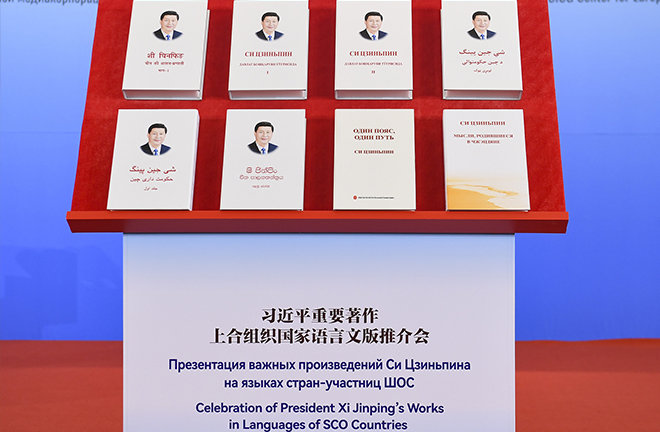 Xi Jinping's works in languages of SCO countries Photo: CFP
---
In recent years, the four volumes of Xi Jinping: The Governance of China have been published in multiple languages and distributed overseas, arousing warm responses worldwide. Xi's works have become an important means by which foreign academia understands Xi Jinping Thought on Socialism with Chinese Characteristics for a New Era. Binod Singh Ajatshatru, director of the BRICS Institute New Delhi, was recently interviewed by CSST about his ideas on Xi's thought and its great value for both China and the contemporary world.
Steering development of China
Ajatshatru commented that the establishment and development of Xi Jinping Thought on Socialism with Chinese Characteristics for a New Era endows socialism with Chinese characteristics with great vitality. It also opens an important window for the international community to know about and understand China.
In Ajatshatru's view, Xi's perspective embodies the philosophy of state governance that seeks to identify a growth model most suited to China. At its core, the philosophy can be summarized as "seeking truth from facts," an idiom often mentioned by the Chinese people. Since the 18th CPC National Congress, CPC members represented by Xi have explored many innovative developmental ideas and successfully implemented them throughout China's modernization process.
"It is not easy to seek a national system to govern a country of over 1.4 billion people and keep optimizing it. But China did this with remarkable accomplishments, which deserves praise," Ajatshatru said. 
"The success story of China tells people that the right national leader with guts, wisdom, and capabilities can make a big difference in guiding one's country from backwardness to a leading world economy, and can guide the people from caring solely about their own food and clothing to enthusiastically discussing the world order today," Ajatshatru continued. 
As Ajatshatru believes, the CPC is deeply aware of the importance of improving governance capacity, so it now presents itself to the world as a more flexible and pragmatic party that masters advanced theories through enforcing strict political discipline and rules. It is particularly noteworthy that China has established a modern system for combating corruption. Xi's firm stance and strong determination in anti-corruption efforts have won him many "loyal supporters" at the international level. 
Discussing the populism that prevails in some Western countries, Ajatshatru pointed out that what lurks behind populism is the inherent conflict of interests among different social groups. In contrast, the CPC adheres to the principle of "people first" throughout all aspects of its governance. The CPC places a high premium on democracy within the party and has put forward the concept of whole-process people's democracy. 
"The current discussion of this concept has created some new interest among many liberal scholars who were earlier hesitant to even accept the basic fact that Chinese political system has its inherent democratic nature which may not be same as those practiced in Western democracies. In the coming days this debate will further enlighten us about the advantage of the Chinese governance system and what we can learn from it," Ajatshatru said.
"Personally speaking, I like most Xi's concept of Chinese Dream which emphasizes a better and happy life for all the Chinese citizens. I often pay close attention to Xi's great sentences in his speeches, and one that particularly impressed me is 'the people's aspiration for a better life is our goal,'" Ajatshatru added.
Concern for world and humanity
A decade ago, Xi put forward the Belt and Road Initiative after observing global trends. In the past three years, he has consecutively proposed the Global Development Initiative (GDI), Global Security Initiative (GSI), and Global Civilization Initiative (GCI). 
Regarding Xi's diplomatic perspective, Ajatshatru elaborated that Xi Jinping Thought on Diplomacy can be described as a grand and rich research subject, reflecting his keen insights into the profound changes taking place in the current world landscape. Today, some overseas scholars are studying Xi's thought on diplomacy, which encompasses both conceptual elements and specific policies. Guided by this thought, major-country diplomacy with Chinese characteristics has proven that the Chinese model and system are not only beneficial to its own people but also to neighboring countries and world at large.
This year marks the 10th anniversary of Xi's proposal to build a human community with a shared future. To Ajatshatru, this proposal is a crucial portion of Xi's thought on diplomacy. Considering the broader context of human historical development, Xi contemplates the important "question of the era:" what's the future direction of human society? "His broad-mindedness and concern for the world and for humanity are truly admirable. We can see that a human community with a shared future and the three global initiatives of GDI, GSI, and GCI are all rooted in the traditional Chinese culture which values harmony," Ajatshatru noted.
In his speech, Xi often makes use of ancient traditional Chinese wisdom to reflect on a new world order. Ajatshatru said that his thought on diplomacy embodies the ancient Chinese ideal of "Great Unity under Heaven," which was originally elucidated in the Book of Rites. This concept represents the ancient Chinese people's pursuit of an ideal world and their aspirations for a better society. The famous saying of the great sage Confucius—do unto others as you would like others (to) do unto you—is also implied in Xi's thought on diplomacy. The saying has guided the Chinese mentality toward the outside world, and also reflects the common aspirations of developing countries throughout South-South cooperation. 
Despite unfavorable global conditions, the foreign policy priorities and direction of Chinese leadership appear clearer and more concrete. China has displayed its willingness to adhere to the UN charter and create a harmonious world. "The current global governance crisis has given China a historical opportunity to reshape the world for a more equal and democratic world order together with like-minded nations of BRICS," Ajatshatru concluded.  
Edited by CHEN MIRONG