Experts urge cooperative governance for digital globalization
LI YONGJIE
|
2023-02-16
|
Hits:
Chinese Social Sciences Today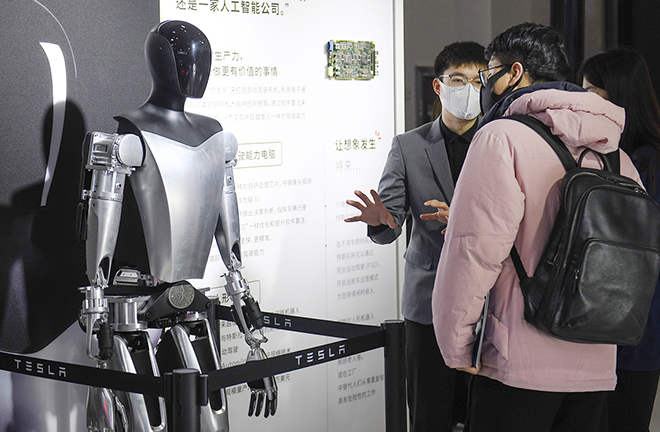 A staff member introduces a humanoid robot to visitors at the first Global Digital Trade Expo in Hangzhou, Zhejiang Province, on Dec. 12, 2022. Photo: CFP
---
With the accelerated innovation of digital technology and the rapid development of the global digital economy, digital governance is increasingly valued by countries around the world. The White Paper on Global Digital Governance (2022), recently released by the China Academy of Information and Communications Technology, stated that the arrival of a new type of globalization driven by digitalization is accelerating. While providing new momentum for global economic recovery, digital globalization also brings many new problems and challenges. Scholars said that to strengthen global digital governance, it is necessary to enhance international exchanges and cooperation, improve the global digital governance system, and jointly build a community of shared future in cyberspace.
Digital globalization: Pros and cons
Cloud computing, big data, artificial intelligence, block chain, industrial computers, quantum teleportation, and other technologies are developing rapidly and advancing side by side amid integration. Digital technology has accelerated the iterative update of the entire society. New economic models and new growth drivers with digitalization as the core technology have maintained rapid development, and digitalization has also facilitated industrial transformation and upgrade in advanced manufacturing and modern service industries. These developments have greatly fueled the growth of the world economy and the well-being of people around the globe. 
At the same time, the rapid development of digital technology and the ever-expanding digital economy have posed new challenges to globalization and global governance. For example, the widening digital divide, rising digital hegemony, and competition between global digital governance institutions are hindering the healthy development of society.
Xue Xiaoyuan, executive director of the Research Institute for Globalization and Cultural Development Strategies at Beijing Normal University, believes that digital globalization has different characteristics compared to previous globalization. The wave of digitalization has increased global interconnectivity, and digital technology innovation and global data flow have accelerated global integration. Digital globalization has brought about new changes to all areas of human production and life, creating new opportunities and providing new momentum for economic and social development. 

Meanwhile, the process of digital globalization is accompanied by digital risks at multiple levels from domestic to global, threatening the security, order, and rights and interests of society, Xue noted, underscoring the imperativeness of global digital governance. Governance subjects and participants should establish problem awareness, seize the opportunity, seek advantages and avoid disadvantages, so that the world can share the dividends of digital globalization, Xue added. 
How digital globalization develops and how global governance innovates has become a major concern to the world. China calls for a vision of global governance featuring extensive consultation, joint contribution and shared benefits, and actively promotes reforms to the global economic governance system. Wu Zhicheng, deputy director of the Institute of International Strategy at the Party School of the Central Committee of C.P.C. (National Academy of Governance), said that the world has entered a new period of turmoil and change, with increasing deficit in global governance. 
According to Wu's analysis, the deficit is specifically manifested in weakening global governance effectiveness, uneven distribution of governance outcomes, insufficient momentum for countries to supply public goods, and difficulties in global governance mechanisms, as a result of complex and prominent contradictions between supply and demand in global governance.
Chinese wisdom for global governance
"China has gradually become a forerunner in this round of new technological revolution, and it is at the forefront of the world in terms of digital infrastructure construction," said Zhang Zhiqiang, director of the Institute of Philosophy at the Chinese Academy of Social Sciences. 
The globalization carried out by China's Belt and Road Initiative is different from the globalization created by Western neoliberalism, Zhang continued. It is a globalization that uses infrastructure to enhance the interconnectivity among different civilizations, countries, and societies. It is a globalization centered on the people of the world. It is also a kind of globalization that lays the economic and material foundation for a human community with a shared future through extensive and unified infrastructure construction.
Wang Yiwei, deputy director of the Academy of the Xi Jinping Thought on Socialism with Chinese Characteristics for a New Era at Renmin University of China, called for the building of a human community with a shared future in the era of digital civilization. "We cannot adopt the means of capital's disorderly expansion and blind technolatry, let alone dominating interdependent industrial systems and the globalization system in a single opinionated way," Wang said. 
Edited by CHEN MIRONG