Seminar eyes national cultural digitization strategy
LI YONGJIE
|
2022-11-25
|
Hits:
Chinese Social Sciences Today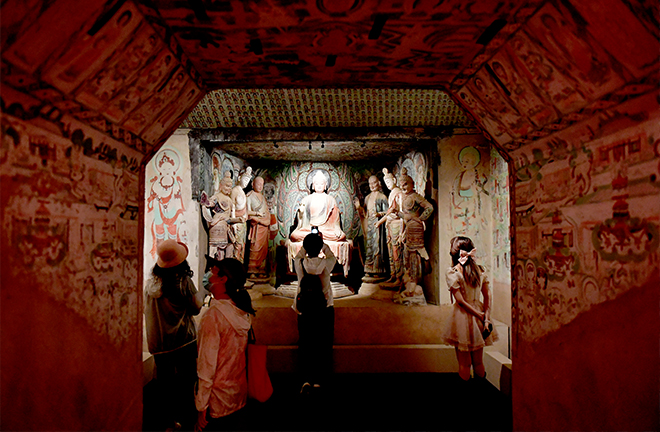 A high-fidelity digital 3D-printed reproduction of Mogao Cave 45 at the National Museum of China in Beijing, on Sept. 29 Photo: CFP 
---
SHENZHEN—The 2022 Cultural and Technological Innovation Symposium and the First Shenzhen University Bay Area Forum were held concurrently in Shenzhen, Guangdong Province, both online and offline, on Nov. 5. Scholars conducted discussions and offered suggestions on the theme of "becoming a leading country in culture in the digital age." 
Cultural digitization 
According to the report to the 20th National Congress of the Communist Party of China (CPC), "We will implement a national cultural digitization strategy, improve the modern system of public cultural services, and launch new public-benefit cultural programs." Gao Shusheng, former deputy director of the cultural system reform and development office of the Publicity Department of the CPC Central Committee, said that as socialism with Chinese characteristics has entered a new era, the national cultural digitization strategy has been implemented to fuel the supply side. Modern scientific and technological achievements can serve to activate cultural resources, extract and associate important elements and symbols with historical heritage value, and give a panoramic display of Chinese culture. This will inspire cultural pride and confidence across the nation and become a strong spiritual driving force for building a great modern socialist country. 
Developing the digital creative industry is an important way to enhance cultural confidence and strength in the new era, said Li Fengliang, Party secretary of Southern University of Science and Technology. Digital creative content provides an industrial driving force for the creative transformation and development of resources. Consumption of creative digital works appeals to people's non-material needs and promotes common prosperity. Building the digital creative industry helps to elevate the country's cultural soft power and better tell China's stories internationally. 
Li called for efforts in four main directions in order to take the lead in global digital creative industries. First, it is necessary to leverage existing advantages, facilitate the creative transformation and development of traditional cultural resources, enrich digital cultural consumption scenes, and focus on boosting domestic demand and consumption. Second, efforts are required to strengthen data support, improve "computing power," tap the "intangible value" of data production factors, and raise data productivity. Third, information infrastructure should be constructed and upgraded, consolidating the "tangible force" of the digital creative industry. In addition, it is advisable to enhance global cooperation, and actively participate in the formulation of global digital technology standards, industrial standards, and governance standards. Efforts are necessary to facilitate the growth of enterprises and provide maximum convenience for domestic enterprises to participate in global high-end industrial links, as well as for attracting entrants from among the world's leading enterprises. 
In the views of Li Yan, director of the Institute of Cultural Development at Yunnan University, cultural digitalization is embodied in three aspects: using digital technology and the internet to transform the scattered and different types of massive cultural resources into different types and hierarchies in a cultural resources database, using them to break the constraints of time and space, realize worldwide real-time dissemination of cultural resources to bring about new connections and changes between local and global, and using them to creatively transform and utilize cultural resources. 
Fu Caiwu, director of the National Institute of Cultural Development at Wuhan University, said that digital technology, including digital information technology and metaverse technology, indirectly improves performance paths of cultural institutions, and is the foundation for a methodology of cultural reform and development in the new era. By constructing cultural consumption scenes, digital technology sets the path of changes in technology-led cultural products and the cultural industry and organizations. This path of changes, as changes in social structures, not only dominates the internal order of cultural products, but also provides a foundation for social and cultural development trends.
Development philosophy 
Digital technology empowers the cultural industry and vitalizes cultural innovation, while cultural innovation must adhere to proper development philosophies. Jiang Shuzhuo, a professor with Ji'nan University in Guangdong Province, said that current practices of cultural innovation need to embrace innovative and green development. Originality is the basic requirement of literature and art, which should not be abandoned because of scientific and technological progress. "Green" is the guiding development philosophy of the new era, requiring the embodiment of innovative content and means. 
Hu Huilin, a professor from the School of Media and Communication at Shanghai Jiao Tong University, shed light on the security of cultural industries in the digital age. The internet cultural industry is a new form of cultural industry emerging in the digital era, which has brought great changes to people's material and non-material life. While of great benefit, the internet also poses certain risks to our lives, such as cyber violence, which requires efforts to ensure a sense of security while fully enjoying the products brought about by the network. 
Xia Yanjing, a professor from the Art Research Institute at Nanjing University of the Arts, said the digital development of traditional culture still faces difficulties and challenges. Some games inspired by historical relics simply mix and mechanically apply relevant knowledge, and randomly splice traditional cultural elements, which will damage the ontological significance of historical culture in the long run. To preserve cultural inheritance, digital empowerment of traditional culture should not only pursue "archeological" protection of traditional culture, but also combine the characteristics of the times to achieve creative transformation, filling it with the atmosphere of the times and better showing cultural confidence. 
During the forum, the Blue Book of Culture and Technology: Annual Report of Culture and Technology Innovative Development (2022) was released. It has been published annually over the past 10 years as a research report on industrial development status, application, theoretical exploration, and innovation practices in the context of integrating culture and technology at home and abroad.  
Edited by YANG LANLAN