Scholars interpret high-quality development
ZHANG QINGLI and WU NAN
|
2022-11-03
|
Hits:
Chinese Social Sciences Today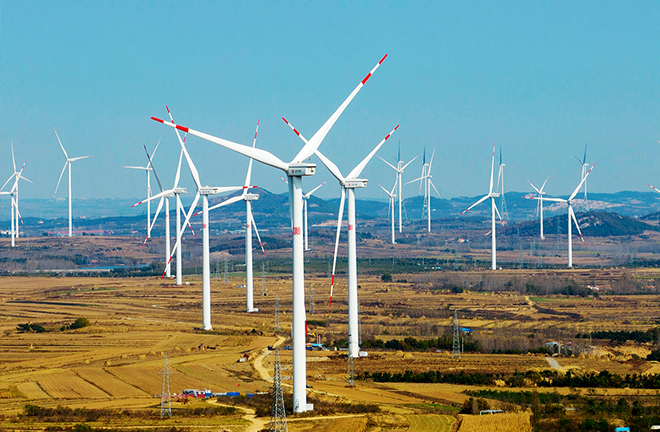 A wind farm generates power for grids in Baoshan County, Qingdao, Shandong Province, on Oct. 28. Green is the color marking China's high-quality development. Photo: CFP
---
In his report to the 20th CPC National Congress, Xi Jinping, general secretary of the CPC Central Committee, stated that "to build a modern socialist country in all respects, we must, first and foremost, pursue high-quality development." Scholars analyzed what high-quality development means and major issues in the high-quality development stage.
More than economy
Stressing the crucial role of a solid material and technological foundation to Chinese modernization, Xu Kangning, a professor of economics from Southeast University, noted that China has already moved beyond the stage of pursuing merely quantitative development and is now in a new stage of development. "What we want today is high-quality development," he said, adding that the key is to implement the new development philosophy and focus on innovative, coordinated, green, open, and shared development.
High-quality development is not only an economic requirement, but also a general requirement for all aspects of economic and social development, said Cheng Changchun, director of the Jiangsu Yangtze River Economic Belt Research Institute at Nantong University.
Duan Huaming, director of the Research Center for Modernization Strategies at the Party School of the Guangdong Provincial Committee of CPC, pointed out that high-quality development highlights interconnection and mutual promotion between productive forces and relations of production, the economic base and superstructure, humans and society, humans and nature, and other relationships in social production. 
It focuses on safeguarding and improving people's wellbeing and aims to invigorate the whole society by developing various social undertakings; strives to ensure that reform and development fruits are shared by the people to achieve common prosperity for all; and balances domestic and international interests, development and security to build a human community with a shared future, Duan said.  
Five aspects to tackle
The congress report pointed the direction for fostering a new pattern of development and emphasized promoting high-quality development from the five aspects of "building a high-standard socialist market economy;" "modernizing the industrial system;" "advancing rural revitalization across the board;" "promoting coordinated regional development;" and "promoting high-standard opening up."
Building a high-standard socialist market economy aims to provide institutional and mechanism guarantees for high-quality development through the construction of a unified national market. The report underscores the need to "unswervingly consolidate and develop the public sector, and unswervingly encourage, support, and guide the development of the non-public sector." 
"Any wavering on the two 'unswerving principles' will affect or even damage not only the development of the national economy, but also the sustainable and healthy development and long-term stability of our country's economy and society," said Liu Yingqiu, a professor from the Graduate School of the Chinese Academy of Social Sciences. "It can also erode and destroy the material and technological foundation for the Party's endeavors in governing and rejuvenating the country."
Modernizing the industrial system focuses on industrial optimization and upgrade to inject new momentum into high-quality development. The notion of "a modern industrial system" was first put forward at the 17th CPC National Congress. In the 19th Party congress, promoting coordinated development of the real economy with technological innovation, modern finance, and human resources was identified as key to the construction of a modern industrial system. The Fifth Plenary Session of the 19th CPC Central Committee made important arrangements for accelerating the development of a modern industrial system during the 14th Five-Year Plan (2021–25) period. The recently concluded 20th CPC National Congress regarded modernizing the industrial system as an important aspect of promoting high-quality development. After reviewing the history of the concept of a modern industrial system, Zhang Weifu, former vice president of Nanjing University of Finance and Economics, noted that the conceptualization and development of "a modern industrial system" is a theoretical and practical innovation based on the inheritance of a classic industrial structure theory and in response to China's profoundly changing economic reality. 
Advancing rural revitalization across the board, and addressing the urban-rural dual structure, will stabilize the fundamentals of agriculture for high-quality development. Considering rural revitalization a vital force in building China's new development pattern, Kong Xiangzhi, a professor specializing in rural studies at Renmin University of China, explained that the new pattern of development is focused on the domestic economy. The implementation of rural strategies is conducive to improving conditions for rural social development, raising farmers' incomes, increasing their disposable incomes for consumption, and further bolstering the domestic economy. 
Promoting coordinated regional development, with a focus on addressing imbalanced regional development, can optimize the spatial layout for high-quality development. 
"The coordinated regional development strategy is a key measure to implement the new development philosophy and resolve unbalanced and inadequate development," said An Shuwei, a professor of economics from the Capital University of Economics and Business. The overall regional development strategy for China's eastern, central, western, and northeastern regions represents well-coordinated efforts in regional development on the national strategic level. Major regional strategies, such as the Beijing-Tianjin-Hebei coordinated development, the development of the Yangtze River Economic Belt, and the construction of the Guangdong-Hong Kong-Macao Greater Bay Area, cross provinces and basins and overlap with other strategies. They are under classified guidance with the goal of fostering key drivers of high-quality development, enhancing regions' capabilities of leading and driving development, and promoting inter-regional integration and interaction, An said. 
To promote high-standard opening up and amplify the interplay between domestic and international markets and resources will contribute to maintaining a stable international economic pattern for high-quality development. 
Lu Shanbing, a professor from the Institute of Silk Road Studies at Northwest University, said that the Belt and Road Initiative (BRI) presents a significant platform alongside impetuses for promoting the construction of the new development pattern marked by mutual promotion between domestic and international markets. Aiming to build a human community with a shared future, the BRI pursues no zero-sum game, and advocates for extensive consultation, joint construction, and shared benefits, which benefits both China and other countries. It is an inclusive, equality-based, and diversified international public good, Lu said. 
Edited by CHEN MIRONG