Ecological economics supports sustainable development
WEI SIYU
|
2022-06-30
|
Hits:
Chinese Social Sciences Today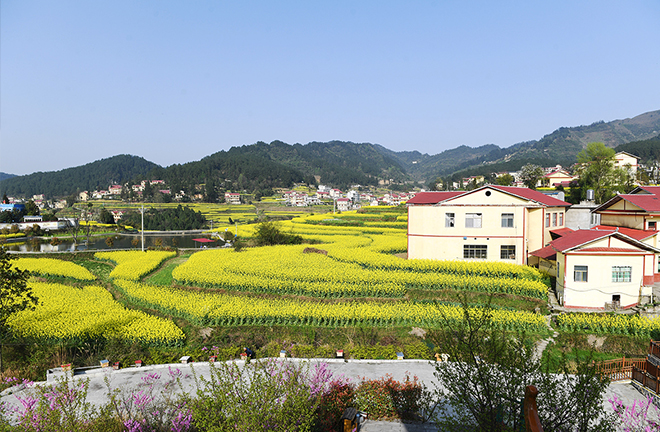 The Yinshui Village in Zunyi City, Guizhou Province, relies on vast rapeseed fields to integrate agriculture and tourism. Photo: CFP
---
With the development of China's economy and society, ecological economic issues have entered into academic vision.
Disciplinary construction
Ecological economy refers to an economic development concept that advocates achieving high-quality socioeconomic development and the harmonious coexistence of man and nature within ecosystems' carrying capacity, with green production and consumption modes as the path, under the principle of integrating economic, ecological, and social sustainability.
In China, ecological economics has emerged amid high-speed economic growth and surging ecological pressure. On the basis of inheriting and developing classical economics and neoclassical economics, which have been long concerned with the sustainable utilization of resources, the discipline draws on the theoretical concepts and methods of ecology, raising the requirements, prospect, and policy proposals of sustainable development.
In a disciplinary sense, ecological economics is a new interdisciplinary subject on the relationship between ecosystems and economic systems. According to Mao Xianqiang, a professor from the School of Environment at Beijing Normal University, ecological economics means promoting the theory, concept, and method of ecosystems to human socioeconomic systems. From the perspective of a nature-society-economy compound ecological system, it interprets, analyzes, and recognizes socioeconomic problems and proposes solutions using theories of ecology, physical sciences (especially thermodynamics), and complex system science that have long been applied in ecology. Constructing China's ecological economics needs to integrate Chinese and Western ecological economics theories, extract Chinese experience based on Chinese practice, and establish the research paradigm of ecological economics with Chinese characteristics, providing theoretical support for the construction of socialist ecological civilization with Chinese characteristics.
Dong Suocheng, a research fellow from the Institute of Geographic Sciences and Natural Resources Research at the Chinese Academy of Sciences, believes that the disciplinary construction of ecological economics in China aims to establish the disciplinary system of ecological economics with Chinese characteristics, develop branch disciplines of ecological economics, innovate disciplinary theories and methods, and conduct interdisciplinary research of ecological economics with ecology, geography, regional economics, environmental economics, and information science, theoretically supporting green, low-carbon, circular, and high-quality development in the new era.
In the new stage of development, ecological economics is geared to the strategic needs of the green, low-carbon, circular, and high-quality national modernization drive. Adopting a new vision for development, it is committed to conquering major theory and practice problems in related areas with the theoretical and methodological advantages of sectoral ecological economics and regional ecological economics. In Mao's view, China's ecological economics should be applied into the production, circulation, consumption, and other areas of the national economy, encourage ecological development of economies, and respect the laws of ecological economy. It is necessary to seek coordination among ecological environmental protection, efficient and sustainable use of resources, and high-quality economic development, pursuing sound development strategies amid protection.
According to Yu Fawen, a research fellow from the Rural Development Institute at the Chinese Academy of Social Sciences, ecological economics should first systematically interpret Xi Jinping Thought on Ecological Civilization, and focus on major ecological economic theoretical and practical problems in the new stage of development, promoting and spreading Chinese ecological economic theory, ideas, and intellectual innovation, and expanding China's discourse power and influence in the field of building a community of life for mankind and nature.
Yu suggested carrying out research on major theoretical and practical issues of carbon peaking and carbon neutrality, calling for academic propositions and symbolic concepts that can both represent China's position and be accepted by international academia. It is necessary to delve into the value realization mechanism of ecological products, transforming ecological value into economic value. Meanwhile, scholars are expected to research the theory and model of high-quality development, probing the county-level ecological economy under the background of common prosperity.
The regional ecological economic system is a huge compound system formed by interactions among resources, ecology, environment, and socioeconomic subsystems and their elements in a certain territory. Regional ecological economics is an emerging interdisciplinary subject that examines the interaction mechanism among the regional ecological economic system, its subsystems, and elements, while investigating the system's structure, function, balance, benefit, and regulation. In Dong's opinion, regional ecological economics ought to uphold the systematic thought of ecological economics, comprehensively analyze how the regional ecological economic systems, their subsystems, and elements differentiate in regions, and launch comprehensive, systematic, and innovative spatial pattern research, which is a basis for the theoretical and practical research of regional green development.
With the continuous enhancement of China's national strength and international discourse power, the country will be more actively involved in global environmental governance, climate governance, biodiversity governance, global and regional trade, and investment cooperation. The era has endowed Chinese ecological economists with greater academic responsibility and a broader research stage. Scholars are tasked with proposing China's original theory and forming ecological economics with Chinese features and style, based on the practice of socialist ecological economy with Chinese characteristics, Yu concluded.